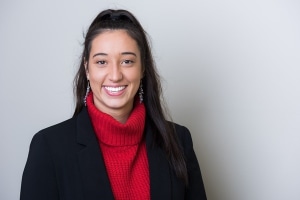 Our Young Gun profile takes a look at some of the young talent across the advertising, adtech, marketing and media sector in Australia. It aims to shed light on the varying roles, people and companies across the buzzing industry.
Today we speak to Starcom account coordinator Laylaa Khan.
Time in current role:
A year and a half.
How long have you been in the industry?
A year and a half.
How did you get here? Was this always the plan?
I had just graduated and was going through the tortuous cycle of trying to find your first industry job – with no actual idea of what I wanted to do. When I was applying for the role at Starcom, I had no clue what the job or the company was until about two weeks into the role! My direct team have been amazing and have definitely made this the plan now.
Who is your right-hand person?
When it comes to teaching me what I know and continuously growing my skills and putting my learning first, that would have to be my director Laura Henry. However, the person that really introduced me into media and has kept me sane during WFH, especially now that we haven't been desk buddies for almost a year, would be Peale Tran!
What's the best thing about the industry you work in?
There are so many things! I love how it is always changing – especially the landscape, as there are constantly new areas to explore for your clients, but it also challenges you to think of new ways to go about your work. And of course the people are amazing.
And the biggest challenge?
I think the biggest challenge, especially since WFH, is reminding yourself to take a break and making sure you switch off at the end of the day and don't fall in to the trap of just 'staying on a little longer'.
Whose job have you set your sights on in the future?
I haven't thought too far ahead at this stage, especially as I feel like I'm still learning so much – even just about the different opportunities and avenues out there. I would love to explore and understand more about strategy, but also do a deep dive further in to the digital space. There is just so much! But I think especially as I grow in whatever I do, I want to make sure I'm helping the next lot of people entering the industry and ensure that we constantly have different and diverse voices and ideas.
Where do you turn for inspiration?
Hopefully I don't sound like a cliché, but there is honestly inspiration everywhere and even in the little day-to-day moments. Obviously, social media is great when you need instant inspiration, but through reading books, listening to podcasts or music
and talking to friends, family and colleagues – they can help to give you different outlooks, ideas and new perspectives.
My favourite advert is:
The one advert that comes to mind that I have always loved and I think became a cult favourite all around Australia is the Yellow Pages 'Not Happy Jan' ad from the early 2000s.
Tell us one thing people at work don't know about you?
I've never seen Home Alone!
In five years' time I'll be:
Coming for you, Nick Keenan! No, no – I definitely have my sights set high, director, client lead? Who knows! Maybe even make the jump to client side. Also, hopefully I'll have visited a few more countries that I can cross off my travel list!
Have something to say on this? Share your views in the comments section below. Or if you have a news story or tip-off, drop us a line at adnews@yaffa.com.au
Sign up to the AdNews newsletter, like us on Facebook or follow us on Twitter for breaking stories and campaigns throughout the day.