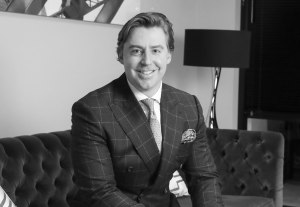 Independent, Australian-owned and operated Venetian Media Group has appointed Michael Fishwick to the position of chief executive officer off the back of two new company acquisitions and significant revenue growth.
Venetian Media Group is owned by Fishwick and his father Mark Fishwick, who will now step into the group chairman role.
Fishwick assumes the role after 14 years working within the company, most recently in the position of chief operations officer where he oversaw Venetian Media Group's operations, business development, strategic partnerships, digital transformations, company acquisitions and brand.
Over the past 12 months, Fishwick has repositioned Venetian Media Group from an out-of-home (OOH) advertising company to a diversified suite of media specialists, reducing its concentration of OOH advertising by 70%.
The move that has resulted in increased revenue and tripling the staff headcount to more than 70 people.
Venetian Media Group is now the parent agency for brand experience and content agency Yakkazoo, out-of-home providers Revolution 360, and Captive Vision Outdoor (CVO), installation and print solutions agency VIM, and media agency, Frontier Advertising.
"It's been a challenging year for the industry but VMG chose to back its people and push ahead with our growth strategy, diversifying our brand assets to provide greater value to our clients," says Fishwick.
Fishwick has formed a leadership team of industry experts including former Imagination CEO Mark Barrett as managing director of the creative arm of the business, Posterscope's Samantha Summers as group head of marketing, ex-APN Peter Franklin as head of commercial, and Wheelhouse Advisory's Andrew Butler as executive director, all supporting the company's renewed strategy and driving business growth across all five verticals.
"We had a vision to expand the company and within 12 months Venetian Media Group has gone from having two companies to five. We have expanded the business into four new areas: creative services, immersive experiences, media buying and strategy," says Fishwick.
"We are looking at further acquisitions in the near future as well as planning to launch two new brands under the Venetian Media Group umbrella within the next six months. Being able to support and protect our people whilst recruiting great talent in times like these has given us a huge sense of purpose."
Mark Fishwick, a well known adman, also previously founded Titan Media Group and Ambient Advertising.
Ambient Advertising was the subject of an investigation in the NSW Supreme Court following its collapse in 2013.
Mark Fishwick was questioned in court over allegations that the business had overcharged clients for a number of years, how he was remunerated, loan activity and the alleged transfer of business between Ambient Advertising and Revolution 360, which was formed after Ambient Advertising became insolvent.
In a statement provided to AdNews, Mark Fishwick confirmed that the seven-year liquidation process had finally come to an end.
"I was deeply saddened by the allegations that were made in the public domain, not only about Ambient Advertising, but also about me personally," says Mark Fishwick.
"Ambient Advertising was put into voluntary administration upon the advice of liquidator/administrator Bradley Tonks and John Vouris of PKF Australia in 2013. Following an application to the Court made by one of Ambient Advertising's creditors, a thorough investigation was undertaken by a court appointed special purpose liquidator.
"As of 7 April 2020 the liquidation of Ambient Advertising was finalised which after seven long years, finally put an end to the associated stress and pressure placed on me and my family.
"My family entities were the major creditors of Ambient Advertising and I personally took the responsibility for and paid off all the secured creditors of the company including banks and suppliers. Even as the largest creditor I did not receive any funds from the company.
"Having been in advertising for four decades, I have an unwavering commitment to the growth and development of the Australian media industry, and I look forward to continuing to contribute to this in the years to come."
Have something to say on this? Share your views in the comments section below. Or if you have a news story or tip-off, drop us a line at adnews@yaffa.com.au
Sign up to the AdNews newsletter, like us on Facebook or follow us on Twitter for breaking stories and campaigns throughout the day.