The following article is from Kim Portrate, the CEO of industry body ThinkTV.
Facebook and ThinkTV agree on one thing: reach will always be a key success metric for advertisers. If you want to make your brand grow, you need to reach lots of different people with your advertising.
But that's about where the common ground ends when reviewing the social network's recent Fast Forward series.
In the series, Facebook attempts to make the case for being the best reach option for advertisers using numbers that are, well, rubbery. Which I suppose you'd expect from Australia's most distrusted brand.
The argument cites data showing Facebook with a local audience of 16.35 million versus Total Commercial TV with 16 million.
This baffled us at ThinkTV since we, and all of you, can see the latest figures from OzTAM's VOZ, the official (robust, transparent and audited) industry currency. And those figures put Total TV's weekly reach at 19.3 million.
Cheekily, in an earlier article from the same series, Facebook claimed some 5.085 million Australians over 14 no longer watch commercial TV. Seems we found what Facebook lost with OzTAM revealing more than 3.3 million of those people are watching tellie – in their own way, on the device they choose and at a time that's convenient for them.
There's one other thing we agree on: people are migrating online. But to suggest that means a move away from TV is nonsense. The dramatic increase in Broadcaster Video on Demand (BVOD) viewership shows people continue to seek out their favourite TV programs to watch anywhere, anytime.
The final piece of Facebook's Fast Forward series takes a jab at TV suggesting people prefer content that's personalised rather than programmed for them. But VOZ shows us people like it both ways. In today's content rich world, sometimes you just want to put on the telly and relax instead of grappling with the tyranny of choice. Even Netflix knows this with the streamer beginning a trial of a linear channel in France last year.
It seems Facebook is holding onto a view of TV that is more than a decade old and missing the true picture of today's Total TV, a view you can easily explore over at the VOZ website.
Sticking to the facts
Because we like facts, we shared all of this viewing data and more with the market in the ThinkTV Fact Pack, as we do every six months. For those that haven't downloaded it yet, it shows Total TV makes up for 87.9 per cent of all in-home video viewing. Facebook, on the other hand, comprises just 1.3%.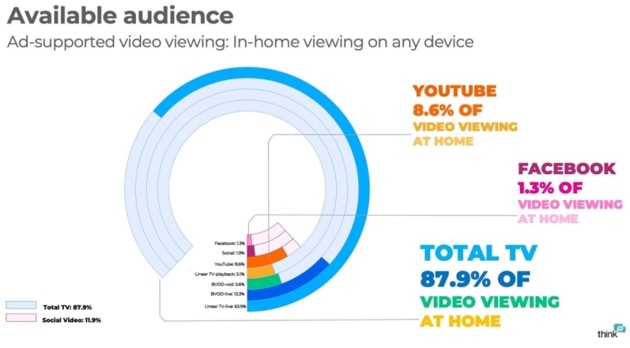 Marketers need more than reach
While reach is important to get your message out, something even more important is business outcomes. Investing in the latest, greatest media platform and not generating results is a quick way to brand decline.
If it's results delivered consistently and reliably in brand safe content, then you can't beat TV. Independent research consistently shows TV to be the dominant platform in media-driven incremental sales, across both the short and the long term.
This year, Australia's largest ever market mix model, using 60 brands across 10 categories, confirmed that to be the case. The research, The Payback Series, showed Facebook's ability to generate incremental sales pales in comparison to TV.
The ideal media mix
In the Fast Forward series, Facebook suggests that "combining TV with a TV proxy" is only marginally effective but, again, rigorous research says otherwise. Professor Karen Nelson-Field's own The Benchmark Series research found the combo of TV and BVOD generated more than two times the sales impact of TV combined with Facebook's news feed.
And while we're talking BVOD, this year's Benchmark research found ads in BVOD are 4.7 times more likely to be remembered than Facebook video ads – with BVOD ads more likeable than Facebook ads as well.
On the media mix, more broadly, TV is the biggest booster. It does this by taking care of the heavy lifting on media-driven incremental sales. The Payback Series research showed us that regardless of the channel it's paired with, TV does a cracking job of boosting the performance of the campaign, even for Facebook.   
Payback, based on data from more than three years of actual campaigns, found advertisers could expect around 6 per cent greater sales compared to spending on the two platforms in isolation.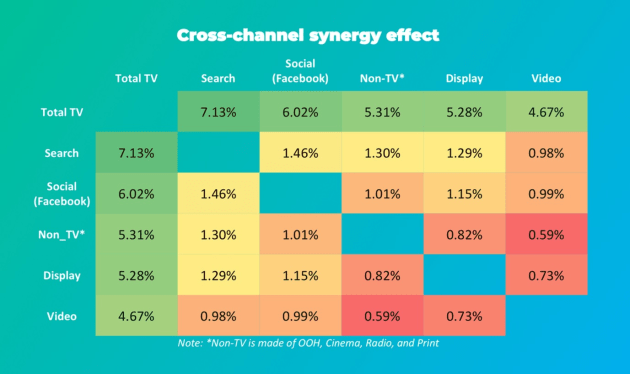 The proof is in the pudding
Research is helpful to inform our marketing decisions and what's even better is seeing these insights come to life for brands.
Some recent examples include a targeted campaign across Seven's 7plus which led to a 107 per cent uplift in sales for a prominent FMCG brand; Suncorp's sponsorship of Nine's The Block which saw new users to Suncorp's website increase by more than 30 per cent; DoorDash's partnership with Foxtel's NRL coverage which drove awareness, familiarity, perception and share of last five orders; and KFC integration within 10's Survivor which saw an 80 per cent uplift of new visitors to the QSR's website with a peak uplift of 300 per cent during the episode of the integration.
The metric of reach isn't going anywhere anytime soon but it should be considered alongside the business impact of any media buy. And when you do that, why wouldn't you go with the option that delivers on both?
Have something to say on this? Share your views in the comments section below. Or if you have a news story or tip-off, drop us a line at adnews@yaffa.com.au
Sign up to the AdNews newsletter, like us on Facebook or follow us on Twitter for breaking stories and campaigns throughout the day.