If a tree falls in the woods and no one hears it, does it make a sound? You could debate that one for centuries.
What about if an advertisement is created and no one sees it? Now that's an easier one.
Advertising of course needs visibility like fish need water. And generally speaking, the more people who see an ad, the better.
That's why reach - or the ability to get a message across to as large an audience as possible - will always be a key success metric for advertisers.
For brands, it's essential to know where audiences are at the present moment, instead of relying on received wisdom or old data. Those armed with the latest intelligence have a huge competitive advantage - they won't waste time, money and effort in the wrong places.
Now, thanks to up-to-the-minute data from Roy Morgan, marketers are better equipped with information to identify the best places to direct their ads.
Where are audiences watching content today?
In an increasingly fragmented landscape people are consuming video via a wider array of sources. Mobile Video (including social media platforms like Instagram), Streaming Video On Demand (SVOD - think Netflix) and Broadcast Video On Demand (BVOD - from the TV networks) are chief among them.
Amid this fragmentation there has been a distinct shift from the 'programmed' to the 'personalised'. Essentially, audiences are moving from TV environments to streaming and social spaces to watch video.
And it's the social platforms that are really setting the pace. Roy Morgan research from 2021 reveals that Facebook and Instagram have huge viewership figures across Australian audiences. Facebook now leads the way, with a weekly audience of 16.35 million, putting it ahead of commercial TV. Instagram is also a powerhouse in its own right, with a weekly audience of 9.83 million1.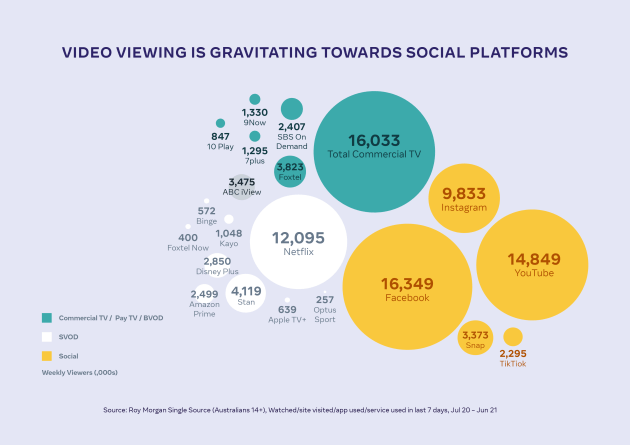 As revealed in the first part of the Fast Forward series, some 5.085 million Australians over 14 no longer watch commercial TV. And while 83% of these people have flocked to Facebook or Instagram, only 15% of them are watching Commercial BVOD instead2.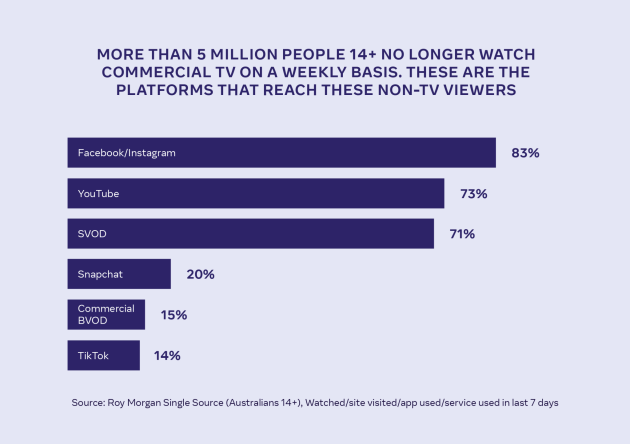 With our powers combined
When using multiple channels for advertising a major consideration is how they pair up to maximise effectiveness. So it's important to know which combinations really deliver the goods.
For example, when commercial TV and BVOD are utilised in tandem, there is an incremental improvement in reach of four percentage points. But when pairing commercial TV with Facebook and Instagram, the improvement is multiplied 5x over, driving a whopping 20 percentage points of incremental reach3.
What is clear is that combining TV with a TV proxy is marginally effective. Combining TV with Facebook and Instagram is hugely effective in widening reach.
Among the social channels, it's also worth considering the unique audience reach. For instance, close to four million Aussies over the age of 14 consume Facebook and Instagram, but not YouTube. This equates to nearly 3x as many unique users on Facebook and/or Instagram as on YouTube4.
Consistent reach at all hours of the day
In a sign of the times, consumption of Facebook in Australia is now 94% through mobile5. It's evidence that viewers of the app want premium video content to be accessible to them as readily as possible throughout the day.
Roy Morgan data also finds Facebook is by far the most consistent in reach across all age groups from 18 right through to 55+, while commercial TV skews much higher with older demographics6.
Similarly, commercial TV viewing is preferred later in the day, while viewers of Facebook Watch, by contrast, are engaging consistently from the beginning of the day until the end7.
One key reason for this trend is that mobile video consumption and snackable video content is opening up advertising opportunities around the clock. For advertisers, there are now more moments of influence.
Right throughout the day, people are considering their shopping, thinking about clothes, dreaming about holidays and planning meals. Apps like Facebook and Instagram are providing brands with opportunities to be present for more of these occasions.
Wise choices extend reach
The rapidly changing media landscape means each year brings new shifts in viewing behaviour. Today, the default channel for reach is no longer TV, and whilst BVOD is growing, it is not replacing TV audiences.
Marketers need to use the right blend of channels to meet audiences where they are - ones that complement each other and provide unique reach. Adapting a TV commercial for digital channels at the last minute, for example, ignores where audiences spend time and lessens the reach and effectiveness of campaigns.
Today's media environment favours a strategy of developing ideas across multiple video formats with an equal measure of craft and attention. By then selecting media channels that deliver uniquely effective reach, you are setting your brand up for success.
Of course, not all reach is created equal. You can discover why next Wednesday when the Fast Forward series delves into attention metrics with Amplified Intelligence's Dr. Karen Nelson-Field.
Sources:
Roy Morgan Single Source (Australians 14+), Watched/site visited/app used/service used in last 7 days, Jul 20 – Jun 21
Roy Source: Morgan Single Source (Australians 14+), Watched/site visited/app used/service used in last 7 days, Jul 20 – Jun 21
Roy Morgan Single Source ('000s Australians 14+), Watched/site visited/app used in last 7 days, Jul 20 – Jun 21
Roy Morgan Single Source ('000s Australians 14+), Watched/site visited/app used in last 7 days, Jul 20 – Jun 21
Based on Facebook data, September 2021
Roy Morgan Single Source, Watched/site visited/app used in last 7 days ('000s Australians 14+), October 19 – September 20 [2] Roy Morgan Single Source, Service used in last 7 days ('000s Australians 14+), January 20 – September 20
Roy Morgan Single Source, Media preferred Mon - Fri, (Australians 14+), October 19 - September 20; [2] Crowd DNA, "Understanding the value of Facebook Watch", (Facebook-commissioned online study of 3,000 respondents who watch publisher videos on Facebook at least once a week) Australia, December 2019
Have something to say on this? Share your views in the comments section below. Or if you have a news story or tip-off, drop us a line at adnews@yaffa.com.au
Sign up to the AdNews newsletter, like us on Facebook or follow us on Twitter for breaking stories and campaigns throughout the day.