The media landscape has changed fundamentally in recent years and digital advertising is now an essential consideration for brands. In this first part of a new series from Facebook and Instagram, we explore how understanding today's viewing trends can give brands a springboard for success.
Do you remember the last time you checked an app on your phone and didn't see a video within the first 30 seconds?
Video has come to dominate all forms of media, and its appeal is only getting stronger. With technology's rapid progression, the time is ripe to re-evaluate how video can support marketing strategies, so advertisers can evolve at the same pace as their audiences.
Findings from Ipsos, Magna and the Interactive Advertising Bureau have provided clarity on the seismic shifts in how people are consuming video in a highly diverse and fragmented landscape.
One key finding is that digital ad spend experienced 13% year-on-year growth in 2020, while TV advertising saw a 16% year-on-year decline in the same period1.
The simple fact is: where video and TV are concerned, what was true even a few years ago is patently not so today. For many marketers, there will be some surprises in store.
Decision-makers need the most up-to-date information in order to connect with consumers and understand what's really capturing their attention.
The Great (Online) Migration
Today's video viewers aren't watching in the same places they once did. In fact, they're often not watching in the same places they were last year.
Living through a pandemic has proven just how quickly our everyday experiences can change, and audience behaviour has altered equally fast.
Facebook is no longer just a place where people go to connect with their friends. Increasingly it's where they are watching video content and engaging directly with businesses.
The battle for attention is also heating up. Even when people do watch TV, viewers are also using social media. Research from Ipsos shows that eight out of 10 people aged 18 to 34 use a mobile device while watching TV2.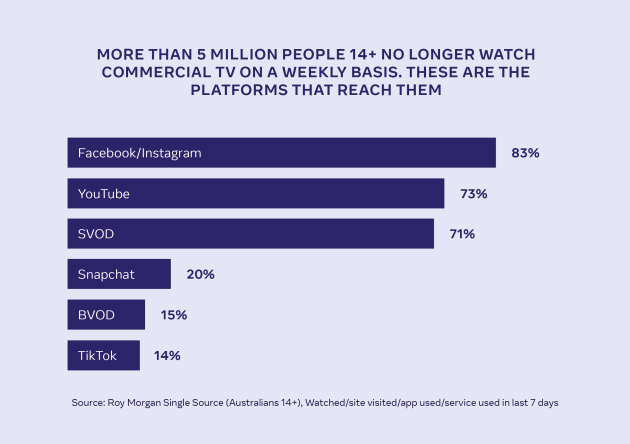 Importantly, of the audiences that are moving away from TV, not many are turning to Broadcast Video-On-Demand (BVOD) services3.
Marketers can be assured that what matters to this cohort now has evolved from what was important only a short time ago.
Attention isn't waning, it's shifting
To understand what underpins video watching today, there is a need to recognise the specific issues that shape viewer behaviour.
Research from Ipsos proves that attention isn't waning. Viewers are more than capable of paying attention throughout an ad - as long as it is worth their time.
According to Ipsos's findings, half of Facebook's Australian viewers surveyed indicate that they enjoy or don't mind ads while watching videos on the platform4. This effectively disproves the idea that today's online audience won't give their attention to video advertising.
High quality visuals, the ability for the viewer to identify with an ad, and ad length times are also key factors in determining video ad completion. The message is clear: if your ad is compelling and relevant, then it will get attention.
Advertising that is uniquely effective
Your audience is diverse. Why shouldn't your advertising campaigns be the same? That's why engaging a wide mix of mediums in your video advertising should be the first step taken.
By way of illustration, within the Facebook ecosystem, advertisers can currently run video ads in In-Stream, Stories and News Feed placements. Ultimately, using a mix of the three is the best way to drive better results.
KitKat, for example, added In-Stream to its usual mix of Stories and News Feed. It resulted in a brand outcomes lift of 1.5X and yielded a 7.7 point incremental increase in awareness of KitKat's recyclable wrappers, positioning the business as the leader in recyclable confectionery packaging5.
Brands like KitKat that are willing to test and learn, and combine resources in their media mix are already seeing improved results.
It's a trend that appears to be catching on too. A 2020 Global Digital Ad Trend Report found that eight in 10 advertisers believe that cross-platform video buying is important. Specifically, 40% thought it was very important and 43% thought it was somewhat important6. It is a safe bet that these figures will rise, especially as new platforms emerge and adapt.
With technology changing the game fast, advertisers should be thinking outside the box and trying to engage a mix of platforms, especially when it comes to creating memorable campaigns online.
Looking closely at where people are spending their time is also crucial. Brands that create relevant and entertaining content that audiences have come to expect will be rewarded with their attention and interest. Integral to achieving this is having a strategic plan that is as diverse as today's rapidly-evolving media environment.
The ground may have shifted, but understanding today's modern viewing behaviour - and advertising accordingly - will leave you better prepared for the future.
Each Wednesday in November on AdNews the Fast Forward series will bring you fresh insights into the world of video advertising.

Sources:
MAGNA Global Advertising Report, December 2020, Australia
Global Media Diary by Ipsos (Facebook-commissioned week-long media diary of 16,382 entries among people ages 18 - 64; internet population monthly users of video and of mobile internet in AU), Oct-Dec 2020
Roy Morgan Single Source (Australians 14+), Watched/site visited/app used/service used in last 7 days
Global Media Study, Video by Ipsos (Facebook-Commissioned online study of 2,503 people ages 18 - 64; internet population monthly users of mobile internet & monthly video viewers in AU), Oct-Nov 2020
Facebook Brand Lift Study (Dec, 2020), compared to the Facebook CPG industry average, Facebook Brand Lift Study (Dec, 2020)
Interactive Advertising Bureau, cited in PubMatic 2020 Global Digital Ad Trend Report
Have something to say on this? Share your views in the comments section below. Or if you have a news story or tip-off, drop us a line at adnews@yaffa.com.au
Sign up to the AdNews newsletter, like us on Facebook or follow us on Twitter for breaking stories and campaigns throughout the day.