The Guardian Australia is set for a digital redesign which coincides with the publishing powerhouse's print shake-up overseas.
Continuing with Guardian Media Group's (GMG) three-year transformation plan, with the target of breaking even at operating level by April 2019, today it has revealed plans for new mastheads, colour palettes, font and logos.
In addition to the digital 'mobile-first' redesign, the group says it is set to save several million pounds in printing costs by changing its paper format in the UK from its Berliner to tabloid size.
"The move will save several million pounds in printing costs and forms a significant part of the plan towards securing GMG's long-term future," it said in a statement.
CEO of Guardian Media Group David Pemsel says the change to tabloid format is an important milestone in its transformation plan in "challenging" media sector.
Despite the challenges, he says its reader revenues are growing well and more people are reading than ever before. It now has more than 150 million unique browsers each month and more than 800,000 supporters.
"Our strategy to secure The Guardian's future is on track. By April 2018 we will have halved our operating losses in just two years, reducing them from £57m to £25m per year, with the goal of breaking even in 2018/19," Pemsel says.
The digital redesign
While The Guardian Australia has an online presence only, the British 1821-founded paper was the largest newspaper format, broadsheet size, up until 2005. It then shifted to the Berliner format which is slightly taller and wider than the tabloid size.
"Guardian Australia readers will notice a new look to our site with a new masthead and design. Our commitment to high-quality independent journalism and to reporting important Australian stories remains the same," Guardian Australia editor Lenore Taylor says.
The digital redesign includes a new Guardian masthead which it says is a "confident representation of its reputation for serious, trusted journalism as a quality global news brand".
Its updated colour palette will use bold, striking colours around the core sections of Guardian journalism: news, opinion, sport, arts and lifestyle.
The newspaper says its new font, called 'Guardian Headline', is "simple, confident and impactful".
The font was created in collaboration with design agency Commercial Type, which created the original 'Guardian Egyptian'. The main text font remains the same - with marginal changes to size, line spacing and overall typesetting to improve readability.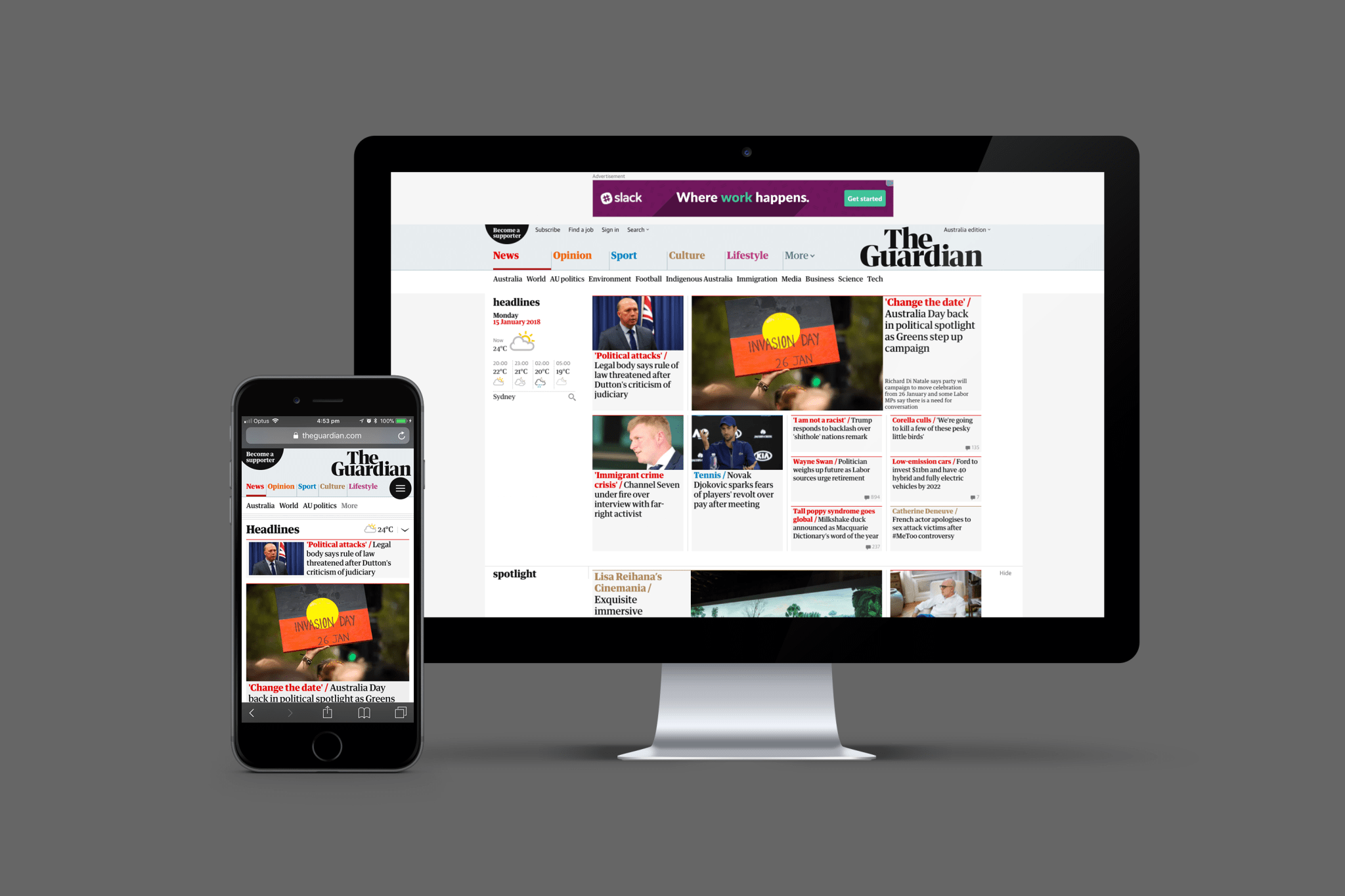 The new look
Guardian News & Media editor-in-chief, and the founding editor of Guardian Australia, Katharine Viner, says since it announced its plans to change format seven months ago, it's been an "exhilarating period of creativity, imagination and focus".
"I'm thrilled with the result: a new paper that feels bold, striking and beautiful, and still unmistakably The Guardian," Viner says.
"It has also been a fantastic opportunity to redesign our website and apps. The new Guardian will be a space for big ideas, for debate, for clear thinking and new perspectives.
"Our move to tabloid format is a big step towards making The Guardian financially sustainable and ensuring we can continue to invest in agenda-setting journalism for generations to come."
Executive creative director at Guardian News & Media, Alex Breuer, says the new design has "readability at its heart".
"With a more flexible page layout in print and online and enhanced use of photographic journalism and graphics, our new design is simple, confident and stylish - providing readers with the best possible experience across all our platforms," Breuer says.
The Guardian Australia is hunting a new boss as CEO Ian McClelland is set to move back to the UK to take up a new role as managing director of corporate development at Guardian Media Group.
Have something to say on this? Share your views in the comments section below. Or if you have a news story or tip-off, drop us a line at adnews@yaffa.com.au
Sign up to the AdNews newsletter, like us on Facebook or follow us on Twitter for breaking stories and campaigns throughout the day.