The battle between Australia's Vegemite and England's Marmite continues at the Ashes as Vegemite "bowls a bouncer" at the yellow and red blazers worn by the members of the Marylebone Cricket Club (MCC), the owners of Lord's Cricket Ground.
Vegemite is claiming that all members turning out in the traditional red and yellow colours at Lord's are actually showing their support for Vegemite.
"We are flattered that the members of the home of cricket have been showing their support for Vegemite for years," Vegemite senior marketing manager Matt Gray says.
"We're only sorry we didn't give them the recognition they deserve for supporting Vegemite until now. We're not sure how Marmite must feel, knowing that the MCC Members openly prefer the taste of Australia."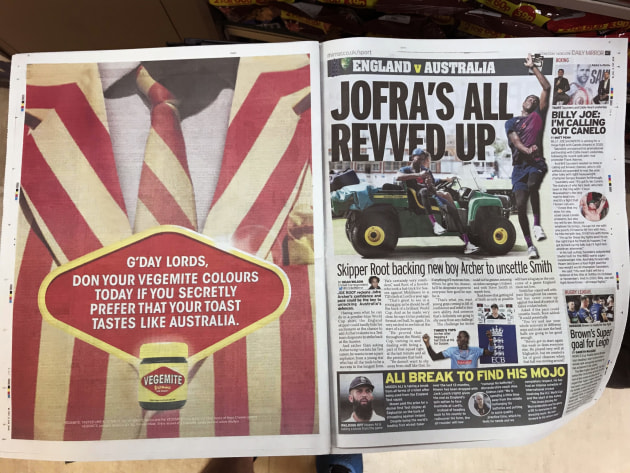 The "mitey" saga between the two yeast spreads began when Vegemite found out Marmite was giving out free jars at the cricket in an attempt to win over those attending.
In response, Vegemite released an ad created by Thinkerbell in UK newspaper The Mirror explaining that Vegemite was made for Australians.
"It's not often we get brought into such a large scale international conflict. However, we found Marmite's behaviour to be a little untoward. It's just not cricket to give away Marmite at the cricket," Gray says.
"We just want to set the record straight that Australians will always prefer Vegemite as Vegemite actually tastes like Australia. The English are welcome to their mild Marmite, it probably suits their sensitive palates a little more."
Marmite responded with an ad also in The Mirror which takes a swipe at Australia's infamous ball tampering scandal from last year.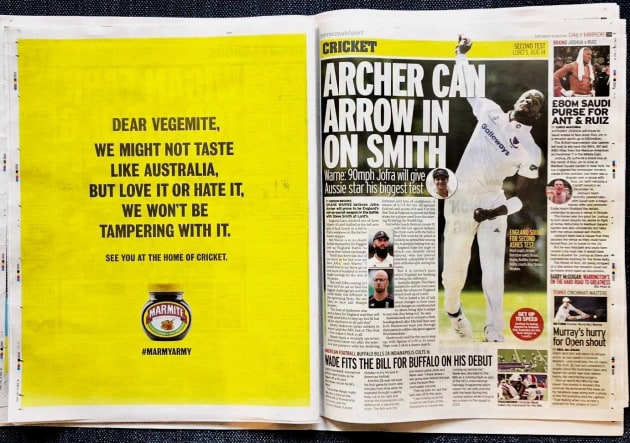 In this latest edition of the yeast saga, Vegemite is also offering a Marmite amnesty.
Any MCC members who turn up to Lord's in their red and yellow Vegemite colours, with a jar of Marmite can then send the Marmite jar to Melbourne Australia, and the Aussie company will swap it for a new jar of stronger, bolder Vegemite.
Have something to say on this? Share your views in the comments section below. Or if you have a news story or tip-off, drop us a line at adnews@yaffa.com.au
Sign up to the AdNews newsletter, like us on Facebook or follow us on Twitter for breaking stories and campaigns throughout the day.