Ten has won a court injunction against The Daily Mail after it posted a story giving away the ending of The Bachelorette, with Sam Frost taking to the airwaves this morning calling the publication's article "devastating".
The Daily Mail ran a story late yesterday afternoon showing front-running contestant Sasha Mielczarek and Frost embracing just hours before Ten was to air the hit reality show. The pair were said to be posing for a photo shoot with The Daily Telegraph.
The Daily Mail is a joint venture with Nine, a rival of Network Ten.
A Ten spokesperson told AdNews it is looking at its legal options.
"Network Ten is looking at its options in seeking relief, including costs and a permanent injunction," the spokesperson said. "As the matter is back before the court on Monday, we will not be making any further comment."
According to reports from Mumbrella, Ten won an injunction in the Supreme Court of NSW on Thursday night to have the story removed.
Frost told 2DayFM and Kiis breakfast hosts it was "devastating" having the ending of the show spoilt prior to air.
"I was so upset and I couldn't stop crying," Frost said on 2DayFM breakfast show, Dan and Maz.
"We'd worked so hard for such a long time. We were anxious, there were so many measures we put in place - we're 10 floors up - someone was obviously in another building with a huge camera.
"Someone's tipped them off and it's just devastating. Fans were furious."
Mielczarek added that Frost was "hysterical" over the incident.
The Daily Mail could be found to be in breach of the Press Council's statement of principles around privacy which forbids "intruding on a person's reasonable expectation of privacy" unless it's in the public interest.
Social media insights from Meltwater found there were 266 social media mentions of The Daily Mail spoiler and Ten's injunction last night, with only 8% of the mentions being positive.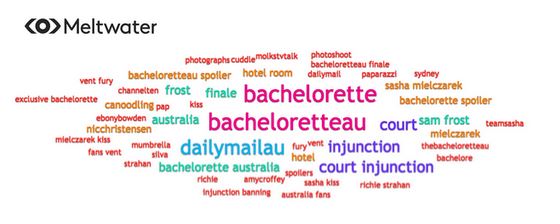 This morning, The Daily Mail Australia has spoken out against the injunction, noting it will be challenging the decision immediately. It also said it was forced to take down the content without being offered an explanation for the judge's decision.
'We were served with an injunction by Network Ten, but we have not had sight of the reasons for the judge's decision," a spokesperson said.
"'We swiftly abided by the terms of the injunction, however, but shall be challenging the terms of that injunction immediately as we do not consider that such a decision is either fair or right."
Under the court order, The Daily Mail is unable to describe what was in the story or photographs related to it and all social media posts were also ordered to be removed.
Ten announced it has commissioned a second season of The Bachelorette to air in 2016.
Have something to say on this? Share your views in the comments section below. Or if you have a news story or tip-off, drop us a line at adnews@yaffa.com.au
Sign up to the AdNews newsletter, like us on Facebook or follow us on Twitter for breaking stories and campaigns throughout the day.