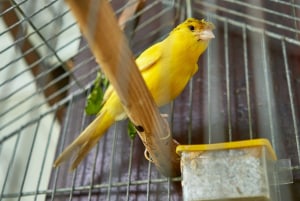 The ad spend canary has paused for breath in January but forward media agency bookings show further rises ahead in February and March. 
Total media agency ad spend was down 7.3% in January as the metropolitan TV market, the largest media sector, reported a 5.3% fall in bookings mainly due to the delay of the Australian Open broadcast. 
According to SMI (Standard Media Index), digital media lifted 1.8% as the Social Media, Programmatic and Video Sites sectors reported double digit percentage growth.
And that growth has seen digital emerge as the largest media in national marketer ad spend for the first time.
Australia's television industry has taken far longer than elsewhere in the world for pure Digital media agency bookings to overtake that of television.
"Given the likely return to television growth for the rest of Q1 it will be interesting to see if this trend lasts beyond a single month, but at least for now the lack of the Australian Open combined with continued digital gains has seen the digital media emerge as Australia's largest this month,'' says SMI AU/NZ managing director Jane Ractliffe.
SMI is reporting pure digital bookings – which includes all Digital advertising also bought against the Digital assets of traditional media – grew to 37.6% in January 2021 from 11.1% in January 2011. 
"Digital media has forever changed Australia's advertising landscape and has been on a strong growth trajectory for more than ten years," she says.
"But it's worth noting that when digital revenues sold against traditional media content is excluded from this top-line analysis, sigital's share of the total falls back to 32.2%>"
The lower overall market demand reported in January after three months of consecutive growth is mostly timing related.
"The delay of the Australian Open broadcast was clearly a one-of factor but had a significant impact, and beyond that the market seemed to be pausing for breath after all the marketing activity in the last quarter of 2020," she says.
"But we can see that February demand is already in line with that evident before the start of the COVID pandemic last year, while for March the total demand is running at four percentage points above the same time last year while for April demand is already seven percentage points higher.''
Ractliffe says the data suggestsd a more consistent recovery is  underway, as the Posters/Billboards market – the largest sector within the most affected COVID media of Outdoor – was already reporting higher future ad demand than for the same time last year.
"Outdoor was clearly the media most affected by COVID and future bookings fell away quickly from February 2020, but the sheer quantum of the current uplift with the data showing there's a 26 percentage point differential in future February bookings suggests this key media is on its way to recovery,'' she says.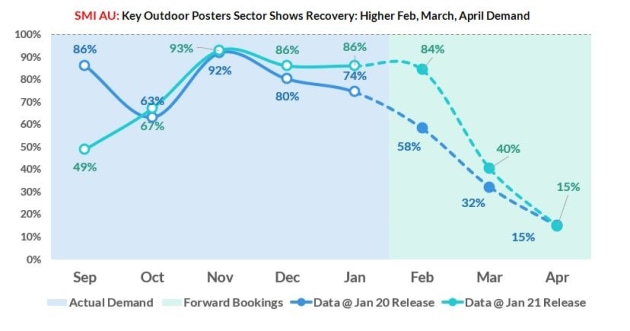 Other media sectors also continued to do well in January with both the national newspapers and regional radio reporting their third consecutive month of growth in January.
For the seven months of the financial year the market is now back 6.8% with digital continuing to lead the rebound in ad spend with the value of that media's total bookings up 7.9%.
And most sizable product category trends remain mostly COVID-related with government bookings up 54%, health care category ad spend up 170% and the increase in food/produce/dairy ad spend now at 21% over the previous seven month period.
The numbers: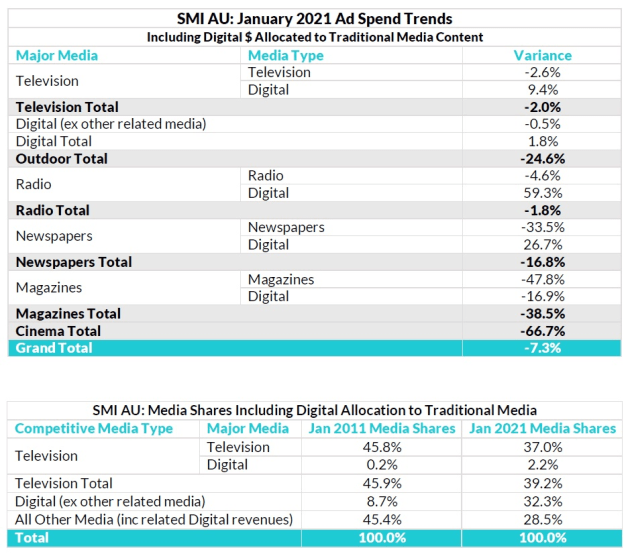 Have something to say on this? Share your views in the comments section below. Or if you have a news story or tip-off, drop us a line at adnews@yaffa.com.au
Sign up to the AdNews newsletter, like us on Facebook or follow us on Twitter for breaking stories and campaigns throughout the day.