Seven is confident in the network's decision to double down on its tentpole show My Kitchen Rules in 2019, shirking suggestions it will lead to fatigue among audiences.
It was revealed at last week's Seven Allfronts that the reality cooking show would be returning in 2019 for two seasons; the regular season will air during the first quarter of the year and a second '10th Anniversary Special' will air towards the end of the year.
Speaking to AdNews, Seven head of scheduling Brook Hall says the show won't suffer from "over-saturation" with the two season strategy, which has been questioned by some media buyers.
He argues the second season of MKR will have new elements, challenges and tweaked structure to ensure it doesn't duplicate the usual format.
"Our anchors are really important to maintain, especially MKR, that's actually where a lot of our focus goes," he says.
"There's certainly no concern of over-saturation with our audience and we've chosen to reveal a little part of that last thing for that reason, we don't want it to interfere with the upcoming season."
Hall says once the full details of the anniversary series are revealed, the decision will "make a lot of sense" to both viewers and buyers.
He says the decision is still "a balancing act", ensuring that viewers get the best out of both seasons and don't see them as a grab for more ratings in the back end of the year.
"There are two key things here that we're constantly balancing. One being bringing back big, widely loved and watched franchises, but secondly, we know we have to keep innovating and providing new content. New content is a significantly high risker," Hall says.
See: A solid content spine or missing a vital data backbone? Industry reacts to Seven Allfronts
Zenith chief investment officer Anthony Ellis says as peoples viewing habits fragment, the ability for any network to engage people for several hours a week is rare.
He cautioned Seven in putting too much pressure on one of the network's "most bankable" programs and risk losing a consistent audience.
"I can see why Seven would want to launch an anniversary series and I think it will work well as they will no doubt bring back past favourites that will appeal to old and new fans," Ellis says.
"The obvious concern is that viewers fatigue of the same format. All networks have suffered from the franchise or genre fatigue in the past and no doubt Seven will be cautious of this."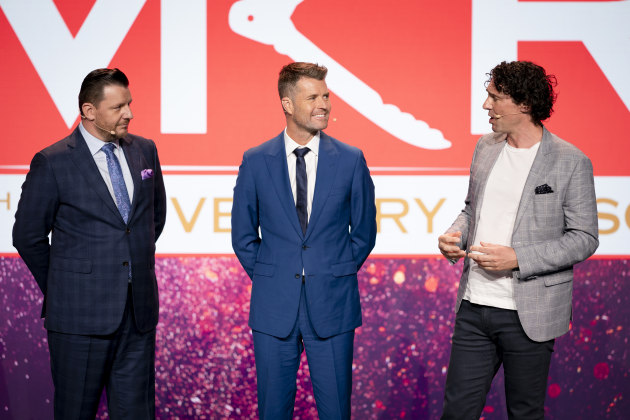 MKR judges Manu Feildel, Pete Evans and Colin Fassnidge all return in 2019.
Seven is not the first to inject a double dose of its staple series into the market. Over the course of three years, Nine ran two seasons a year of its own long-running tentpole show The Block.
While the show changed formats across the six seasons it ran from 2013-15, ratings gradually dropped off year-on-year, culminating in 2015, with the show experiencing its worst finale to date.
See: Seven remains firm on sign-in strategy, refuses to 'chase numbers'
Hyland Media founder Virginia Hyland agrees with Ellis, adding that the real challenge will be finding an untapped area of the show to focus on while also being able to recognise this is a "one-off" event.
"Doubling down on MKR for its 10-year celebration will help deliver a strong end to the rating season," she says.
"However if it were to become an annual event it would probably lead to audience fatigue, so the challenge will be to make the 10-year celebration unique from the regular first 2019 series."
Have something to say on this? Share your views in the comments section below. Or if you have a news story or tip-off, drop us a line at adnews@yaffa.com.au
Sign up to the AdNews newsletter, like us on Facebook or follow us on Twitter for breaking stories and campaigns throughout the day.