The broadcast rights to rugby union in Australia will reportedly be put on the open market after talks between with Foxtel failed to produce a deal.
Rugby is the first to come up for renegotaion after years of escalating prices for sports broacast rights in Australia. 
Foxtel, Ten and BSkyB in 2015 agreed to pay $285 million over five years to Rugby Australia, a 148% increase on the previous deal.
However, reports indicate the bidding is now only in the mid $30 million range, well below the average $57 million a year of the previous deal which runs out later this year.
Rugby Australia, after being in talks with Foxel for several months, is now preparing to take a package to market this month, according to a report in The Australian.
Optus is said to be interested in the streaming media rights. Optus Sport last year became the exclusive broadcaster of the English Premier League. 
And a Network 10 spokesperson told AdNews: "We have a good, long term partnership with Rugby Australia and are looking forward to the formal broadcast rights process starting."
Peter Campbell, head of Fox Sports, says the broadcast rights are in the hands of Rugy Australia. 
"We never comment on commercial negotiations or speculation about broadcast rights," he says.
"Fox Sports will continue to be the home of rugby union with all Super Rugby, the Rugby Championship and Wallabies games in 2020.
"The rugby rights from 2021 onwards are a matter for Rugby Australia."
Ben Willee, general manager and media director at Spinach Advertising, says the rugby negotiations look a bit like megaphone diplomacy.
"Everybody wants to get a deal done but nobody wants to blink first," he told AdNews.
"I suspect that Nine and Seven are also very interested in getting a deal. Whilst the audiences are small (except for test matches) the upmarket audience is very valuable to a broadcaster." 
Sport, news and reality television content drive free-to-air audiences in Australia. 
"In Australia, sports rights are sold every five years to the highest bigger and the cost has been increasing," write analysts at Jefferies, the global investmentet bank, in a note to clients.
"It started with FTA networks competing for sports rights which pushed prices up, until pay TV (Foxtel), telcos and global platforms started to increase their spend on sports too."
In 2018, Foxtel bought broadcast and exclusive digital cricket rights for six years (ending in 2024) for $100 million a year, an increase of 122% compared to the previous deal.
The AFL rights were sold for $2.5 billion for five years to 2022, about twice as much as the last agreement.
"Securing sports rights has always been important but we do not think the quantum of these cost increases in the past are sustainable as all broadcasters are under pressure," say the analsyts at Jefferies. 
An Optus spokesperson: "As a matter of policy, Optus declines to comment on any speculation regarding programming rights." 
Rugby Australia has been contacted for comment. 
The broadcast sports rights coming up in Australia: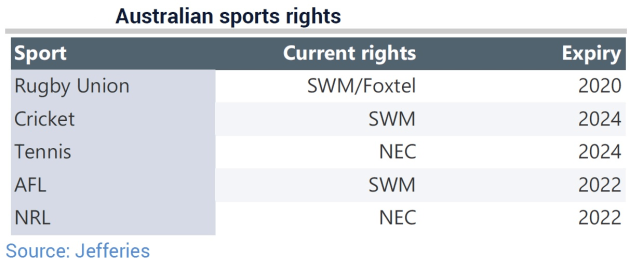 Have something to say on this? Share your views in the comments section below. Or if you have a news story or tip-off, drop us a line at adnews@yaffa.com.au
Sign up to the AdNews newsletter, like us on Facebook or follow us on Twitter for breaking stories and campaigns throughout the day.