Gathering seven senior retail professionals in the same room to talk about the future of the Australian market was always going to throw up some fascinating insights.
AdNews hosted a retail roundtable discussion with some of the sector's leading lights, in association with our sponsor GuihenJones – instore retail strategy consultants – over lunch at landmark Sydney restaurant Beppi's.
The event fused together a number of important strands about where the retail market sits at the moment and what the future holds, but, more significantly, what the assembled figures are planning in order to take their companies into that uncertain and disrupted future.
Retail in Australia is undergoing significant change. The traditional, big chains are competing with younger, more nimble
operations and their bottom lines are undoubtedly starting to shake.
Talk of the future is by its nature very exciting, with a lot of hope riding on the next few years. Our guests were all upbeat about the future of commerce and retail, and provided many insights which justify their shared optimism.
However, it certainly wasn't all crystal-ball gazing: Australia's sheer geography and the expectations of its early-adopting population brings with it challenges which perhaps aren't present in other territories.
Therefore a lot of emphasis was placed on discussing how you manage stock levels; how you market to a segmented database; how you build a suitable customer environment with superior service levels and how important the bottom line is.
The economic future of Australia is seemingly in the balance, and that, of course, will inform the many decisions taken by each of these dynamic firms.
Meet the panel
Woolworths has proved particularly susceptible to the changing nature of market forces. Interesting, then, that we had Woolworths' then head of market strategy Jess Gill, who left the retailer unexpectedly last week, at the table to explain how the giant, despite some growing pains, is readying itself for a three-year overhaul which will hopefully see it fit for purpose and ready to land on both feet in a modernised and competitive arena.
From a similar mass-market, retail giant background we had Mark O'Keefe, general manager of marketing at Australian Pharmaceuticals Industries, the owner of Priceline. His company operates the largest loyalty scheme in the country, The Priceline Sister Club, which sees 42% of all purchases completed with the presentation of the Sister Club card.
The company is on an aggressive trajectory, ensuring that every new opening has a franchise pharmacy business inhouse and continues to lead the way in guaranteeing it is first to market with many leading beauty brands. O'Keefe readily admits that e-commerce is not at the forefront of his company's plans, and neither are developments such as Click & Collect, although it is certainly on his radar for the future.
O'Keefe's customer base probably crosses over with that of the other big-hitter at the table: Best & Less. CMO Jee Moon, who moved into her role from a non-retail background at Westpac just over a year ago, has been charged with the complete transformation of the business, dragging 195 plus stores into the 21st century via a rebranding overhaul.
No mean feat, but Moon is optimistic, revealing that she is grateful to work from a blank sheet of paper and to truly assimilate what it means to be retailer in 2015. She reveals some key insights from her journey to date in this roundtable discussion.
Figures collected by National Australia Bank to the end of July 2014 showed that online retail grew by 8.6% – a figure that some feel is still in its infancy.
It was enlightening to hear from Etsy Australia and Asia managing director Helen Souness, whose business is often held up as the epitome of a 21st century operation, providing an e-commerce, marketing and education platform for individual artisan retailers.
The assumption that: "Etsy is to your millennials what catalogues are to your baby boomers," is probably not wide of the mark.
Souness is in the process of working out how to reach a new and bigger audience. Perhaps not surprisingly, the challenges both women face – despite coming from opposite ends of the retail spectrum – aren't entirely dissimilar.
However, Souness' online observations are, as you might expect, very timely and somewhat sophisticated in a market which has been altogether slow to grapple with the opportunities presented by e-commerce.
Kate Box, Facebook's head of retail, is most certainly at the cutting edge of online developments, being responsible for the company's engagement with the retail vertical. Box's insight into audience targeting and content delivery is unparallelled.
Her knowledge provided a contrast and complementary view to talk about instore experiences and the finer details of managing stock levels and logistics, which, of course, are crucial to any retail business.
Similarly, AdNear's Cameron Curtis, who provides consultancy to many retail firms, was able to shed a broader light on the challenges faced by both the bricks and mortar and online business.
Dianne Taylor, general manager of marketing for PVH Brands Australia/Asia Pacific, which operates Calvin Klein, Tommy Hilfiger and more, was able to shed a lot of light on the importance of online browsing for customers, particularly those at the more luxury end.
Equally, she was able to point us to the technological developments which have enhanced the instore experience and how the roll-out of capabilities such as augmented reality will transform the way we shop in the future.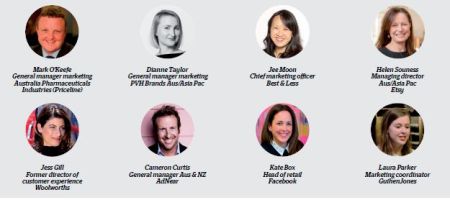 Brand identity and purpose in an online/ mobile world vs bricks and mortar
Jee Moon: Our online site is only a year old and it's broken a lot of our preconceptions in that we thought this was going to be an opportunity to capture a whole new market share that we don't already have. What we actually found is that close to 85% of our shopping base is coming from people who have a store within their geographical radius. In other words, it is a supplement to a physical experience, as opposed to a replacement of it. This informed our decision to not create parity between the offline and the online, but actually appreciate the online experience for the role it plays in the overall customer experience.
Jess Gill: It's not that a brand experience can't be mirrored in both worlds – you don't become a different customer just because you're shopping online versus offline.
Mark O'Keefe: We find that our online store is mainly used for information. So we've got four million people coming through the stores every month and now we get a million just through the website. Many of those are checking for new things because we're known to have the first products in health and beauty. People are just using online for browsing. I think what we learned is that the instore experience and the online experience both have different things to offer. So you can have a brand experience, it won't be exactly the same in both, but the challenge is to maximise the best of what both of those worlds can offer, while maintaining the brand's identity.
Dianne Taylor: As much as we know that the role of online is discovery, that is changing a lot. We still had 15% growth in e-commerce in the US last year – five times the rate of the bricks and mortar stores. Our customers did 50% of their Boxing Day sales with us last year on mobile devices. We're moving into an area where we're really starting to play more heavily in the mobile area, looking at how we can be cleverer with driving that customer into the store.
Kate Box: At the end of the day, though, it comes down to driving full traffic and growing the basket. The fact is that we've seen a huge growth in people discovering with their mobiles and that change in behaviour, it leads us to ask what
does that mean and how do we break through, how do we build the right creative for that, how do we segment it in the right way and how do we measure the impact of it?
Jess Gill: Absolutely – and the other thing for me, though, is that when you think about online, there's just so much potential for us in the mobile market. People will be shopping on the move, so we need to be talking to them – we need to know when to hit somebody and when not to interrupt them with our messages.
Online cart abandonment
Cameron Curtis: From the research we've done, 75-85% of anything that is put into a shopping cart then results in cart abandonment. In fact, the online experience is a proxy for a shopping list in a lot of cases, as opposed to being an
intent-driven action. The opportunity, therefore, remains for retailers to capture an enormous amount of shopping intent.
Dianne Taylor: That's not our experience on Van Heusen. We have much lower shopping cart abandonment, but I think that when the male shops, he knows exactly what he wants. He's loyal to that brand. He wants to move on, so he buys five items at one go and then he's out really, really quickly.
Jess Gill: There's a lot to close in that loop, in as many ways as possible; to build audiences of people who have abandoned, to create audiences of people who you know are big, valuable customers but, perhaps, they're also promiscuous and they're going to go elsewhere if they see what they like elsewhere, so you want your brand and your stock to be in front of them at the key times of the day.
New technology – is it all beacons and NFC?
Jee Moon: We've just enabled location targeting for our postcards (direct marketing drop) based on where people access their Facebook app. I don't know how it's going to perform, really, it's just something that's being tested now.
Cameron Curtis: Sephora is very interesting in that it has placed make-up advisors per square metre reach, and then added the dimension of using a mobile payment system so you can transact at the point of actual inventory level.
Mark O'Keefe: We've just put a handheld device in store called a "foundation finder". So every beauty adviser will have one, take a picture of your skin and then it will show you all of the shades of foundation in the store that match your skin tone. Now we've got 750 shades of foundation in store so you will end up with 10 or 12 choices of a shade that will suit your skin tone, from multiple brands.
Dianne Taylor: What we're trying to do for Spring is tie in our e-commerce platform with new devices instore that have an augmented reality tool which imitates how a woman gets the information she needs on the shop floor, from the packaging and in the change room. So we're going to test that for women with [shapewear brand] Nancy Ganz and see how that works.
Kate Box: I think it was in UK department store House of Fraser that they enabled their mannequins with beacons to tell you what the mannequin was wearing.
Jee Moon: I think that's currently our approach – absolutely to get the insight on which we can base the decisions, but our means for getting those insights aren't necessarily attached to the latest piece of technology. That's the right approach for where our business is at the moment.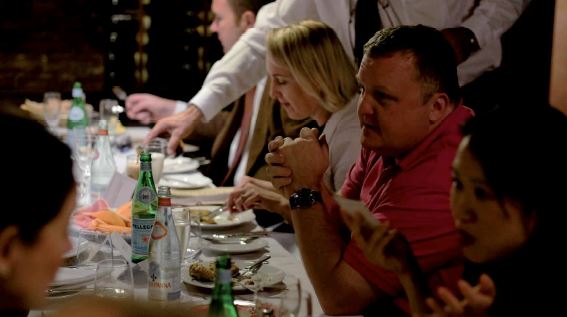 Loyalty schemes, data collection, customer segmenting and communication
Mark O'Keefe: We currently have two million usable emails and probably three million home addresses. At the moment our loyalty scheme is worth 42% of our business, so roughly a third of all transactions include the customer presenting their loyalty card. So, if you do the maths, what it means is that every "sister" who transacts spends 35% more than other customers, every single time, throughout the whole year. Whether that happens simply because of a magic dust that gets spread by joining the program, or because they spend more money anyway, or because they're simply more engaged with health and beauty, it's hard to say. But every single transaction is on average 35% higher, and, I've noticed, quite often higher than that.
Jess Gill: Our rewards program really exists for the information it provides us and giving value back to our customers. We're working pretty hard on it at the moment. We definitely like to cater to hundreds of thousands of people and we find it really effective, even just segmenting budget mainstream and premium customers. We just have to make sure we're not marketing coconut water to budget customers because it doesn't matter what the communication looks like, they're not going to be buying dollar cans of coconut water. The challenge with loyalty systems is getting the communication level right, while also achieving the right business objectives.
Helen Souness: There's a totally different approach to every email we send out. It is personalised to that person based on what their profile says and what they have bought. There are two different approaches. I think segmenting is for wide broadcast communications. But if you are online with them, you should be personalising as much as you can.
Dianne Taylor: One of the things we're always mindful of is the resources that exist in retail. If you want to break down a huge database into groups of 20,000 or 40,000 people and you need to put 45 different messages out in market, it's just not going to be a reality. Whereas if you break them down into groups of 350,000 that can result in something more meaningful, or even a million, if they are definitely in a budget category, then it becomes something that's worth scaling up. But you need to balance that out with the fact that it does take extra work and you need to be able to measure the sales outcomes that come with it. So the challenge, or the art, is in making the data actionable.
Jee Moon: We're just about to start a loyalty program. I think why we want to do it is to understand our customers better. So, right now, we have a very aggregate layer, or segment, of one – we don't know at a customer level what she's buying, how often she's coming in and the frequency of visits versus transactions. The real reason for wanting to launch a loyalty program is not so much to create stickiness, though we think that that will be a nice side benefit.
Click and collect
Mark O'Keefe: We don't have click and collect now, but we should be considering it. It works very well for other health and beauty businesses around the world, Boots (UK) in particular, and it gives a different dimension to maybe stocking more product than we currently have in stores and expanding ranges online. We don't have expandable walls so it could give us an opportunity to make available different ranges and even think outside of what you'd imagine a health and beauty product might be. And if you think of health and beauty as a continuum, you could extend that to fitness equipment – or anything.
Jess Gill: It's really interesting from the point of view of retailers and marketers, but your brand can be let down if you're trusting delivery companies. We're now controlling our logistics and warehousing because we were so passionate that we needed to make sure all our clients receive their product on time.
Helen Souness: The interesting thing about being Etsy as a platform is that we don't control the delivery or logistics. That's up to the sellers. Customer experience is a very tough area for us, so we focus on educating our sellers and helping
them with as many tools as possible, be it shipping labels or advice on setting expectations in their policies.
Jess Gill: For the American market, the make-up of the houses is entirely different, where there's a back porch that you can access as a delivery person to leave stuff, whereas you can't get to the back of those Australian dwellings, if it's a
house or a block of units. So, yes, just getting the product to the individual is a challenge here. And the cost – I mean, this is off the back of our research – the Australian market was the secondmost expensive market in the world in which to
have a network just because of the geography versus the population.
Cameron Curtis: Convenience for a shopper looks different in a bunch of different scenarios. Convenience as an Australian shopper is buying a brand that's traditionally hard to get in Australia. Convenience is being able to walk into a high street retail environment. Understanding the moment in time where the customer is making a decision around convenience, I think, is really central and something you have to grapple with as a retail brand.
The ongoing power of the catalogue
Jee Moon: Where we spent the majority of marketing budget was quite astounding to me, coming in from a non-catalogue background. The business I work for buys for the catalogue. Promotions are held back for them and so products are launched into store off the back of the publication of the catalogue. And as we embarked on a program of refreshing the stores we realised that it is much easier to curate a catalogue than it is an actual store. And, so, it became a way of us fast-tracking the rebrand in pages, versus the challenge of trying to do it in 200 physical stores.
Mark O'Keefe: We track our brand's health every month and one of the questions we track is the noise around the brand, and which brand you have heard the most about in health and beauty. And for the last two years, we've been consistently on top, even though we don't spend the biggest media budget in the marketplace. It's because we combine what we do with what we control ourselves and one of the main things that we control is the catalogue. And if you ask consumers what's the main source of brand noise, consistently catalogue outscores TV.
Dianne Taylor: We don't do any catalogue at all, for any of our brands. The Trade Secret model doesn't work with catalogue anyway. The Trade Secret model is a mass market opportunity to buy labels, so you can't guarantee that the stuff will be in all stores to advertise it in catalogues.
Mark O'Keefe: I've seen no evidence in 13 years in this country to suggest that catalogue marketing isn't sustainable.
The future
Helen Souness: We rely solely on earned media. We get only 7% of our traffic from paid sources, so we really are a word- of-mouth brand. And one of the ways we build on that word of mouth is to turn our digital business into a bricks and mortar marketplace and literally pop up (as Etsy recently did in David Jones). It's about brand building, really. There's nothing as tangible or as meaningful as meeting your customers and generating that word of mouth, and the stories that the press will cover. It's storytelling, I suppose, to earn media.
Mark O'Keefe: At the moment if you go to the online site, the e-commerce functionality is there but it's quite deprioritised. I think we could do a better job reprioritising that and making it more of an e-commerce destination. We would be happy with seeing the e-commerce channel land in the Top 10 best-performing Priceline stores and getting up to 2% of our sales from it in the next three years.
Jess Gill: In terms of the extended range, we want to get the big head (of the 'long tail') into our stores. We know that out of the multiple tens of thousands of products that we have in the store a customer will buy from a group with 300 products and no more in a year from a supermarket. So actually trying to work out what is that 300 for 21 million people in particular shops is hard, but we're trying.
This article first appeared in the May 29, 2015 edition of AdNews.
Have something to say on this? Share your views in the comments section below. Or if you have a news story or tip-off, drop us a line at adnews@yaffa.com.au
Sign up to the AdNews newsletter, like us on Facebook or follow us on Twitter for breaking stories and campaigns throughout the day.