Carat has today published its updated predictions for worldwide advertising expenditure for 2015 and 2016 – which after four years of a stalled advertising market, forecasts Australia to return to positive growth in 2015.
In unveiling the stats, compiled from data from around the Carat network and based on its local market knowledge, the Dentsu Aegis Network-owned media agency says advertising expenditure in 2015 is set to increase by +2.4% to reach AUD $13.6 billion.
Predictions for 2015 have been revised upwards from the +1.0% previously forecast in the March 2015 report to +2.4%, with economic conditions in Australia showing signs of improvement – which is then being reflected in consumer and business behaviours.
It says the improved market sentiment that started in the first six months of 2015 is expected to continue through 2015 and into 2016 when growth of the advertising market is predicted at +2.8% rate.
Simon Ryan, CEO Carat Australia and NZ, said for the Australian market, it is encouraging to see a return to positive growth this year with a 2.4% increase to reach AUD $13.6billion - and a further expansion in 2016 at +2.8%.
"There is a clear and absolute focus that digital media is driving growth as its share of total advertising spends continues to inflate year on year and digital is now the leading media in Australia," Ryan said.
"Digital display is the rising star driven substantially by online video, programmatic and mobile. With cross-device measurement tools becoming more sophisticated and access to premium content increasingly available, greater investments from linear TV budgets are being allocated to digital screens."
Ryan said there's a significant change in market sentiment and consumer confidence which started in the first eight months of 2015 and is expected to be in play well into 2016.
He added that this will be further accelerated by spending on elections for Federal Government, Australian Capital Territory and Northern Territory and the Rio Olympic Games in August 2016.
"Significant and major new product launches led by leading advertising categories including automotive, retail, banking and telecommunications will also see continued growth in the Australian advertising market in 2016, all driving growth of around est. 2.8% on annual spend," Ryan said.
 The global look
To compile the research Carat used a bottom-up approach, with forecasts provided for 59 markets covering the Americas, EMEA, Asia Pacific and rest of world by medium - television, newspapers, magazines, radio, cinema, out-of-home and digital media. The advertising spend figures are provided net of negotiated discounts and with agency commission deducted, in current prices and in local currency.
Based on data received from those markets, advertising expenditure forecasts that global advertising spend will grow by +4.0% in 2015 to US$529billion, a slight decline from the +4.6% predicted in March 2015, and 2016 is predicted to grow by +4.7%, accounting for an additional US$25billion in spend
From a regional perspective, Carat confirmed on-going positive momentum in 2015 for most regions although said volatility occurs in some individual markets, with Western Europe at +2.6%, +4.2% in North America, +4.1% in Asia Pacific and +12.7% in Latin America.
It said Western Europe's continued positive growth is driven by solid 2015 figures in the UK and Spain of +6.4% and +6.9% respectively, strong enough to withstand the political turmoil in Greece and its revised advertising growth this year of -12%, significantly down from the +8% predicted in March 2015.
Despite a slight decline in growth forecasts due to China's economic downturn, the report said Asia Pacific remains strong in 2015 with an above global spend rate of +4.1%, driven by high-performing India at 11% and growing Australia at 2.4%. Carat's data also reports an encouraging outlook for 2016, with all regions predicted to increase year-on-year spend next year and Central and Eastern Europe to return to positive growth.
Fuelled by the rapid rise of mobile and online video spending trends, and perhaps not so surprising, Carat's latest forecasts reconfirm the continued solid growth for digital media, which it says is evident through the upsurge in the predicted share of advertising spend in 2015 of 24.3% and 26.5% in 2016.
"For 10 of the markets analysed, including Australia, the UK, Ireland and Canada, digital is now the principle media used based on spend, with the US market predicted to join this list in 2018 when digital advertising spend is forecast to overtake TV advertising by more than US$4billion," the report said.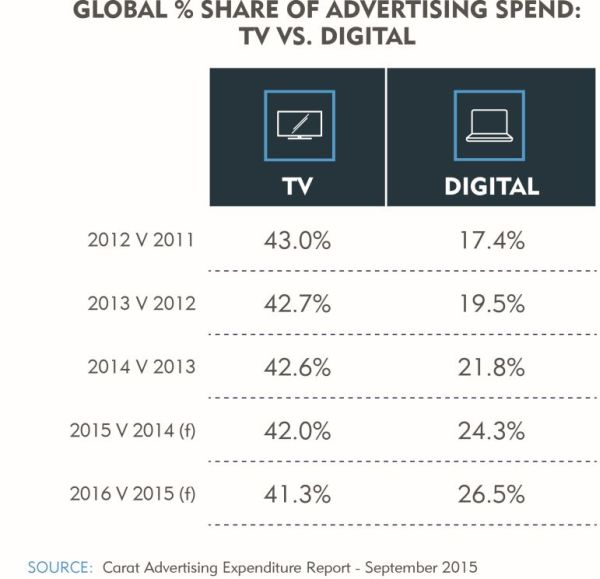 Media break out - programmatic and search bring stronger performance
By media, Carat said digital continues to be the only channel warranting double digital growth - predicting at +15.7% in 2015 and +14.3% in 2016.
It said this is driven by the high demand for mobile and online video advertising, especially across social media, with 51.2% and 22% year-on-year growth expected this year.
Programmatic buying is also experiencing "rapid growth" at a rate of +20% each year. TV remains resilient with a steady 42.7% market share in 2015 and is predicted to grow by more than +3% in 2016, as the upcoming Olympic Games and US elections are expected to drive considerable viewership.
Despite the ongoing decline in print spend, Carat's forecasts confirm year-on-year growth for all other media with updated predictions for 2015 highlighting year-on-year growth in cinema at +4.7%, radio at +1.3% and outdoor at +3.4%, with the latter two slightly revised down from March 2015 figures.
CEO of Dentsu Aegis Network, Jerry Buhlmann, said Carat's latest advertising spend forecast shows "optimism balanced with realism" during a year of increased volatility in major markets such as Russia and China.
"Digital media continues to achieve outstanding growth as the effectiveness of this medium and results achieved, especially with millennials, warrants the upsurge in spend levels," Buhlmann said.
"As digital rapidly evolves into a more established asset and programmatic and search bring stronger performance and efficiency, we continue to add value to our clients by delivering innovative solutions that are different and better."
For global and regional figures in the forecasts Carat converted the figures centrally into USD with the average exchange rate. The forecasts are produced bi-annually with actual figures for the previous year and latest forecasts for the current and following year.
Earlier this month Ryan has outlined clear plans for the media agency to be 100% digital and 40% programmatic by 2020.
Speaking with AdNews he said the agency has been gearing up and readying for the increasingly programmatic-looking future and he reckons few agencies will be able to match Carat on its offering due to the advancements and work it has put in so far.
The media agency boss also believes 60% of its media strategy and buy will be underpinned by analytics by that date. See the full story here.
Have something to say on this? Share your views in the comments section below. Or if you have a news story or tip-off, drop us a line at adnews@yaffa.com.au
Sign up to the AdNews newsletter, like us on Facebook or follow us on Twitter for breaking stories and campaigns throughout the day.