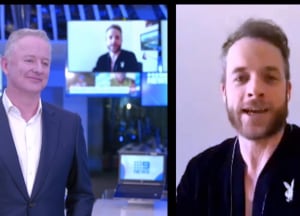 Comedian Hamish Blake Zoom bombed Nine's 2021 Upfronts, an event usually preceded and followed by drinks, hand shaking, back slapping and relationship building.
The format, which gave a first public glimpse of Nine's new integrated newsroom in North Sydney, was big on business first -- this is why you work with Nine -- followed by a strong lineup of programming content.
But a virtual event has to play to its format strengths when the physical traditions are absent.
Blake's "sudden" appearance came right at the end when Nine CEO Hugh Marks was summing up after the hour long presentation by senior players at Nine.
While the bombing was clearly scripted, Marks wasn't told about that part, insiders told AdNews. He was clearly surprised and happy with the encounter and banter with the host of Nine's Australian LEGO Masters.
Hamish Blake: "Someone gave me the zoom login details, so I just thought I would pop by."
It gave the event an excuse for a quick recap during a light moment.
Hugh Marks: "Thanks for tuning into our virtual upfront, from our new integrated newsroom in North Sydney.
"We have the largest audiences across all of our media platforms, audiences that are engaged with what we do with passion.
"We have a data asset second to none in domestic media by a long shot. And with our new Adobe partnership, even more potential to extract real value from that in real time and in a way not even Google and Facebook can offer you."
Paige Wheaton, Mindshare Sydney's investment lead, says Nine's start to Upfronts season was unlike any other.
"Nine's virtual approach was confident and seamless," she says. "We've all learnt over the past six months to keep virtual meetings timely, and Nine did just that."
What captured grabbed her attention most was what Nine departed from traditional broadcast television presentations and opened with data strategy. She describes that as smart.
"With Nine's broader digital ecosystem firmly established, highlighting the new Adobe data partnership was an important development in showcasing addressability across the network," she says.
"Nine's momentum in well performing programming looks set to continue. New and refreshed additions to the 2021 line up such as Celebrity Apprentice and Beauty & The Geek continue to leverage the ongoing trend of modernised nostalgia; a strong tactic that has rewarded the networks in a year of instability.
"Given the unexpected challenges of 2020, seeing Nine's programming slate for the year ahead will be of comfort to many of our clients."
Nick Durrant, general manager of investment at Mediabrands' Magna Global: "The virtual nature was actually a great way to get the information over but did dilute the excitement you feel from an in-person upfront. No one's fault there."
He says programming was consistent with no real new franchises you could get excited about (with apologies to Lord Sugar, the British billionairee who will head Celebrity Apprentice Australia).
"There were also no changes in direction," he says. "It was an evolution of the trajectory they have been on for the past couple of years.
"There was some strong developments in data with Adobe and Powered Enterprise with the focus on whole of business. This felt more like a positioning for SMEs but we welcome this approach to driving business results as it gels with what we are trying to deliver for our clients on a daily basis
"The one intriguing element was the State or Originality prize – I really liked the push for Origin to be the new Superbowl and if there is a reward for creativity this is a positive move." 
Ben Willee, general manager and media director, Spinach, remembers a time when there was no such thing as an upfront.
"A TV sales rep turned up at your office on a Friday with pizza, some Melbourne Bitter cans and a u-matic tape," he told AdNews.
"Upfronts now are slicker than hipster beard oil with more buzzwords than a social media agency strategist's tinder profile," he says.
"This year Nine delivered a fast paced and emotive presentation making the point they are so much more than a TV company with content that spans Love Island to the Financial Review."
He says upfronts are more about building trust.
"It's almost impossible to predict if a media company is going to have a good year from one of these presentations," says Willee.
"People don't watch networks, they watch programs so it's all about the detail. Smart media people know what is going to perform well, and have the experience and nous to take a punt on unproven formats."
Nicola Lewis, GroupM CIO, says the event was very slick, as usual.
"But I think what we missed, by virtue of it being virtual, was the theatre," she says.
"There is usually the time, and environment to go deeper into the content, programming and formats.
"You also usually see the talent and the programming come to life at the event which really shows the strength of the tentpole shows and clear opportunities for client integration, which didn't come across as strongly in a virtual format."
She says Nine will have a strong October and November, particularly thanks to sports programming, and the State of Origin moving to October.
"That's good for the industry," says Lewis. "We need buoyancy in Q4 and that's a real positive for us and our clients."
Jane Combes, head of trading for OMD Sydney, says wasn't at all surprised by Nine's presentation this year.
"I think we've all grown to know what to expect from them – the Nine Upfronts are always polished, informative and demonstrate the network's scale and solid content, but beyond that, they showcase themselves as a forward thinking business," she says.
"Nine very much depicted themselves as the organisation that can deliver better business outcomes, data led insights and premium content.
"The presentation then largely focussed on providing the proof points to back those claims. It was a solid presentation, with the network portraying the depth of content and breadth of platforms to deliver firm consumer outcomes on behalf of clients.
"Their scale and reach is truly impressive and that shone through."
Nine is moving away from the old models that don't work in the new world of data.
"They are looking to drive business outcomes for clients," she says.
"They say they are listening and shaping their offering to suit the needs of clients – I hope that is the case and come next year's upfronts, I would love to see tangible examples of how the business has continued to evolve to deliver on that model.
"Nine are also clearly looking to stimulate the market, encouraging advertisers not to 'tread water and wait', but to take a chance now and jump in."
"Given the year we've just had, stimulating the market (in the right way) by offering outcomes that circumnavigate or break through the uncertainties we are currently facing, is a welcome idea.
"Any help to drive the economy and help push businesses into 2021 in a positive manner, has the potential to enormously impact not only the media market, but the economy, consumer confidence and our wellbeing."
Paul Murphy, head of media at cummins&partners, was excited and surprised that Nine ran the TV programming last.
"Launching with a new data partnership and the introduction of Powered Enterprise was a statement of intent from Nine that they have full faith in a new view of how they will offer value to the marketplace," he says.
"And in my opinion it is a beautiful view.
"The Adobe partnership might not be single strategic piece that will grow the brands of their clients, but it is an exciting step forward.
"Having an Australian partner for businesses that can integrate their 1st party data and then talk to them over multiple formats with minimal data loss is exciting. Having a competitor for Facebook and Google that is competing on merits in the local market is very healthy, and a great thing for local agencies in particular.
"Beyond the data partnership, seeing Nine lead with talking about client business results instead of TV ratings was meaningful.
"The temptation has always been to talk up key program ratings and perhaps creep into talking down rivals, but it feels smart to shift into a conversation about why people partner with a group as powerful as Nine - to grow their business."
Have something to say on this? Share your views in the comments section below. Or if you have a news story or tip-off, drop us a line at adnews@yaffa.com.au
Sign up to the AdNews newsletter, like us on Facebook or follow us on Twitter for breaking stories and campaigns throughout the day.