The $13.9bn dollar Australian advertising industry has remained flat for the last five years, but the latest Nielsen Top Advertisers Report unveils the trends and big spenders within each media channel.
Figures from across the eight categories monitored by Nielsen (Metro TV, Regional TV, Metro Press, Magazines, Metro Radio, OOH, Cinema and Direct Mail), as well as the Online category the research company monitors alongside IAB, show that overall the market has rarely shifted for the past five years; maybe something to take comfort in, but maybe something which should be raising eyebrows.
On the plus side, Online as a medium continues its leviathan-like crusade to command the biggest share of spend. Nielsen/IAB state that 2014 saw $4.6bn invested in digital, as opposed to $4bn in the previous year, meaning it now ensnares more than a third of the total business. The top investors in the medium continue to be those in the motor vehicle, real estate and finance sectors.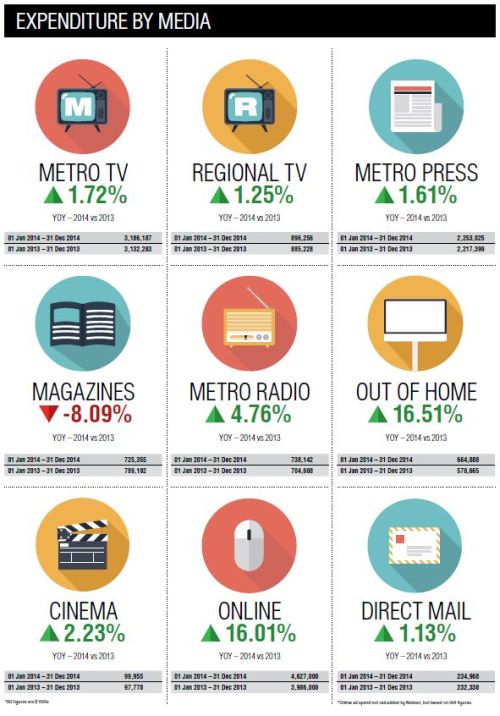 Elsewhere, Outdoor continues to perform well, relative to the other categories, as does Metro Radio and Direct Mail, but only by a cat's whisker (6% and 4%, respectively).
Of course, Metro TV holds up, particularly when it's the go-to destination for most of the country's top retailers, hence the continued attention from Wesfarmers, Woolworths and Harvey Norman with their conveyor belt of 'discount', 'cheap cheap' and 'deeper down' strategies which have dominated airtime.
An impressive $3bn per year continues to be ploughed into the Metro TV sector, a figure which has barely changed in five years, despite the proliferation of online destinations offering up menus of premium content. Another strong story comes from the Metro Radio category which, again, proves it is resilient and able to attract enough advertisers to result in growth.
Revenues for the sector are up almost 4.8% to $738m for 2014, leading to the assumption that Commercial Radio Australia's bid to attract more interest across the whole sector is proving fruitful. It would also draw a line under the unfounded and constant assertions that digital streaming services are successful in their attempts to usurp their terrestrial forebears.
Read the full Nielsen Top Advertisers report, incluidg a break down of the top 10 spending advertisers and sectors in each channel in the current print issue of AdNews. You can get it now on iPad or subscribe to AdNews in Print.
Email Nicola at nicolariches@yaffa.com.au.