It all began in 1999 at The Hero of Waterloo pub in The Rocks over a pie and a pint of Guinness.
Nick Mercer and David Bell quit their jobs at M&C Saatchi Direct to launch their own direct marketing agency MercerBell.
"We felt there was an opportunity to leave the safety of a large, established and very successful agency to go out and start our own thing," Mercer told AdNews. 
"It was actually an old client who sparked the initial discussion, and this prompted us to start to plan for our own agency." 
Nick Mercer and David Bell in 1999
Twenty years later, the business has grown to 65 staff in Sydney and 10 in Melbourne, as well as being acquired by Saatchi & Saatchi to become part of Publicis Groupe in 2016.
Mercer says the acquisition enabled MercerBell to become a "stronger business" building revenue through organic growth, new clients and opening a Melbourne office.
Currently the chairman of MercerBell and head of data at Spine Publicis Groupe ANZ, Mercer stepped down from the CEO position last year, handingover to the agency's longest serving member Julie Dormand.
Mercer believes the key to the agency's success over the last 20 years boiled down to its ability to adapt to the times.
"One of the key strengths of MercerBell has been its ability to continue to adapt and change; as the industry and client needs have changed," Mercer says. 
"MercerBell has embraced change and has updated its positioning. From traditional direct marketing, to brand response, and then to customer experience." 
In 2012, MercerBell repositioned itself as a customer experience (CX) agency – the first to tap into the trend in Australia. Mercer says the agency has gone one step further now to "predicting customer behaviours".
A strong advocate for CX, he says it is a core component of marketing that enables brands to sell their products and services.
"CX demands better engagement with customers at all touch points, from early searches to browsing products to the purchase experience and then the onboarding and potential retention of customers," he explains. 
"CX allows companies to blend the communications between the product and the engagement process."
Qantas 30th Frequent Flyer Anniversary
Over the years the agency has touted a diverse list of clients including Toyota since 2006 and Qantas from 2014.
It created work for the Qantas 30th Frequent Flyer Anniversary, the relaunch of American Express' Essential Card and the highly awarded Allianz 'Ahhh Moments' campaign.
The agency severed ties with Allianz after a seven-year relationship in 2017. The client has since switched agencies another three times.
It has also held longstanding relationships with Australia Post, which lasted more than 10 years, and MasterCard, which lasted 12 years and saw the agency develop the Priceless Music campaign.
Some of its current clients include AfterPay, American Express, Caltex, Carnival Cruises, Pernod Ricard, Purina, NRMA, Suncorp and Uber Eats.
Celebrating milestones
To celebrate the agency's 20th birthday, the staff voted in favour of having a '90s fancy dress party at the local pub.
"In true MercerBellian spirit, everyone joined in the fun with some amazing outfits," Mercer says. 
"I came dressed as Prince in a splendid purple suede suit and David came in his best grunge outfit ready for a Nirvana gig."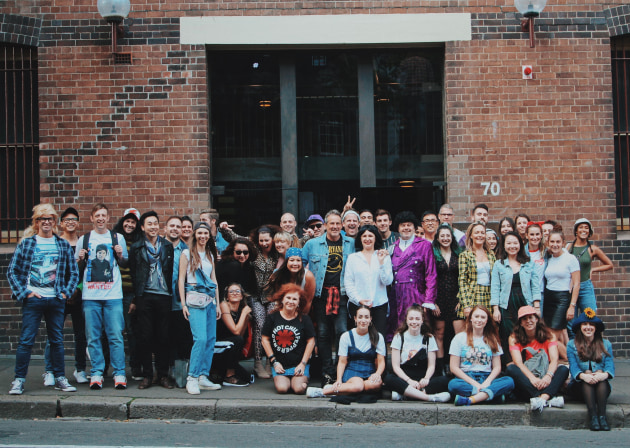 20th birthday celebrations
The agency isn't the only one celebrating a milestone this year though. Dormand has been with the business for the last 18 years.
To honour her tenure, she will be presented with a lorikeet painted cockerel (the MercerBell mascot) trophy.
"The MercerBell Mascot comes in the form of a 'cockerel' and is presented to staff on the anniversary of them joining. Each year is different, and hand painted by David," Mercer explains.
MercerBell CEO Julie Dormand
What will the next 20 years look like, then?
Mercer hopes the agency will continue to succeed courtesy of the "secret ingredient" which has helped it get this far – culture.
"MercerBell has always nurtured its people and savoured its relationship with staff and celebrated the importance of culture," he says.
"In a world where agencies will all become increasingly similar in their skills and expertise, bottling the essence of a strong culture might be a point of difference."
Have something to say on this? Share your views in the comments section below. Or if you have a news story or tip-off, drop us a line at adnews@yaffa.com.au
Sign up to the AdNews newsletter, like us on Facebook or follow us on Twitter for breaking stories and campaigns throughout the day.