This first appeared in-print, under AdNews' 1928 branded content offering.
GroupM, while the largest and most recognisable media investment group in the world, has only been in New Zealand for three years. But with 120 people, four established agencies, a world-class leadership team and some of NZ's biggest brands on the books, the media market's newest entrant has made a massive impact since launching.
GroupM was formally established in NZ in 2015 but MediaCom and Ikon have been on the ground since long before. Mindshare and Wavemaker followed to complete the powerhouse of agencies that is GroupM, a global network that thrives on collaboration to unlock possibilities and outcomes for clients.
Mark Lollback, CEO of GroupM Australia and New Zealand, talks about GroupM being a human capital technology company. The two things that define GroupM as a whole, and each of the agencies, is the people and talent on board, and the data and technology capabilities.
Everything the group does in Australia and New Zealand is driven by the desire to inspire excellence and is built around four defining pillars; scale, smarts, science and speed.
GroupM NZ Chief Operating Officer Chris Riley says: "Being part of GroupM and WPP AUNZ, means we can access world class technology, proprietary data tools and training and apply it to our NZ clients' businesses. Our structure removes barriers and allows decisiveness, which means we can make quicker decisions that positively impact our clients. 
People and Talent
The pace at which GroupM and the agencies have grown into established players with an enviable depth of talent in the NZ market is a point of pride for Riley.
"We have an unwavering commitment to having the best people and we've worked hard to build the most experienced leadership team in the market. The complexity that our clients are dealing with in their own businesses means that we can't settle for mediocrity.
"We have an obligation to our clients to have the best talent, so that we can offer them the best advice and solutions to their business challenges."
GroupM's people are the key strength the business has and its most important asset.
As well as offering market-leading benefits and entitlements when it comes to parental leave, all staff can tap into GroupM's global training programmes as well as WPP AUNZ's Academy programme.
"We're committed to investing in training people in this market and growing our own talent, and GroupM NZ has a strong bench of people with hybrid skills. Within the group there is a dedicated commitment from the top down to create and maintain a strong, healthy workplace culture," says Riley.
When it comes to what differentiates Mindshare in NZ, MD Samantha Osborne always starts with the people. "When I came to Mindshare, I found my home. I'm definitely a 'Purple Person'. We believe everything begins and ends in media and our approach is original thinking. That drives everything we do for our clients so we look for people that are curious and 'get amongst it'."
For MediaCom, it's about building an empowered team of business consultants who can deliver high-level business advice to clients. With offices in both Auckland and Wellington, MD Matthew Vogts says his team looks at marketing as a means to affect change for New Zealand businesses and deliver growth for clients.
"We invest huge amounts in training and ongoing support and education so that our people have the best skills and knowledge to allow them to do that and cut through the noise and snake oil that's out there," Vogts says.
It's not just technical skills. Personal growth and wellbeing are important too. In August, every single member of GroupM NZ attended WPP's full-day Wellbeing course. The agencies closed for the day, explaining the importance of the initiative to clients and focussing on Mental & Physical Resilience with its people.
Riley sums it up: "People respond to development and training and we know that means we get better outputs for them, for us and for our clients."
Data and Technology
Over the past year, GroupM has brought its data and technology teams together as mPlatform, a dedicated digital services team and centre of digital excellence.
Mike Khalil, GroupM NZ Head of Data & Technology and mPlatform, joined from GroupM Australia in 2017 to lead the function in NZ.
From a global perspective, GroupM invests US$100m in propriety technology every year. Being able to lean into those global capabilities, proprietary marketing automation products and partnerships with other WPP firms, such as Kantar, and then localise for the NZ market is a game changer for GroupM's agencies and clients, says Khalil.
"Our agencies are in a great position because they are already trusted advisors to clients, and now we can bring data and technology to that conversation and show them it in real time in our Data Room," Khalil explains.
What unifies clients across different categories is the increasing complexity they face in media and marketing, and a desire to better understand how they can use their data effectively. 
GroupM's technology and the data visualisation capabilities in the Data Room offers clients in New Zealand a way to do just that.
With three million New Zealanders in its DMP, GroupM agencies have unrivalled insights into New Zealanders' behaviours they can explore on behalf of clients.
Ikon MD Zac Stephenson says being part of GroupM has "supercharged" what the agency can deliver clients and says a recent piece of work for a telco that delved into location-based data, delivered outcomes 20 x more effective for the client than the client had seen previously.
Khalil sums it up: "Together with mPlatform, GroupM can demonstrate how our agencies can push boundaries to solve problems for our clients. It goes beyond simple demographics and clients are seeing a lot of efficiencies in what we can do for them."
The Data Room 
The Data Room is a market knowledge hub. It brings together a vast volume of data into an intelligence centre modelled on the Data Room in the Sydney office with a six-screen video wall running dynamic data visualisations at the click of a button.
All GroupM's NZ agencies, like their Australian counterparts, do regular 'Immersion Sessions' with clients in the Data Room where they can use GroupM's mKnowledge tool to deep dive into client and category data to show trends, insights, spending patterns and more.
"mKnowledge and the Data Room are unique and it's all technology GroupM has built to serve our clients. How we visualise data and turn manual data manipulation into automated processes allows us to do something uniquely powerful for clients," says Mike Khalil.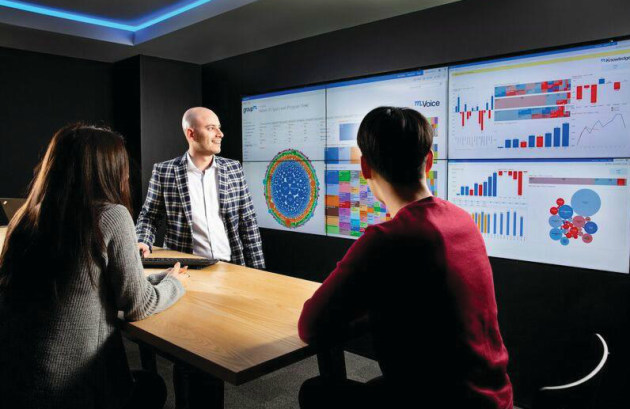 The Data Room
Have something to say on this? Share your views in the comments section below. Or if you have a news story or tip-off, drop us a line at adnews@yaffa.com.au
Sign up to the AdNews newsletter, like us on Facebook or follow us on Twitter for breaking stories and campaigns throughout the day.