GroupM has launched its addressable TV business in Australia to improve audience targeting for TV advertisers across most major broadcast players in the region.
The new business, called Finecast, will provide a single point of access for advertisers to target TV audiences across on demand, set top box and live streaming platforms.
Addressable TV has been a major focus for GroupM, as well as other media groups globally, to overcome the slump of TV ad bookings and shortcomings of linear TV targeting.
It will be led by managing director Brett Poole who was previously the VP of media and activation of data and insight business M Platform. Prior to that, Poole was the general managing of GroupM's native advertising business, Plista.
"The TV buyers we spoke to have never seen anything like this," Poole said, speaking at a media launch event on Friday.
"If you've been buying metros and tarps, this was a huge, pleasant surprise, for being able to move outside of the world of reach and unlock different parts of the marketing funnel and really bring the next era of television."
GroupM has secured Seven, Nine, Ten, SBS and Foxtel via Multi Channel Network as broadcast partners for Finecast in Australia.
Having launched Finecast in the UK last year, the global Finecast team were flown to Sydney and Melbourne last week to launch the agency internally and to potential clients last week.
In the UK, Finecast has attracted advertisers across categories including automotive, retail, banking, FMCG and beyond, with 100% of clients pleased with their measured results and return on investment, GroupM says.
The business is hoping to tap into the growth of addressable-capable TV devices, which is estimated to be 14 million within two years, according to research from third party provider IHS Markit.
GroupM predicts huge growth in addressable TV by 2022
Finecast global CEO Jakob Nielsen said the idea of the agency is five years in the making and aims to uncomplicate the burgeoning TV landscape for media buyers.
"TV today is on our terms. The product has never been as good as it is today, therefore when I hear people say TV is dying, I don't think they know what they're talking about because TV is not dying," he said.
"Is TV changing? Absolutely and that's what we are seeing. We're seeing a big change of how people view TV and that has a big impact on advertisers."
He said the fragmented landscape is too complex to navigate with a spreadsheet but Finecast offers a "simplified solution".
"TV is bombarded with ads. There are a lot of ads when you watch TV but imagine if those ads could be more relevant for you and high quality. Then, all of a sudden, TV advertising becomes content because if I'm in the market for a car and I see TV advertising for car dealerships, that's relevant and drives more value for brands," he said.
As well as more relevance, Finecast promises to make TV accessible for smaller advertisers and guarantees 100% brand safety.
Finecast aims to help build on the foundations of TV, rather than replace linear TV, Poole explained.
"Linear TV as an advertising vehicle is still very active. It's the most cost-effective way to build reach and build reach quickly," he said.
"Media buyers would still run a linear TV campaign but might be able to use addressable to drive more tactical outcomes."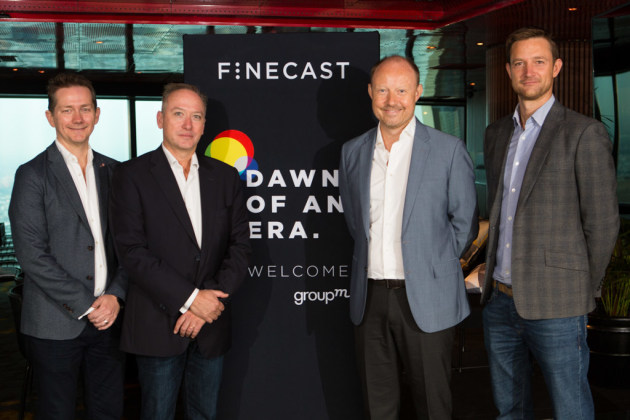 Brett Poole, Mark Lollback, Jakob Nielsen and Rich Astley
What the broadcasters said
Seven Network head of digital sales James Bayes said 2018 has seen an explosion in connected TV with streaming up 120% year-on-year. For Seven, connected TV now contributes more than 60% of its 7plus consumption from week to week.
"With login being rolled out to our @7plus CTV products this month, the launch of Finecast comes at a great time to leverage the potential for Addressable TV at scale on the largest and most effective screen in driving brand outcomes. We're pleased to see GroupM and Finecast lean in on this significant opportunity and look forward to delivering outstanding results for their clients," Bayes said.
Nine Entertainment Co chief sales officer Michael Stephenson welcomed the launch as it he believes it will help marketers navigate this new important frontier and help grow the Australian broadcast video on demand (BVOD) market.
"Television has always operated at the top of the marketing funnel, creating mass awareness and an emotional connection to your brand but addressability on TV is a gamechanger. It brings together the best of television and digital, helping to create people-based marketing solutions that link brand building together with activation and conversion," Stephenson said.
Network Ten chief sales officer Rod Prosser said Finecast will "reshape the benefits of advertising on TV", adding the benefit of better audience targeting and accountability.
"It's great to be part of this industry-defining solution," he said.
MCN national digital sales director Nev Hasan said the business is thrilled to work with GroupM to ultimately target consumers and drive better results for TV.
"Over the years, MCN has experienced a strong legacy in data-led TV buying, with our Programmatic TV solution being a core part of our innovation roadmap. Addressable TV is the next evolution in our journey and in collaboration with Foxtel's asset base, industry partners like GroupM and MCN's rich data stack, Multiview, we are creating a slate of addressable products. Our addressable TV product will further help build upon how we can link the world of TV and digital with on demand linear TV services to give advertisers reach, coupled with the power of advanced audience targeting capability," he said.
SBS Media director Adam Sadler added: "SBS On Demand is Australia's most diverse and popular commercial streaming service. With more than 5.4m registered users, we are excited to be working with Finecast to help advertisers reach more targeted consumers, as consumption on Connected TVs continues to grow."
Have something to say on this? Share your views in the comments section below. Or if you have a news story or tip-off, drop us a line at adnews@yaffa.com.au
Sign up to the AdNews newsletter, like us on Facebook or follow us on Twitter for breaking stories and campaigns throughout the day.