This artical was originally published in the AdNews September/October magazine. Subscribe here to make sure you get your copy.
Social media companies did, unsurprisingly, better than traditional media owners in weathering the impact of the COVID-19 pandemic, and more briefly the bushfire crisis, on their advertising revenue. Brands turned to the platforms, particularly Instagram and Snapchat, for their ability to provide cost-effective, quick ways to reach customers who were spending less time around their brick-and-mortar stores and more time on screens. As we entered weeks into the pandemic, particularly during strict stay-at-home orders in March and April, people weren't just using platforms to keep themselves entertained, they were increasingly shopping online, and platforms that rolled out tools to make this experience easier benefitted the most.
Like almost all media channels, social media experienced a surge in users as people were stuck at home to slow the spread of COVID-19. In July, six months into the pandemic, social media was used by 3.96 billion people for the first time, just more than half of the world's population, according to We Are Social and Hootsuite's 2020 Digital Report. In Australia, 18 million people, or more than 71 per cent of the population, have active social media accounts and the report also showed how digital behaviour changed since lockdowns started in Australia, with 33 per cent spending more time on social media in recent weeks.
But unlike other media platforms, social was able to continue to attract relatively strong advertising dollars due to its ability to be flexible, and cost-effective for brands that were under increased financial pressure. According to SMI figures, which look at media agency booking numbers, social media advertising expenditure fell 17 per cent for the first half of the year, in line with downward trends in a market that declined 40.4 per cent in total in May. This is compared to other channels, such as TV, which still had strong audiences and fell 35.6 per cent. Other figures show investment in social media declined about 30 per cent during the height of the first wave of the pandemic.
The types of brands turning to social channels, and their reasons for doing so, changed through different phases of the pandemic. Industries such as travel and tourism, which have effectively been on pause since March, pulled almost all spending. Meanwhile, media buyers say others, particularly supermarkets, which had a significant increase in sales as people engaged in panic buying, decreased overall social marketing activity to avoid stimulating demand they couldn't keep up with.
For the rest of the sector, many big brands turned to social media platforms in March to provide quick updates to consumers on their services and provide support — a trend that was dubbed "covid-vertising". Then as we moved into the second quarter, media buyers noted a shift where larger business' spend plateaued but SMEs increased their advertising activity by using social as their primary performance marketing platform to drive sales as foot traffic dried up.
Facebook, taking the lion's share of social media revenue, reported revenue of US$18.3 billion for the second quarter, up 10 per cent from US$16.6 billion the same time last year. Revenue for Asia Pacific grew to US$3.341 billion from US$3.012 billion the previous year. While Facebook expects usage to decline as restrictions ease, its monthly active users (MAUs) was 2.7 billion, up 12 per cent year-on-year from 2.6 billion last year. For Asia Pacific, its MAUs was 1.142 billion, up from 1.003 billion the same time last year.
The social media giant wasn't only dealing with a pandemic, but a US-based boycott from hundreds of brands, led by the Stop Hate for Profit movement, over its handling of misinformation and harmful content. Multinationals including Unilever, Coca-Cola and LEGO joined the list, with some taking their boycott right across all social media platforms around the globe with it impacting spend in Australia. According to reports, some of the biggest spenders were among the boycott, including Starbucks which spent US$95 million on the platform last year and Diageo which spent US$23 million.
Despite the size of the protest, Facebook CEO Mark Zuckerberg was confident the company could withstand the hit, saying in its latest earnings call that the expected impact was misguided by the assumption Facebook was reliant on "a few large advertisers" when the biggest part of its business is "serving small businesses".
"Our advertising is one of the most effective tools that small businesses have to find customers, to grow their businesses, and to create jobs," Zuckerberg said in a call to analysts, and this would be more true throughout the pandemic.
David Wehner, chief financial officer, says growth was primarily driven by small and medium-sized businesses around the world during the quarter.
"As a result, we continue to see increased diversification among our advertiser base. In Q2, our top 100 advertisers represented 16 per cent of ad revenue which is a lower percentage than a year ago," said Wehner.
"On a user regional basis, ad revenue was strongest in the US and Canada, Asia Pacific and Europe, which grew 14 per cent, 11 per cent and 9 per cent, respectively. The rest of the world declined 6 per cent and was impacted by challenging macroeconomic conditions as well as foreign currency headwinds."
Instagram Shop
Meanwhile, Snapchat's revenue grew, although at a slower rate, by 17 per cent year-on-year to reach US$454 million, compared to US$388 million in the same period last year. The app added an extra nine million users in the second quarter to reach a total 238 million average daily active users, up 17 per cent year-on-year.
On the other hand, Twitter confirmed it's looking at subscriptions as a way to "complement" declining advertising revenue. The social media company reported revenue of US$683 million in the second quarter, down 19 per cent year-on-year. At the same time, the platform has added users quicker than expected, with average monetisable daily active users up 34 per cent year-over-year to 186 million, marking the company's highest growth rate to date.
According to reports, privately owned TikTok booked around US$5.64 billion in revenue for the January-March quarter, representing growth of more than 130 per cent compared with the same period the year prior. The company doesn't provide a breakdown of users in Australia, but Roy Morgan figures from February estimate that it had 1.6 million users locally, a number that's no doubt shot up since.
Locally, media buyers put social media's largely better-than-expected performance down to not only its reach but its ability to convert sales for businesses that needed it more than ever and had less money to do so. We Are Social's 2020 Digital Report found that Australians were shopping more online, with three-quarters (74 per cent) of Australians having bought something online throughout June to July, and the annual value of the ecommerce market in Australia up by 13 per cent. We saw the big social media companies vie for this growing market with new ecommerce tools.
Tanya Koppe, Mindshare national head of digital, says while social channels slightly dipped from a volume perspective, their share remained the same within the marketing mix.
"Ecommerce was a driving force behind Facebook, Instagram, Snapchat and Pinterest's revenue growth in Q2," Koppe tells AdNews.
"With social restrictions in place, these social platforms were able to provide businesses the opportunity to continue to operate and discover new audiences. We saw Facebook and Instagram Shops launch; Snapchat built a full suite of products for ecommerce and Pinterest launched the new Shop tab within its Lens visual search results."
Instagram, which analysts expect helped pull Facebook through the second quarter, expanded Instagram Shopping to more business and creators, and also rolled out tools such as food delivery, gift cards and Support Small Business stickers, giving brands new ways to promote themselves. The company's main platform, Facebook, launched Facebook Shops, allowing businesses to set up a single store across Facebook and Instagram for free.
Meanwhile Snapchat rolled out Places on Maps in June, allowing businesses to promote themselves as Australia started to emerge from strict lockdowns. The social media's platform's local boss, Kathryn Carter, told AdNews at the time it would help give the platform a bigger slice of advertising revenue from small businesses.
"Places has been a positive step in enabling us to have a relevant solution to support small to medium businesses across Australia," says Carter. "Especially at the moment when businesses want to connect with consumers and let them know they're open. We are proud to have a solution which will be relevant, acceptable and easy to use and get behind.
"My perspective is that the current situation has highlighted the importance of having a really sound ecommerce strategy across all retailers."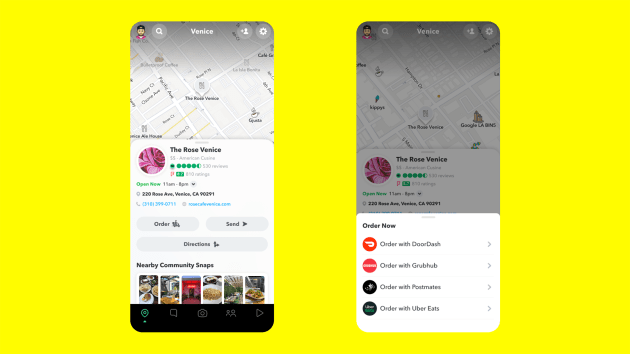 Places on Snapchat
Experts say the pandemic didn't produce new trends around online shopping but that it simply accelerated what we were already seeing taking place on social media.
"It's very much been an acceleration of trends that already existed," says Koppe. "As well as video and live virtual events seeing a huge increase during this period, the pandemic has seen the acceleration of ecommerce within the social channels.
"It has always been a key initiative for most of the social platforms to evolve their ecommerce offerings. All social platforms saw a spike in users during the first half of the year as consumers went online to get their social connection fix. So it was inevitable ecommerce was going to be fast-tracked to accommodate the need that was presenting itself with our lockdown restrictions."
Wavemaker's national head of technology platforms, Victoria Brennan, agrees that the pandemic simply delivered more widespread adoption.
"People had more time to play so we saw them unleashing their creativity with vertical video stories — from Snap to Instagram to TikTok," she tells AdNews.
"Restrictions on travel meant people overcame reservations with shopping online, sent more messages and learnt how to video call, even demographics that hadn't previously been tech adopters. The surge of users in a biddable environment meant we could get more bang for our buck. So in reality, the knock-on effect on ad spend has been minimal, but it has solidified our social media apps as an intrinsic part of modern life."
Clement Tsang, general manager of global media partnerships and innovation at Amplifi, has also seen the pandemic accelerate the adoption of "newer" formats such as digital catalogues.
"Consumers that could no longer enjoy receiving direct mail catalogues could now continue their browsing experience via online channels," he says.
"And the significant growth in sales via ecommerce channels reflects that shifting journey. The launch of Facebook and Instagram Shops, YouTube Shopping and the focus around commerce enablement reflects this trend and behaviour. As that meme states, COVID-19 is the digital transformation driver, not the board or C-Suite.
"With this focus came a recognition that social commerce was a positive business growth driver for advertisers that were capable of selling more. According to a Hubspot report, Instagram is the social channel with the second-highest ROI among marketers."
The Hubspot 2020 report, which surveyed 3400 marketers around the globe, found that just over 20 per cent of respondents saw the most ROI out of Instagram, second to Facebook which was at about 50 per cent.
Speaking to AdNews, Facebook Australia and New Zealand group industry director Naomi Shepherd says the company has been focused on building its shopping and ecommerce tool to allow business to sell directly on its platforms for some time, and the pandemic meant a greater focus on that.
Businesses of all sizes have had to invest more on online shopping and Shepherd has seen the process for brands to adopt Facebook and Instagram's ecommerce tools go from a year to weeks out of a necessity to meet consumers where they are.
"We've seen a breakneck shift to ecommerce. PwC had a statistic that 40 per cent of Australian businesses have changed their route to market since COVID-19 began, which is amazing when you think on the Australia Day long weekend none of us were talking about the coronavirus and now we've reached this point where almost half of all Aussie businesses have changed their route to market," says Shepherd.
"I think our strong half was definitely through meeting the needs of people, but also the fast development of products that businesses and advertisers wanted.
"Australia is leading the way in a lot of this stuff, and not just in the use of the products we're building, but in some cases in the development of those products."
Woolworths is one brand that turned to Facebook's digital catalogues when print was disrupted and more difficult to get to consumers, although the supermarket chain has still committed to its print catalogue.
The Facebook team also used its Events feature to create a booking system for beauty brand Estee Lauder to help it virtually connect consumers with its beauty experts.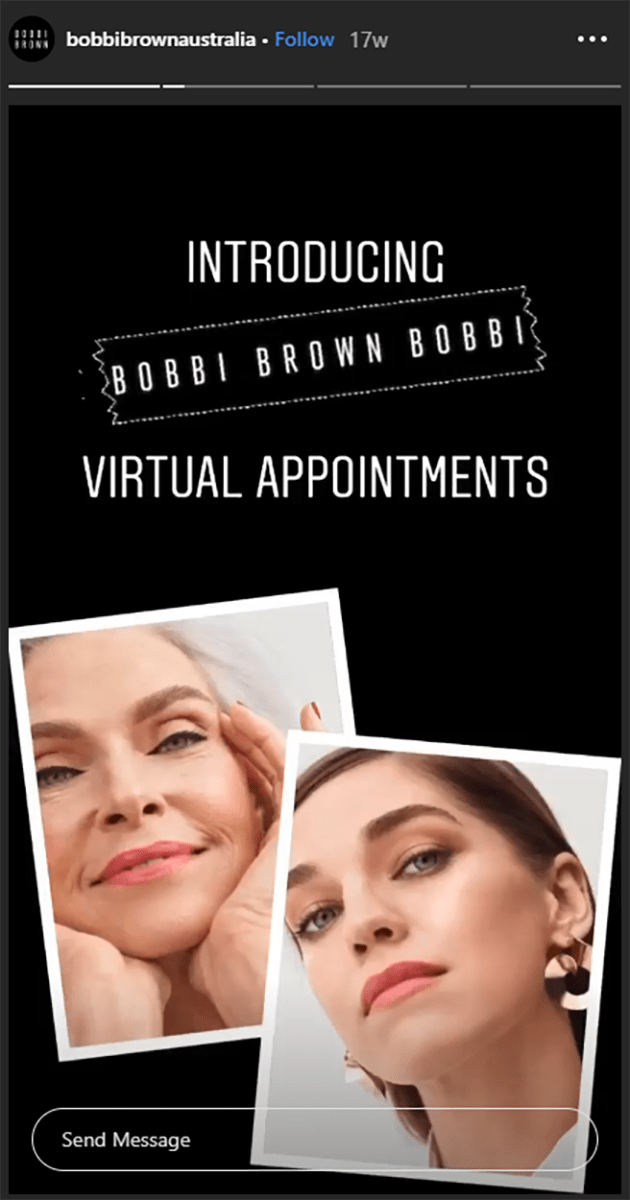 Estee Lauder
One brand that made a shift to ecommerce in a big way was Inditex, owner of fashion brands such as Zara, which announced it was closing more than 1000 stores globally in the next two years and reinvesting more than US$1 billion into online shopping in the next three years, with social part of that mix.
According to The State Of Commerce Experience report by Forrester and BloomReach, which looked at how shopping trends have changed this year due to COVID-19, 52 per cent of businesses said they planned to increase budget on social channels since the pandemic, compared to 49 per cent before it. This is compared to 46 per cent who said they would invest more in online third-party marketplaces compared to 68 per cent before the pandemic.
Meanwhile, 24 per cent said they would increase investment in their retail stores since the pandemic, compared to 52 per cent before it.
"Digital channels for consumers and businesses have been maturing for more than two decades, but the coronavirus has pushed digital from a supporting function to a primary touchpoint for many," the report said.
"These touchpoints are a lifeline for consumers, businesspeople and even students as social distancing has forced a dramatic change in behaviours. Never since the dot-com boom has digital commerce been so front and centre. Whether your business is in survival, adaptive or growth mode, now is a critical time to reallocate funding to deliver enhanced digital experiences and set your business up to be more competitive as the world shifts to a new normal post-pandemic."
Shepherd expects this shift to online shopping to stay even after the pandemic passes. She says that while many businesses used this period to simply join the digital space, many would look at building on their online experience in the future.
"I think initially it was about just getting something in the digital space," she says. "Now it's about building in new functionality and being able to shop directly, or customising it in many different ways and measuring the sales outcomes and that sort of thing.
"I do think these things will continue to be embedded, and I think that's not necessarily driven only by business; I think that's driven by people saying their behaviours won't change, and that's something that we're picking up in our platform insights. About 54 per cent of Australians are saying, 'I've adopted a new behaviour based on COVID-19,' and a lot of that is around online behaviour.
"And then 42 per cent of Australians are saying, 'I'm never going back because I'm actually enjoying the way things are working for me right now.' So we wouldn't expect these things would change for people, and nor would we expect they change for business."
Aaron Brooks, Vamp CEO, says Instagram led the way for brands throughout the COVID-19 pandemic.
"Instagram has really been leading the way. They launched food delivery, gift card and Support Small Business story stickers, giving businesses new ways to promote themselves and allowing customers to become advocates for them," he says.
"Then came Instagram Shops, which offers a chance to shift business models to selling online if brick-and-mortar stores have been impacted by COVID-19. Instagram has given bigger brands more chances to convert social scrollers into shoppers with its growing roster of shoppable features and Branded Content ads, which help amplify the impact of Paid Partnership posts."
The rising social media player TikTok has been labelled the "winner" of this pandemic due to its surge in popularity during lockdowns. The platform has recently expanded its presence with a local team in Australia. While it's been building its products for advertisers, such as launching TikTok for Business, some agencies say more time is needed to
understand how to bring brands into the app.
"As with any new entrant to the media ecosystem, adoption by advertisers and validation by media agencies requires process and thus time," says Tsang.
"We have been working with their teams and are currently seeing a variety of advertisers testing the performance of the platform. We think they are definitely a key platform to consider in 2021."
Koppe is "cautiously" optimistic about the rest of the year when it comes to social media's advertising performance. Even with usage expected to decline as restrictions ease, she expects social media revenue to grow.
"Ad revenues are likely to increase within the likes of Instagram, Snapchat and Pinterest, which have enhanced their ecommerce offerings and added new formats to cater for businesses which have turned on their social ecommerce in a bid to stay open and compete against the large marketplaces." she says.
Social creative through the COVID-19 pandemic
The rise of "covid-vertising", where brands moved away from call to action and towards brand messages of support during "these unprecedented times", started to tire consumers and marketers.
"In the past few months people have engaged with social content that shows empathy, honesty and genuine insight, and some brands have been quick to recognise this," says We Are Social Australia managing director Suzie Shaw.
"However, too much 'we understand you… we're here for you' wore thin pretty quickly."
Shaw also warned against empty gestures to "anxious" consumers, such as McDonald's separating its iconic M logo which drew criticism from many people online.
However, brands did learn to evolve their messaging and provide more valuable ways for consumers to get through months of lockdown and then readjust their lives for a pandemic where social distancing was needed.
"With people spending more time than ever scrolling through their feeds, many brands leveraged social media to show empathy through reassuring and heartfelt messages. They also showed how they were responding to the crisis to support their customers, staff and the wider community — such as Suncorp and Optus," says Shaw.
"Others added value to their audience by offering a wealth of tips, how-to videos and utilities for people to adapt to their new normal — working from home, homeschooling, virtual socialising, etc — like Slack and Burger King. But many people were on the lookout for entertaining content in their feeds, wanting more funny content, memes and live entertainment, and brands such as Red Bull and Bud Light managed to deliver some much-needed light relief and distraction with their social content."
Brooks says strong campaigns on social needed to deliver value to customers, and he saw his clients lean into using influencers.
"The content influencers share is rooted in their everyday experience. Creators had no choice but to adapt and acknowledge their lifestyle shift, shared by their followers," he says.
"This common experience helped brands achieve a sense of humanity and relatability that is difficult to muster on faceless brand accounts. Audiences have leaned in, too. With many of us spending more time than ever on our phones, they've provided a source of inspiration and entertainment in lockdown, deepening that bond between influencer and follower.
"It [the pandemic] certainly accelerated the idea of using influencers as a content resource. While so many shoots around the world were being cancelled, influencers were able to continue creating content safely at home. We've seen an increase in content-only or content and ad briefs from clients."
On the other hand, We Are Social's Suzie Shaw noticed the pandemic was tough on influencers, with a lot of their brand partnerships being dropped as brands tightened their budgets in a difficult economy.
"Influencers have had a tough pandemic with a lot of their brand partnerships drying up. Either because their traditionally glossy lifestyles feel off colour in a COVID-19 context, because they've been unable to travel to create their content, or brands are simply seeing them as nice to have in a time when budgets are under great scrutiny," she says.
"Interestingly, many influencers were more effective than brands in responding to their communities and pivoting to the new context. For example, fashion influencer Birkin Boy went from posting expensive bags and luxury #ootd at fashion shows to organising his wardrobe, ironing and showcasing designer face masks, engaging his audience and adding value with his content."
Have something to say on this? Share your views in the comments section below. Or if you have a news story or tip-off, drop us a line at adnews@yaffa.com.au
Sign up to the AdNews newsletter, like us on Facebook or follow us on Twitter for breaking stories and campaigns throughout the day.