Big data, programmatic and a lack of innovation in brand building measurement has led to marketers being seduced by short-termism, advertising effectiveness expert Les Binet says.
Binet, who is head of effectiveness at UK agency Adam&Eve, said it has become easier to measure the short term effects of marketing, which has pushed marketers towards over-investing in activations rather than long-term brand building.
Speaking to AdNews at VidCon Australia, Binet shared his latest research that found the split between brand building and activation is around 50-50. However, he said marketers need to invest 75% of their budget on brand building and just 25% on activations to drive long-term growth for brands.
The lure of short-term activations is obvious as it typically provides a spike in short-term sales, or ROI, double that of longer term activations, Binet explained, but long term brand building is what delivers growth for a brand.
"ROI is useful but it's actually the least relevant thing for determining growth and how much money you'll make. Increase in sales and market share are much more important for profit than those short-term ROI metrics," he said.
"If you just look at the ROI metrics, you'll end up missing out on a big profit opportunity."
Binet said those that argue "ROI is everything" are ignorant to the true meaning of the metric.
"ROI is not a measure of how many clicks you get. It's a ratio of the traditional profit generator to the amount you spend. Anyone who insists the term ROI to mean anything else is an asshole," he said.
"If you speak to someone in finance or a banker and use ROI for anything else other than a financial metric, you'd like look an idiot."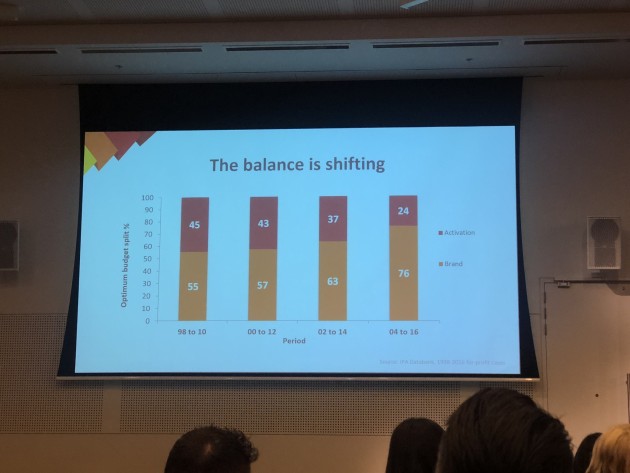 The balance between activation and brand building is shifting
He argued that brand building is more important than ever before and completely different to the tight targeting associated with activations, which is why it's hard to measure.
"The effects of brand building are so long term that you will see the results two years after the exposure," Binet said.
The adman, who is often referred to as the Godfather of Effectiveness, is currently working with Facebook and Google to develop better long-term brand building measurements.
Using the example of UK department store John Lewis, known for its iconic Christmas ads created by Adam&Eve, Binet said emotional storytelling, free from a call to action, will drive sales down the track.
"Relevant messages are not relevant in brand building. Messages have little traction in brand building. It's primarily about the emotional messaging and about creating associations almost subconsciously," he said.
Binet's research also revealed video is the most effective medium at delivering emotional impact, with best results when you combine TV and online video. 
He said people's current online behaviour isn't a good predictor of their habits in two or three years, which is why broad reach mediums, such as broadcast, are important for brand building.
You can find Binet's latest research in his new book.
Have something to say on this? Share your views in the comments section below. Or if you have a news story or tip-off, drop us a line at adnews@yaffa.com.au
Sign up to the AdNews newsletter, like us on Facebook or follow us on Twitter for breaking stories and campaigns throughout the day.