The rise of short-termism in marketing, including an obsession with ROI, is undermining the effectiveness of campaigns to drive long-term profit growth and market share, a ground breaking new report has confirmed.
The pursuit of highly-targeted short-term sales activations, often on digital platforms like search and social, has come at the expense of long-term brand building activity, which has fuelled a five-year decline in the effectiveness of the top performing UK campaigns.
These are the findings of Media in Focus: Marketing Effectiveness in the Digital Era, which analysed 500 'digital era' case studies of marketing campaigns in recent years, including 120 cases from 2014 to 2016 to present a modern picture of how recent trends in marketing are impacting results.
It was co-authored by Adam & Eve DDB head of effectiveness Les Binet and global authority on marketing effectiveness Peter Field forhe UK's peak advertising body IPA in association with Thinkbox and Google.
"Wherever you go, we are pulling billions out of brand building for long term growth in order to fund this obsession, this addiction to short-term sales activation because we think it's cool," Field told the Communications Council's Marketing Effectiveness on Trial event in Sydney last week.
In Australia, most of this money is being diverted into search and social media channels. In the past five years where marketing effectiveness has declined, marketers have nearly doubled their investment in search from $1.8 billion in 2012 to $3.4 billion in 2016.
"It's a huge mistake," Field adds. "We're not anti-search. Paid search has been one of the founding stones to improvements to efficiency, but we've just gone too far, we've put too much money into it.
"With the money to fund 25% year-on-year growth in it, that's money has got to come from somewhere, it's not coming from Father Christmas, it comes from brand-building budgets."
The 60:40 rule under threat
The transition to sales activations has become so pervasive that the recommended 60:40 rule of marketing investment between brand and sales activation has become less than 50:50, with the bulk of the money pouring into short-term activations.
Field points out that marketers are now much more focused on serving "last minute marketing messages to people in market" rather than building long-term memory structures that build long-term profit growth and market share, which becomes more critical the larger a brand becomes.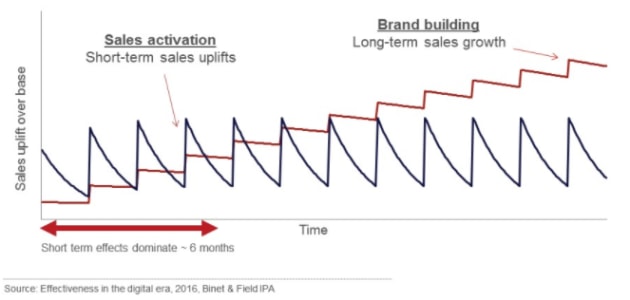 One of the major forces in marketing that is causing damaging short-term behaviour, points out Field, is an obsession with return on investment.
"A lot of the clients that we work with will tell you they are driven by ROI, they will not cross the road if ROI isn't on the other side, and we're very concerned about the impact this is having, the negative behaviours it drives and feeding this frenzy of short-termism," Field says.
"If we are chasing maximum ROI, what we are going to do is go for the low-hanging fruit. We are going to do our sales activation piece and serve our messages only to people we are sure are in the market. The easy targets we are going to do very efficiently at low cost and we will want to achieve very large returns on investment."
Field points out that the efficiency gains means that marketers are able to lift short-term profits by reducing the bottom line, but at the expense of the heavy lifting required to build memory associations to drive long-term sales.
Also, by only focusing on heavy buyers ­– the low-hanging fruit –  it means that brands are not able to grow their market share beyond customers that are already most likely to buy a product.
"These long-term memory associations don't deliver the full potential of their fruit in a quarter or the timespans ROI delivers to," he adds.
"If you want to drive profit growth, you have to be into the long-term game…because you end up driving volume and margin."
The factors that drive profit has short-term activations and ROI at the bottom of the pile, while important measures like market share hardly had any impact on ROI.
Marketers: lack understanding, love fads, want free lunch
In a later panel discussion, Binet points out that measuring the wrong thing, like ROI, is only part of the problem.
"The other thing is kind of wishful thinking," he says. "And that is: wouldn't it be lovely if we didn't have to spend any money? If we can only target a handful of people and spend a small amount of money to grow your brand. Whereas spending a large amount of money on broad reach is hard work and costs money."
Ehrenberg-Bass Institute associate professor Rachael Kennedy said there was another problem plaguing marketers and driving short-term behaviour.
"There's a lack of understanding of the fundamentals of what you need to do if you want to grow," she says.
"That negative binomial distribution and the importance of light non-buyers – one you understand that it becomes obvious not to do this but so few people do.
Herd Consultancy 'herdmeister' Mark Earls points out that marketers are compelled to follow what peers are doing and "because it's cool".
"A chart from the CMO survey clearly shows that CMOs recognise [social media marketing] is a thing that everyone else is doing, they don't believe it works or that they can measure it, but they recognise it is coming and it's unavoidable," Earls says.
Professor Karen Nelson-Field, the founder of Media Intelligence Co and an authority on media science and strategy, believes the 'free lunch' syndrome or using social and trying to drive earned media, or unleash a viral hit, is also at play.
Have something to say on this? Share your views in the comments section below. Or if you have a news story or tip-off, drop us a line at adnews@yaffa.com.au
Sign up to the AdNews newsletter, like us on Facebook or follow us on Twitter for breaking stories and campaigns throughout the day.