National Labor MP Sam Dastyari has warned that public interest journalism is at a "do or die" point where unless a new solution to funding is found, journalism could die in Australia.
Dastyari, the head of a Senate inquiry into public interest journalism, told ABC's Media Watch last night that government intervention might be needed to prevent public interest journalism from becoming casualties of Google and Facebook as advertising budgets shift to the digital duopoly.
"This is a serious problem. We have got to the point of no return," Dastyari said. "If we want to have a proper journalistic industry here in Australia then we have to actually start taking steps to protect it.
"I personally believe the best way of getting that balance is about having some kind of a tax incentive structure scheme that is available to media companies that is paid for by the big aggregators like Google."
Check out Media Watch's special: State of play: news media versus the digital giants 
Job cuts and plummeting revenue over the past five years paint a bleak picture of an industry in chronic decline.
Since 2011, media organisations have axed 2,500 jobs, gutting out newsrooms and scaling back vital civic journalism rounds such as local council and court reporting.
In the past year alone, Fairfax has axed 125 jobs, News Corp has cut 100 with fears of 300 more on the way and Seven West Media has culled 60 journalists at West Australia Newspapers.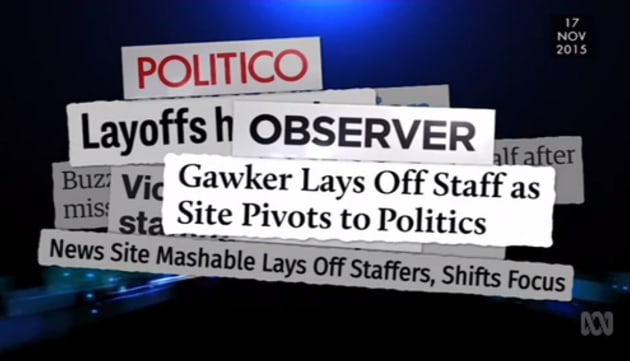 Schwartz Media, publishers of The Saturday Paper and the Monthly, summed up the problem in their submission to the Senate enquiry: Newspaper advertising revenue has dropped 40% in just five years to $2.4 billion as "the economic model that has supported quality journalism is in mid-collapse".
Australia is not an isolated case. Reuters Institute Digital News Report's Nic Newman told Media Watch that print advertising revenues have had "double digit falls" in many countries due to sharp declines in print advertising, while most of the growth in digital advertising, estimated at around 85% to 90%, is going to Google and Facebook in most countries.
"The problem is vanishing revenue," host Paul Barry explains. "Newspaper sales have plummeted and dollars from print advertising have turned into cents from digital ads."
Seven out of 10 young Australians tell Media Watch they would never pay for online news, a problem media companies created in the early days of the internet when they gave away news content online for free.
Just as concerning is that young Australians do not discern news sources, several consumers Media Watch approached said they got their news from Facebook even though the social media network doesn't produce content, it merely monetises the content created by others.
How to solve the problem?
Steven Waldman, author of FCC 2011 Report on the State of the US Media, told Media Watch Facebook and Google can solve the problem by writing one cheque each.
Ed Greenspon, the former editor of Globe and Mail in Canada, believes a digital advertising levy should be set up with the proceeds funding original public interest journalism though tax breaks.
Australian Senate powerbroker Nick Xenophon has previously called for a Google and Facebook tax to save Australian media companies.
Dastyari and the senate committee are exploring a similar solution that provides tax incentives and believes taxing the digital duopoly could work political will is there.
Given that Google and Facebook already avoid tens of millions of dollars in tax by booking sales in low tax jurisdictions abroad, AdNews is not confident the government will be willing or able to impose a further levy.
At today's senate hearing public interest journalism, Trinity P3 founder Darren Woolley also points out that any additional taxes on the digital giants are likely to be passed onto advertisers, which will be met with resistance.
Even if the government is able to raise additional funding for journalism through tax, who gets the spoils?
Dastyari told Media Watch this is a major challenge. "When we're talking about public interest journalism the real question, the challenge is how do you define that? When does something start being a piece of journalism in the public good and when is it just someone blogging about their dog on Facebook?."
Or, some might argue, when tabloids publish agenda-fuelled pieces that written to a specific narrative or ideology rather than investigate an issue objectively for the public good.
Today, industry experts, including Woolley and GroupM director of technical operations Timothy Whitfield share their views at the senate hearing.
You can follow the findings of the Senate hearing on AdNews.
Have something to say on this? Share your views in the comments section below. Or if you have a news story or tip-off, drop us a line at adnews@yaffa.com.au
Sign up to the AdNews newsletter, like us on Facebook or follow us on Twitter for breaking stories and campaigns throughout the day.