Facebook is toying with the idea of placing all publisher posts on a separate 'Explore Feed' and away from a user's primary newsfeed.
The move, first reported by Slovakian journalist Filip Struharik on Medium, revealed that an Explore Feed with publisher content is being tested in six countries: Slovakia, Sri Lanka, Serbia, Bolivia, Guatemala and Cambodia.
Facebook confirmed to AdNews it is testing a version of the social network where publishers' articles appear in a content feed separate from the main News Feed, which would be reserved for messages by family and friends.
A publisher would have to pay for a sponsored post to get into the primary news feed. Early test results, according to the Medium article, show a significant drop in organic reach among the 60 largest Slovakin publishers, although this appears to affect smaller publishers more than bigger ones.
A Facebook spokeswomen told AdNews: "With all of the possible stories in each person's feed, we always work to connect people with the posts they find most meaningful. People have told us they want an easier way to see posts from friends and family, so we are testing two separate feeds, one as a dedicated space with posts from friends and family and another as a dedicated space for posts from Pages.
"To understand if people like these two different spaces, we will test a few things, such as how people engage with videos and other types of posts. These tests will start in Sri Lanka, Bolivia, Slovakia, Serbia, Guatemala, and Cambodia. We have no current plans to roll this out globally."
The test means Facebook's main feed would no longer be a free playing field for publishers, instead introducing a "pay to play" model. A stark contrast to how media outlets have grown with Facebook in recent years, with publishers such as BuzzFeed and Junkee thriving by distributing posts and videos on News Feed.
It's not the first time that a shift in strategy from Facebook has affected organic reach, and a feed comprising purely posts from family and friends is something of a return to Facebook's early days. Back in the early days of Facebook's commercial journey, many brands and publishers flocked to the platform to build a community of fans, only to have the rug pulled from under them and a 'pay to play' model being introduced. 
News of the experiment has caused some panic in the publishing world with media companies in the test nations reporting a dramatic drop in traffic. Struharik reported huge declines for Slovak media pages, with organic reach dropping by two-thirds when the test was implemented.
The tests go against Facebook's recent efforts to re-establish its relationship with publishers. The digital giant has been hosting workshops for publishers as well as testing subscription tools for Instant Articles. Likewise, Google recently introduced a raft of measures designed to improve relations with publishers and help them monetise and attract paying subscribers who access their content through Google.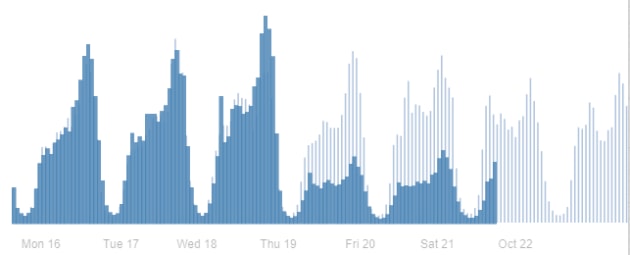 Interactions on 60 biggest Slovak media Facebook pages. Facebook is testing Explore Feed since Thursday. Source: CrowdTangle.
What could this mean for publishers?
The relationship between publishers and Facebook is complex, as media companies rely on Facebook for audience but as this latest move proves, Facebook holds the power to render their distribution strategy obsolete. While publishers rely on eyeballs from Facebook, the ability to monetise it has long been a friction point. 
Publishers invest dollars on creating the content that goes on Facebook and staffing social media teams to produce their Pages. While referrals from Facebook to major news companies have been declining by double-digits 2016, it remains a major source of traffic for all of them. Any change to the distribution of articles, photo and videos would have a wide-ranging impact.
Facebook is testing the format in smaller markets, which could indicate they aren't serious about the format yet. In the best case scenario for publishers, Facebook abandons the experiment and publishers continue with the current News Feed including both personal user posts and publisher posts. 
The worst case is Facebook goes ahead with the change and traffic drops, which likely would lead to significant backlash for the digital giant globally.
Have something to say on this? Share your views in the comments section below. Or if you have a news story or tip-off, drop us a line at adnews@yaffa.com.au
Sign up to the AdNews newsletter, like us on Facebook or follow us on Twitter for breaking stories and campaigns throughout the day.