Getting to grips with marketing and advertising technology is a tough gig for marketers, but by 'over-communicating' and asking the right questions you can get ahead, says HP Enterprise's VP of marketing and digital. 
Speaking at Ashton Media's Marketing Tech Symposium in the Hunter Valley, US-based May Petry, who previously worked in global roles at Yahoo for more than four years, discussed how to unlock the power of martech to generate incremental billions.
From introducing new applications, organisation structure changes, site changes and of course people changes, when Hewlett Packard Enterprise (HPE) split off from the Hewlett-Packard company in 2015, Petry was helping oversee a huge amount of change.
Whether driving global strategy for HPE through digital channels including web, social networks, blogs, communities and emerging online channels; driving marketing techniques in the digital space and reframing the HPE Software and Enterprise Group's digital footprint, or delivering sets of initiatives to attract, engage and convert web visitors, Petry had her hands full, and learnt a lot.
"It's not what the company strives to do that has changed, but it's how you get there," she said.
She said while managing to stand-up a new website and new tech stack is one thing, trying to mobilise 261,000 employees into a newly split two companies is quite another. 
"People fundamentally have a hard time changing. I love it. I love change. I'm like pig in mud in change. I love having the opportunity to change," Petry explained.
Everyone has a role to play
Petry added that you need to spend as much time working on marketing tech and executing it as you can, but you shouldn't underestimate the amount of time it takes between enablement – "because in order to achieve speed, scale and eventually sales, which is what you optimise for, you need people to come lock step with you and everybody has a role to play," she added. 
Petry also stressed that while business transformation is hard, especially the shift in mindset and changing behavior, "over-communicating" is highly advised to ensure people are on the same page.
"Over communicate with people. Make sure people understand the promise, understand their role in it to drive further change," she said. "It is quite a shift in mentality and you can't buy your way into someone's heart and mind, you can't buy your way into influence - you really have to earn it."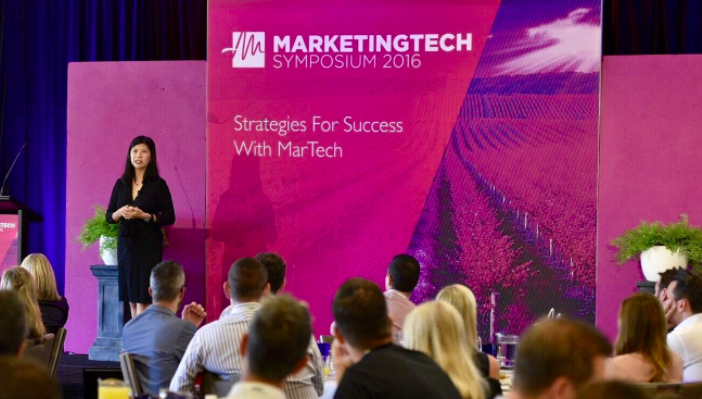 Cutting through the noise
Petry said while marketing tech can help you can identify data blockage and leaks, it's important not to get bogged down in data pools – adding that when negotiating this space, it's vital to ask not just 'what' is driving the most conversion, but also 'why'.
"We don't often ask 'why' as much in marketing data - we swim in data - sometimes we are drowning in data, but we are starved of insights." 
Petry highlighted the the infamous Lumascape and battling with such a crowded sector.  "It's a crazy marketplace - it's loud, it's dense and its noisy", she said.
She said while business is done very differently here, in that Australians 'are very kind to take a lot of vendor meetings', she doesn't -  because of the overflowing Lumascape as it's noisy and distracts her from what she needs to do. 
"It's about trying to focus on not getting distracted by shiny objects, but also not getting distracted by business complexity and changes," she said.
In closing she said "fanatical discipline to execute against strategy" is key, as well as understanding that "martech is a means to an end" and to also be a "worthy companion" to others in their journey.
In terms of the three questions people need to ask, the first is what are you instrumenting today to attract the most qualified prospect or customer to your site? Followed by how are you bringing the customer experience to life and drive engagement along the buyer's journey? And lastly, what business problem do you need to solve here to increase lead velocity?
Did you catch this? Sky digital lead on chasing the Starship Enterprise data dream.
Have something to say on this? Share your views in the comments section below. Or if you have a news story or tip-off, drop us a line at adnews@yaffa.com.au
Sign up to the AdNews newsletter, like us on Facebook or follow us on Twitter for breaking stories and campaigns throughout the day.