This article first appeared in the July/August edition of AdNews. Subscribe HERE or see the digital edition HERE.
Steven Babbage has always been keen on art and design. "I was a big fan as a kid and all the way through school. I really enjoyed putting in the extra work."
The now senior art director at Ogilvy in Sydney followed his passion after school to college and then to the workplace.
"Then I had more of a role as an art director, everything from packaging to shopper marketing to brand development and design," he says.
"It's been broad all the way through. For a long time I also worked in direct marketing. It was pretty quick response stuff and it allowed for a lot of design focus.
"The last 10 years have been more mainstream advertising. Everything including TV branding."
His creative side is painting. He works at home, learning, improving, picking up new techniques and materials. Experimenting.
"It's a good release, a freedom to it," he says.
Unlike the day job, he chooses what he wants to paint and how he's going to do it.
"One of the other most rewarding things for me is the people I have done paintings for, whether a commission or a gift," he says.
"And just still seeing it on their walls, that's the biggest reward. A pretty good note of approval."
His painting spark creativity in his children, one aged nine,m the other 12. 
"The kids like seeing how things are going and asking questions and trying to create their own as well."
Babbage has more than 22 years experience in the industry. Clients have included AGL, Australia Post, Foxtel, American Express, IBM, Telstra, KFC, Optus, Oracle, Transport NSW, Economist, Hyundai, Qantas, Ebay, DHL, Foxtel, Lenovo, Taronga Zoo, Philips, Nestlé.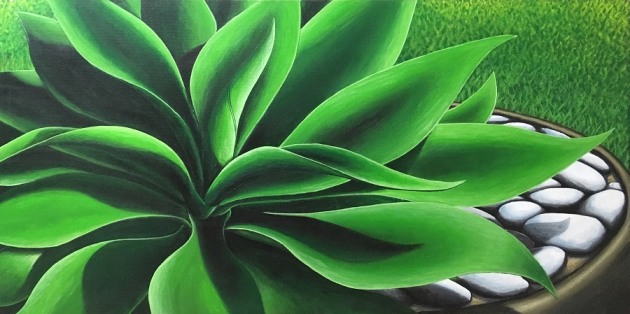 "I really enjoyed a couple of recent projects where we did everything from the naming, and branding development all the way through to the advertising," he says.
"It's even better when these projects work their socks off, in the case of Containers For Change (Queensland's container deposit refund scheme) it has brought in over 1 billion container redemptions within a year of being launched."
He's been at Ogilvy around 19.5 years and he's seen a lot of change.
"That's probably the most interesting part of the journey -- learning new platforms," he says.
"There's always something that crops up that's a new thing so it's finding out and learning the best ways of doing that."
Babbage worked on the AdNews magazine cover in May 2019: Too many to stomach? The image, to go with a feature on the many industry bodies covering the ad industry, was a red soup in a white bowl with alphabet pasta spelling WTF?
"That was a really fun one to work on but also a hard one in that we didn't know how it would be perceived internally or by the organisations," he says.
"But it was an interesting one to come up with a pure concept, then go and create it. Good fun doing that hands-on stuff."
Painting
At home, he has converted the garage into an art zone, a place to keep paintings in progress.
"That means I don't have to worry about packing them away or getting in trouble from my better half for making a mess on the dining room table," he says.
"I try to do stuff on scale and it's hard to get that set up in the house and leave it and have enough room to do things without redecorating.
"The children love it. They're always trying to join in. It's a bit of a battle trying to get them to go to bed, they always want to have a bit of a dabble. And they come back with good work."
He works mainly with acrylic on canvas and sometimes wood.
His subject matter is Australian landscape, where he often explores the interaction between natural environments with man-made constructions. These are places from his travels or lives close to.
The brush work is detailed, with dramatic lighting and vibrant colour palettes to accentuate the appearance of nature and the lasting impression these environments have had on him.
"I used to do a fair bit of drawing in the earlier years but I graduated to doing a bit more painting," he says. "Even did some spray painting and stenciling work as well. That's another technique and area I explored. But generally it's acrylics that I like to work with -- doesn't create too much mess and havoc."
When AdNews spoke to him, he was working on a piece inspired by holidays in the south end of Victoria, Lake Hume, the other side of the Murray River.
The family got caught up in the bushfires. "When the lakes were blanketed in smoke, there were some really eerie  sunsets," he says.
"Still we had a couple of really good experiences on our holidays. So I am starting to work on a couple of those and work up the vibe of that trip was."
He likes to plan out the composition before he starts and see whether he's got the most interesting angle, focal point or lighting.
"The bigger the canvas I choose the more work I know is involved to get the painting to a standard where I'm happy," he says.
"I also like the challenge of meeting deadlines, whether it's entering a painting competition or meeting a commission due date. I guess working in advertising has equipped me pretty well in that aspect.
"Painting gives me a sense of escape from day-to-day work but at the same time it can be the best source of ideas for it.
"Having painting to focus on gives me a change of scene, time to myself and something else to concentrate on. Often I'll have to stop painting mid flow to jot down some thought starters for the next day's creative brief."
Commissions
He gets the occasional request to create for someone else.
"Generally, I've done it as a gift," he says. "Friends or friends of friends, weddings and family. It's a different way of providing a present."
He enters painting competitions for the thrill of the chase.
"I never have expectations of winning. It's the curiosity of being involved and seeing what type of work resonates with judges," he says.
"It also gives me deadlines as well. They drive me to get in and get the stuff done and try to produce more paintings."
He recalls winning a drawing competition in year 2 at school.
"It seemed pretty cool to get rewarded just for doing something I loved," he says.
"My parents always encouraged me to pursue art. They let me do extra art courses as a kid which I loved.
"My mum was also a keen painter. I was always interested in how she was doing courses and learning new techniques as she went."
He also had cool art teachers.
"I can still remember doing school excursions up to the Art Gallery of NSW in Sydney (from where I grew up in the Southern Highlands) and being blown away by the scale, composition, drama and realism of the 19th century painters such as John Glover, Eugene Von Guérard and Tom Roberts," he says.
Comparing to the day job
Similarities: "Time management is important in both, there's always a looming deadline. Composition and planning are always a key part of both my 'day' and 'night' jobs. Space (which is normally an art director's best friend and worst enemy) is equally as important in painting. It's often what is left out that can really make a painting. Strangely enough, there's always an approval process in painting (just like advertising), whether it's my kid's giving an opinion, competition judges or the owner of the painting."
Contrasts: "The most obvious ones for me are that there's no logos, terms and conditions, call to actions or brand guidelines. This leaves me a lot more space to work with. There's real 'undo' function in painting as opposed to design. Sometimes I wish it was as easy as Command + Z when I stuff up a colour scheme or an element of a painting, or calling on our crack team of retouchers at Ogilvy to work their magic."
Have something to say on this? Share your views in the comments section below. Or if you have a news story or tip-off, drop us a line at adnews@yaffa.com.au
Sign up to the AdNews newsletter, like us on Facebook or follow us on Twitter for breaking stories and campaigns throughout the day.