Familiar with Houzz, Polyvore, Wanelo and Pinterest? Think they are just pretty looking sites to while away time on planning your next renovation or bulking up your wardrobe? Think again and think business, as social commerce is set to be the next big thing for brands and marketers.
Social commerce simply means using social media to help influence online buying and selling, not only by just sticking an advert in Facebook and hoping it will be clicked, oh no no - it's all about visuals and is more about engaging and embedding into popular and 'appropriate' sites.
Take Wanelo for example (below), clean, sharp, simple and creative pics to dip in and browse through, no pesky flashing banners, no cluttered news feed or tweets, no screaming alerts to buy, just simple pics that once clicked, propel you straight into the purchase path.

Last year Sportsgirl ramped up its digital marketing activity with new mobile app functions that interact with stores and adopting Pinterest-style social shopping site Wanelo, in order to build on social interaction.
Polyvore is another example (below). Take its home décor tab as an example; again on the white background, carefully juxtapositioned and clearly marked with categorised tiles which once clicked break out into a picture of an interior designer haven. Hover over items and the price appears and and outs shoots the path to purchase.
US site Houzz, which has nearly a million Facebook likes, only just washed up on Australian shores this August. The platform for home renovation and design has established a Sydney-based team, led by MD Australia Jason Chuck, and is focused on helping Aussie professionals and home-owners get the most from the new Australian site.
Twitter and Facebook are also in on the social commerce space. This September Twitter announced its 'early steps' into the "buy button", letting you buy directly from a tweet. The plan is for users to get instant access to offers and merchandise they can't get anywhere else and can act on them directly within Twitter. It just can't help feeling a little forced when it's stuffed in your social feed, but perhaps that's just me?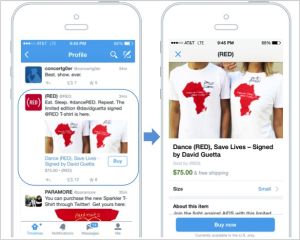 Speaking to AdNews while over from the US, global boss of content and research from predictive marketing software Kenshoo, Doug Chavez, said social commerce is royally kicking off in the US, with more and more brands and marketers looking at how they can break into these increasingly popular social interactive hubs.
"The rise of social commerce is coming. We are seeing real traction in this area in the US, and as with a lot of US trends they do follow on in other markets, such as Australia and the UK," Chavez said.
"The good news for the Australian market is that it can learn a lot now, from what is happening in the US and brands and marketers can now get a real good run at it here. I would urge brands and marketers to really look into this as social commerce is coming, and in a big way."
Higher engagement and increasing presence
Chavez said as the social commerce space becomes more established, more social shopping sites will enter this arena, additional advertising and organic features will be rolled out, and analytics for this will increase in sophistication. Pinterest has already launched an advertising product, Promoted Pins, and will continue to roll it out more broadly in 2015.
Kenshoo and product advertising company DataPop have partnered to publish a Social Commerce Index report. Revealed this week, the report says that 70% of the most engaging Pinterest Pins are actually product-related and Rich Pins, which achieve a 20% higher engagement.
Rich Pins enable retailers to add information, such as inventory and price, while linking directly to a page where the product can be purchased. Pinterest members can sign up to receive notifications about price or inventory changes making it easier for them to shop. The partnership also allows retailers to see what products are popular on Pinterest but don't have a meaningful presence in search PLAs. Retailers can use this information to adjust PLA bidding, creative, or ad copy to better align with Pinterest popularity.
To create the "meaningful benchmarks for retailers", proprietary data from the DataPop Product Knowledge Graph and Kenshoo was combined with publicly available information from social commerce properties to analyse tens of thousands of Pins and social posts and thousands of consumer searches across 13 retail verticals.
The report provides retailers with insight into the type of content that drives engagement on social commerce sites like Pinterest, Polyvore, Houzz, and Wanelo and how to increase product "discoverability" on the social commerce sites.
The inaugural edition of the Social Commerce Index revealed that only 1.7% of retailers' products are posted on social commerce properties, including only 7.2% of those products in their most popular product categories.
DataPop, which has partnered with Kenshoo on a new tool enabling retailers to find out which products they should promote across Pinterest and Google Product Listing Ads, is headed up by CEO Jason Lehmbeck.
Commenting on the report, Lehmbeck said results confirm that retailers who are posting product-related content on social sites are harnessing the opportunity to drive greater engagement with consumers, which ultimately drives greater traffic and sales.
The untapped source
The report's three key findings were that optimising Pin descriptions with key product attributes dramatically boosts impressions, that product posts lead the charge on engaging consumers, and that richer information drives better engagement.
"Rich Pins drive 20% more engagement per Pin than their standard counterparts; yet 60% of product Pins on Pinterest do not employ Rich Pins functionality," he said.
SVP of product for Kenshoo, Will Martin-Gill, said until now, Pinterest has been a huge, untapped source of consumer interest data for product merchandising, and that harnessing that data and applying it directly to paid search has been a "dream of marketers".
"Ultimately, as marketers expand their presence on Pinterest, even more intent data emerges creating an infinite loop of optimisation, Martin-Gill said.
Will more brands catch on? Are Australian brands and marketers keen to jump on this bandwagon or will they sit pretty and simply wait for it to come here – perhaps afraid to give it a go? After all, there's a lot to think about within the marketing and ad space now (did someone say programmatic?).
You can check out Kenshoo and DataPop's report here. 
For more news:
Investigation into Publicis Sapient deal underway
No end in sight for Domino's pizza campaign - customer earns $30k+
Will the real Stan please stand up?
Have something to say on this? Log in or comment as a guest below. Or if you have a news story or tip-off, drop me a line at pippachambers@yaffa.com.au
Sign up to the AdNews newsletter, like us on Facebook or follow us on Twitter for breaking stories and campaigns throughout the day. Need a job? Visit adnewsjobs.com.au.
Have something to say on this? Share your views in the comments section below. Or if you have a news story or tip-off, drop us a line at adnews@yaffa.com.au
Sign up to the AdNews newsletter, like us on Facebook or follow us on Twitter for breaking stories and campaigns throughout the day.