And expanded version of an article in the July/August edition of the AdNews magazine. Subscribe HERE or see the digital edition HERE.
Aimee Buchanan's four-year-old kept asking why she wasn't at work.
"I've had quite a few entertaining moments where my four-year-old has asked me if I've forgotten to go to work today," says the CEO of OMD Australia.
"My six-month-old is loving it because he gets a few extra cuddles in the day, but my four-year-old is absolutely perplexed about what's going on and why I'm not going to the office.
"So I'm doing a lot of going out of the garage and saying goodbye and slinking back in the front door so she thinks I've gone to work — that was my best strategy until she uncovered me."
About three weeks before lockdown, OMD had a visitor from the UK who became a suspected COVID-19 case. This, Buchanan reflected afterwards, had set up the group for the lockdown when it arrived.
"We had to shut down the Sydney office and we made the Channel Nine news," she told Russel Howcroft in a podcast sponsored by SCA. "I remember thinking, 'We're the first business in Australia to shut,' but three weeks later the whole country shut down.
"The one thing it did — and luckily the case turned out to be negative — we were totally ready for working remotely. It felt like a bit of a dress rehearsal."
She remembers telling the executive team about two days into working from home that the entire focus could not be on operations.
She said: "This needs to be pivoted, but show our clients how we are navigating what is probably the most challenging time in their business they've ever faced."
Buchanan sees that shift in the discussion as the pivotal moment in ensuring that 95% of business was: What is the solution? What are we putting in place for this client? And what is their path forward?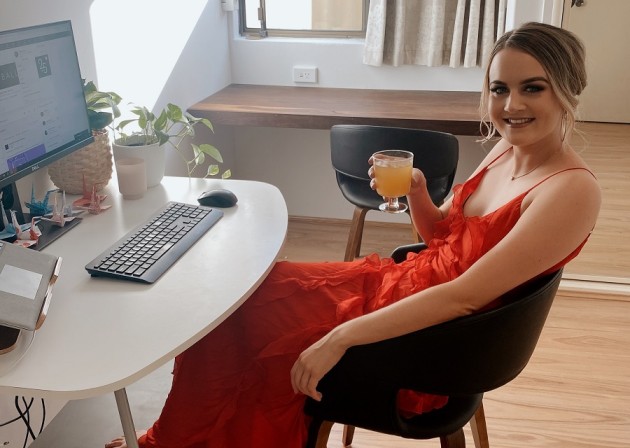 About three months into social distancing, Willie Pang, CEO of MediaCom ANZ, went into the office for the first time.
"I had to get up and put on a shirt for the first time in three months, and then fight my way through traffic," he tells AdNews. "I realised that, in my heart, as I was driving, that I didn't miss this."
And most people settled into a working-from-home rhythm.
"We are running staff surveys and something like 70 per cent plus, in addition to feeling better, the preference is to either maintain or predominantly work remotely forever," says Pang.
"As a group, we are asking: how do we make sure we're capturing people's preference and still making sure productivity is up at a point where client work is as good or better than it was before.
"A lot of clients were giving a lot of freedom and forgiveness when we were in crisis mode.
"As we move out of it, they're all grappling with what they need to do for the future. They, too, are realising the same thing: this now kind of works."
A sameness
Time in lockdown is something of a blurred event horizon; a sequence of sameness, physically and mentally.
A dream within a movie where the character suddenly wakes and finds that a whole day has passed but they can't recall what
they did and whether or not it mattered even if they did remember.
"I'm at my dining room table, I look up and it's three o'clock," says Kieran Moore, then CEO of public relations and government at WPP AUNZ. "How did that happen?"
Keeping staff engaged and mentally healthy while working remotely became a necessity and an artform during the coronavirus-imposed office exile.
Moore was given the role of running internal communications for WPP AUNZ during COVID-19 and everything was done through the lens of the health and wellbeing of WPP's people.
"We had to up the ante on our business update so we initiated a virtual town hall every couple of weeks, a newsletter every week, the intranet was overhauled and we made sure leadership was really visible," she says.
Lastly, Moore went about normalising the new office culture.
"We were lucky because I think 96 per cent of our people jumped into a remote working capability within about 48 hours," she says.
"The ability for us to get into that remote working from a technical perspective was really good. And it was relatively seamless because a lot of the various companies, brands and teams had already been using Microsoft Teams anyway. So that meant we were all familiar with the systems.
"What we realised quickly was that getting people connected and talking to each other all the time is a tiny part of the story. What we needed to do was support the teams with a whole pillar of learning and development. We quickly turned on what we call the 'cafe series' ... we moved all of our training online and changed it completely."
The focus was on resilience, productivity techniques and stress management.
"Within that cafe series, there's everything from mental toughness, how you pace the race, lots of wellbeing tips and techniques," she says.
That includes meditation every morning.
"The other thing we're really focused on is making sure everything we are doing is participative," says Moore.
"Lots of the content and the story we're sharing with each other is all created by the teams that are actually doing these really interesting things. It's authentic and raw.
"What we've been focused on is getting information out quickly. And there's a realness to it."
A radio station, WFH — Working From Home FM — was set up by AKQA in Melbourne.
"Everyone liked it so much they exported it to the rest of the world," says Moore. "People take their turn DJing and their playlists are called Foreign Tunes."
GroupM set up a virtual band from home, brought it all together and laid down a track.
"Design Works in New Zealand has bingo and there's been lots of really fun things," she says.
"We share these stories probably once a week and we have the working-from-home heroes.
"There's the stuff the brands and companies are doing on their own, which we're sharing and inspiring other people to do interesting things.
"It's been awesome to see the creativity, the passion and the commitment people have, making the most of the situation.
"It's brought out the fantastic individuals, the personalities, right across the group."
"A lot of the people who work in our agencies are extroverts who feed off each other. But having said that, the work I've seen being done for clients really quickly — 20 minute brainstorms, 20 minute pitches — it's just a whole new way of partnering with them."
Anniversary
OMD had its 20th anniversary in lockdown, making it impossible to get everyone together for a big party .
"This wasn't going to be missed so we put on a celebration through video," says Laura Nice, managing director at OMD Australia.
"We have a lovely collection of videos from previous OMD-ers from across the years. It was a real trip down memory lane."
The event was hosted by Aimee Buchanan and Peter Horgan, CEO, Omnicom Media Group, from the OMD Shoe, the onsite bar in Sydney.
A cake was presented and a team in Melbourne hosted an OMD quiz, testing corporate memories.
"That's been one of the biggest positives from all this is how much we've become a borderless agency," says Nice. "It doesn't feel so much like Sydney, Melbourne or Brisbane, it's just the OMD team." 
Have something to say on this? Share your views in the comments section below. Or if you have a news story or tip-off, drop us a line at adnews@yaffa.com.au
Sign up to the AdNews newsletter, like us on Facebook or follow us on Twitter for breaking stories and campaigns throughout the day.