This is a free excerpt from AdNews print magazine August edition. You can download a digital version of AdNews and subscribe to the premium print edition here.
Most AdNews readers have a healthy respect for marketing, and marketers, but that isn't always the case elsewhere within an organisation. It's all well and good marketers wanting a seat at the board table, and to get the ear of the CEO and CFO to garner more influence on the business, but what do other disciplines really think of marketing and marketers? AdNews set out to find out - warts and all.
Marketing has been described as a "best friend and a worst enemy" by peers in other functions. It's often seen as a "nice to have", "fluffy" and not strategic. It's accused of not valuing internal messaging and driving a disconnect on how brands are positioned externally versus internally.

On the flipside, other functions also recognise marketing can enable a business to build brands and drive earnings growth, and see it as an integral function - so it's not all bad.

As an industry, we often talk about the need for marketing to command more respect within organisations, and to make sure it's regarded as a growth driver, but others don't always agree. A terrifying stat reported by Fournaise Marketing Group in 2012 claimed 80% of CEOs didn't trust their CMO - not an ideal position for any professional to be in.

Under the cloak of anonymity, AdNews set out to find out what everybody else within business really thinks of marketing. We spoke with professionals from HR, legal, technology, finance, digital, strategy and corporate communications from companies spanning media, services, fashion, retail and drinks manufacturers.

As with anything, it depends very much on the individual and the organisation, but the responses offer an enlightening snapshot. They range from glowingly positive to downright damning in their assessment of the role marketing plays, how it is viewed by the organisation, and the way marketers conduct themselves.

Historically, there is the assumption that the bean counters and the CFO don't understand marketing; that they don't speak the same language and that's why the marketing budget is often the first to go. But how does that stack up for the CFOs we talked to?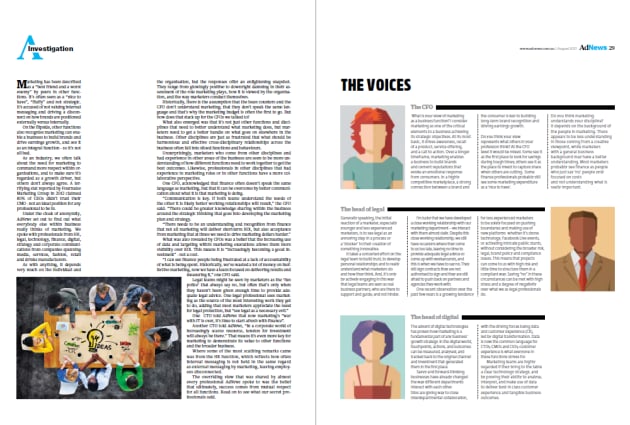 To read the full article download a digital version or subscribe to the premium print edition here.
Have something to say on this? Share your views in the comments section below. Or if you have a news story or tip-off, drop me a line at rosiebaker@yaffa.com.au
Sign up to the AdNews newsletter, like us on Facebook or follow us on Twitter for breaking stories and campaigns throughout the day. Need a job? Visit adnewsjobs.com.au.