This is a free excerpt from AdNews print magazine June edition. You can download a digital version of AdNews and subscribe to the premium print edition here.

Pocket Patrol won a Silver and two Bronze Lions in 2017. See the full list of Aussie shortlisted work here.
More than 40% of Australians can't recognise a rip, however the majority of us think we can. Our country is known as a top beach destination the world over, so beach safety remains a key concern. Surf Lifesavers patrol the beaches and red and yellow flags are set up daily to deter swimmers from dangerous currents, yet drowning deaths continue to rise. Constant patrol is impractical, but considering the 21 deaths and more than 11,000 rescues each year reported by Royal Life Saving Society Australia, it seems we are well overdue a rethink.
Cue Samsung and its creative agency of 12 years, Leo Burnett. They spent time brainstorming product initiatives that would marry mobile technology with community hazards and the issue of beach safety resonated most. Armed with the knowledge that roughly 95% of Australians are likely to bring their mobiles to the beach, Samsung and Leos began developing Pocket Patrol.
Samsung and Leos contacted Surf Life Saving Australia (SLSA) to aid in the app's early development and help strategise how it could be both preventative and educational, and work in hand with existing procedures. With a particular focus on submerged rocks, shallow sandbars and rips, the app aimed to help swimmers and surf life savers recognise beach dangers and act accordingly, acting like a personal surf livesaver in your pocket.
Quite early on the team realised the biggest challenge would be creating reliable and accurate technology that could monitor the unpredictability of weather, they say. With this in mind, Samsung and Leos combined GPS, compass and gyroscope technology and developed a 360-degree virtual reality (VR) experience to demonstrate what it felt and looked like to be caught in a rip.
After months of internal testing through a series two-week long 'sprints', Pocket Patrol was finally trialled for four weeks in October 2016 at Queensland's Coolum Beach and Alexandra Headland. During the month-long program, 3600 people downloaded Pocket Patrol and identified beach dangers. A further 13.2 million beachgoers learned about beach safety through live events, social media, a VR 360 film and the online film. The story of Pocket Patrol has already been covered by 144 tech websites, blogs, and both local and international news stations, helping it to reach a total audience of more than 20 million.
Kits are now being sent out to all SLSA state offices which will then be distributed to Surf Life Saving Clubs throughout Australia. Samsung is hoping the app will be fully implemented at clubs across the nation by the end of the 2017-18 summer.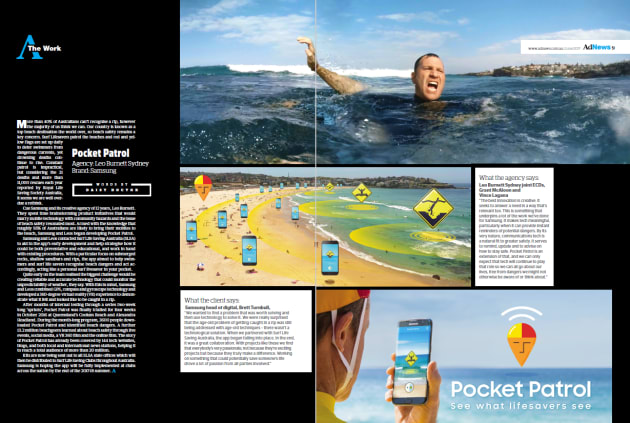 What the agency says:
Leo Burnett Sydney joint ECDs, Grant McAloon and Vince Lagana
"The best innovation is creative. It seeks to answer a need in a way that's relevant too. This is something that underpins a lot of the work we've done for Samsung.
It makes tech meaningful, particularly when it can provide instant reminders of potential dangers. By its very nature, communications tech is a natural fit to greater safety. It serves to remind, update and to advise on how to stay safe.
Pocket Patrol is an extension of that, and we can only expect that tech will continue to play that role so we can all go about our lives, free from dangers we might not otherwise be aware of or think about."
What the client says:
Samsung head of digital, Brett Turnbull,
"We wanted to find a problem that was worth solving and then use technology to solve it. We were really surprised that the age-old problem of getting caught in a rip was still being addressed with age-old techniques – there wasn't a technological solution.
When we partnered with Surf Life Saving Australia, the app began falling into place. In the end, it was a great collaboration. With projects like these we find that everybody's very passionate, not because they're exciting projects but because they truly make a difference.
Working on something that could potentially save someone's life drove a lot of passion from all parties involved."
To read the full article download a digital version or subscribe to the premium print edition here.
Have something to say on this? Share your views in the comments section below. Or if you have a news story or tip-off, drop us a line at adnews@yaffa.com.au
Sign up to the AdNews newsletter, like us on Facebook or follow us on Twitter for breaking stories and campaigns throughout the day.