The Australian subscription video on demand (SVOD) market, which includes the likes of Stan and Netflix, has grown by 54% year-on-year, according to research from technology insights company Telsyte.
The local market now touts 9.1 million SVOD subscribers as of the end of June 2018, with revenues growing up to 90% for the same period, eclipsing $700 million during the 2018 financial year.
Telsyte forecasts Australians will hold more than twice as many SVOD subscriptions (22 million) by the end of June 2022.
Netflix remains the market leader with roughly 3.9 million subscriptions, followed by Stan, which celebrated reaching over one million active subscribers earlier this year.
New SVOD services, including potentially those from Disney, HBO and various sporting codes, are expected to appeal to further audiences.
According to Telsyte, connected devices including smartphones, set top boxes, gaming consoles and smart TVs are rapidly growing in use, as they become part of the mainstream methods for consuming video.
In total, Telsyte estimates 43% of Australian households subscribed to SVOD services at the end of June 2018, an increase from around 30% a year ago. This compares to around 70% in the USA and 60% in the UK.
Results were taken from two separate online surveys conducted in November 2017 with a representative sample of 1,162 respondents, 16 years and older and on in July 2018 with a representative sample of 1,047 respondents, 16 years and older.
Sports stealing the show
Despite recent issues surrounding the streaming of the 2018 FIFA World Cup, notably the Optus Sport server crash which left subscribers without access to the paid service, sports streaming remains a big driver in the SVOD market.
Telsyte estimates, based on survey data, more than two million Australians watched the FIFA World Cup in June 2018 via Optus Sport.
SBS, through its on-demand service, drew in 3.6 million total streams, with the most popular match being the 1-1 draw between Australia and Denmark, with 280,000 streams.
Sporting codes like AFL, NRL, and Netball (all exclusive to Telstra) continue to yield strong demand, with usage exceeding the reported 1.5 million subscriptions in February 2018.
As of 28 May 2018, the NRL has reported 24.4 million live streams, via its digital platforms, across the last 87 games.
BVOD could soon be playing catch-up
According to Telsyte, growth in uptake of catch up and live traditional TV streaming services, Broadcast VOD (BVOD) has slowed down, with SVOD penetration on track to overtake it.
Telsyte estimates there are currently 4.1 million households with SVOD services versus 5.2 million households with broadcast VOD.
However, BVOD and ad-free services in the case of ABC iView, continue to be an important channel for children's content with more than 5.5 million children viewing these services, a 6 percent year-on-year increase.
Seven's digital sales director OTT video, James Bayes disagrees, pointing to recent stats from OzTam that showed BVOD market viewing grew 79% YOY in June to 2.5 billion live and VOD minutes streamed across the month.
"Since launching 7plus in December we've seen no slow down in the explosion of audiences wanting to stream our premium, long form video content over the internet," he says.
"On the other side of the coin, advertiser adoption is growing at a similarly aggressive rate (+30-35% YOY across FY18). No other segment of digital media is growing at this rate."
Stan's plans for growth
Earlier this week, Stan CEO Mike Sneesby welcomed the new mega-merger between Nine and Fairfax, with the Australian streaming boss confident it will drive "accelerated growth" in a "new media landscape".
Sneesby told AdNews, the new deal, of which Nine assumes complete control of all Stan assets, will put the company in a stronger position to remain the "leading local streaming service" in Australia.
"It really does position Stan for greater strategic opportunities as this new media landscape begins to unfold," he said.
"For me, a strengthened parent company means we are going to see a continued focus and increased support across the range of our media assets."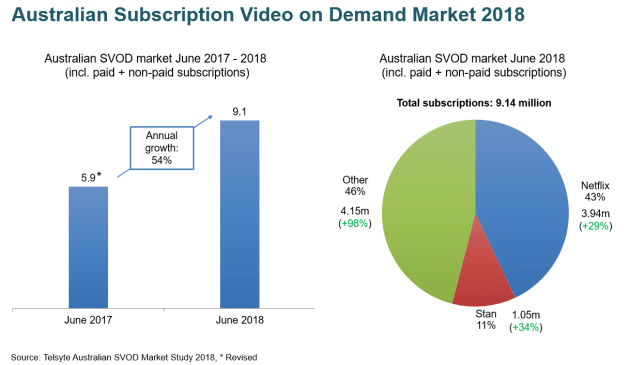 Have something to say on this? Share your views in the comments section below. Or if you have a news story or tip-off, drop us a line at adnews@yaffa.com.au
Sign up to the AdNews newsletter, like us on Facebook or follow us on Twitter for breaking stories and campaigns throughout the day.