Facebook costs Australian advertisers nearly four times the global average CPM, research from Socialbakers has revealed.
The cost per thousand (CPM), which is the rate for 1000 impressions, is about $6.40 for Australian advertisers compared to a global average of $1.80.
Media buyers tell AdNews there are a number of reasons for the Australian inflation.
Australia is a more expensive market for display and video advertising than other countries due to a shortage of quality inventory. There is also a low population base in Australia compared to a high demand for Facebook advertising.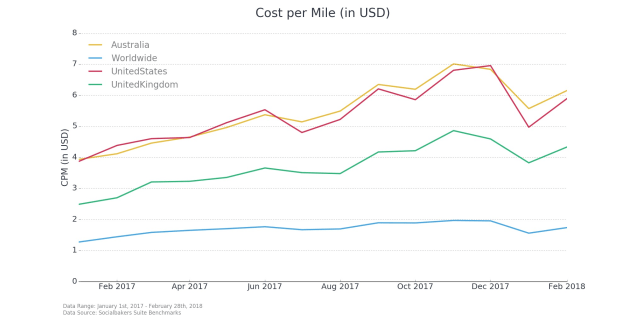 Socialbakers research reveal that Australia and the US have very similar CPM rates, despite the significant difference in population. One media buyer said he expected the US to be a lot cheaper than Australia and was surprised by the data.
CPMs in the UK are significantly cheaper than the US and Australia.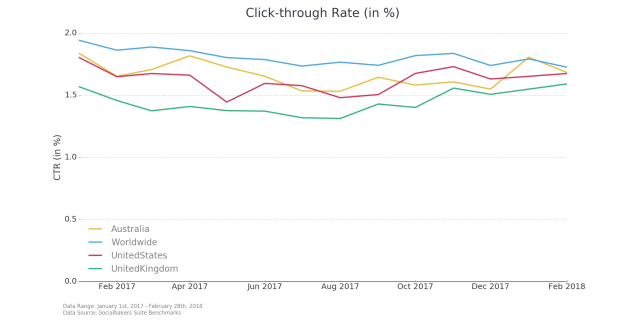 It's worth noting the worldwide average cost of CPMs isn't comparable to Australia; it is distorted by countries with huge population bases and less developed advertising markets.
"There are multiple reasons why ad costs are higher in Australia, such as the maturity of the market, the volume of advertisers, which leads to higher competition for paid feed, as well as user behaviour," Socialbakers CEO Yuval Ben-Itzhak says.
'A lack of independent scrutiny'
Facebook's CPM rates are determined through a real-time auction, which means there is no set rate card for Facebook and CPM's are subject to multiple factors, such as budget, target audience and objectives.
One digital media expert, who wished to remain anonymous, believes that CPMs should be benchmarked so that local and global industry standards can be set.
"It goes back to the transparency discussion," the source says. "There is a lack of transparency because there is no independent verification and because of the auction based system there is no standardised rate card.
"Facebook can charge whatever they want because they are quantifying and measuring within their own system."
Could cost rise?
Some analysts have predicted that CPM prices will increase following the Facebook News Feed update as demand for inventory increases on the platform.
Studies show up to a 50% drop in organic engagement and reach for some brands on Facebook, meaning marketers will move more towards a pay-to-play model.
The data shows CPM and CPC (cost per click) rates for the US, UK and Australia have risen since the beginning of this year, but Ben-Itzhak says it's too early to conclude the lift can be attributed to the Facebook News Feed change.
Virginia Hyland, founder of Hyland Media, tells AdNews that she has not seen a major change in Facebook's ad prices, but adds she works with clients in categories that are often shared organically.
"To compensate for price increases, I would foresee a lot of the Facebook advertising being pushed to Instagram and other apps on Facebook rather than the News Feed," Hyland predicts.
The shift to Instagram has been predicted to be "one of the most dramatic shifts" to hit social media this year, with Instagram growing its share of ad revenue from Facebook.
Facebook declined to comment.
Have something to say on this? Share your views in the comments section below. Or if you have a news story or tip-off, drop us a line at adnews@yaffa.com.au
Sign up to the AdNews newsletter, like us on Facebook or follow us on Twitter for breaking stories and campaigns throughout the day.