This first appeared in the AdNews Magazine and is the final part of a series that explores the impact of Amazon on the Australian market. Subscribe to support AdNews here.
Search is 'primed for disruption' and Amazon is going to have a significant impact on how consumers search for products and find brands.
Several experts in media planning and search tell AdNews Amazon will revolutionise the consumer journey, particularly in retail, with the power to white label products and whole categories that can be easily commoditised, such as batteries, printer cartridges and toilet paper.
Where there is no consensus is how rapidly Amazon's impact will take hold of this market.
Research from Starcom suggests that financial forecasts "dramatically underestimate" the time it will take for Amazon to disrupt Australia's retail sector. The study says Australia is much more fertile ground for Amazon than the US and other markets where the technology platform is firmly entrenched as the dominant e-commerce juggernaut, despite what some of the early naysayers might have you believe.
Australia has a population that is highly-concentrated to five major cities and Starcom estimates at least 50% of Australians will live within two hours of the three Amazon fulfilment centres being built.
In the US, where Amazon is most heavily entrenched in consumer life, only 5% live in such a close vicinity, but Amazon has still managed a delivery record with a 13-minute fulfilment in California (see infographic below).
Australia has roughly the same e-commerce penetration as the US, but 150% more of this is bought from overseas retailers. This means there is a large demand not being met on these shores.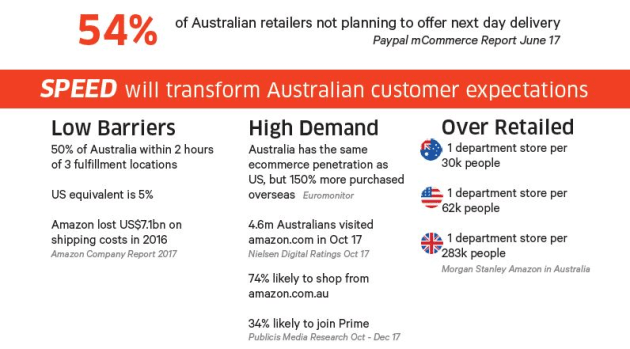 A recent Starcom report laid out the reasons why Amazon is primed for disruption.
Its 'trojan horse'
Amazon plans to disrupt the Australian market through a superior online shopping experience and more expedient delivery. Something consumers will come to find indispensable here as they have in Europe and the US.
Amazon Prime is the special shipping service overseas that cuts delivery times right down to as little as next day. In reality, most Australian retailers cannot compete to fulfil orders as quickly or cheaply.
Overseas it uses Amazon Prime Video, an SVOD service Amazon bundles in, as bait to help lure shoppers into signing up for the Prime loyalty program. In the UK, for just £79.99 a year, or £7.99 a month, users get access to its library of movies and TV as well as unlimited free next day delivery on Prime eligible items.
In Australia Prime Video launched at $5.99 a month with an introductory offer of $2.99, although the delivery mechanic is yet to launch.
Starcom Australia chief executive Toby Barbour told AdNews Amazon Prime penetration could reach 30% of Australian households within 20 months, and points to the success of Netflix's roll out as proof.
"In Australia, because of the concentration of our population, they will be able to reach 50% of our population to a prime membership base," Barbour added. "We know the average earnings per user is significantly greater for a Prime member ... we know that's their Trojan horse weapon."
In the US, younger demographics skew to Amazon for e-commerce search. Source: Raymond James.
Shaking up search
In other markets, Amazon's superior e-commerce service has evolved the consumer journey, particularly in search, with online shopping often starting and ending inside the Amazon's marketplace.
"One of the main impacts we are predicting and working with our clients on is search marketing," Columbus GM of NSW, Queensland and operations Mitchell McBeath told AdNews.
"If Amazon's launch of the marketplace is done correctly and they have all of the product and inventory partnerships within the Australian market that could potentially disrupt the search, display and programmatic space."
iProspect national head of paid media and partnerships Iain Addy pointed out that in Australia, Google has about an 85% share in search with the rest dominated by Bing.
"We're going to see a slight change in the way people search within Google. Generic product based searches like 'jeans' or 'laptops' increase by close to 160% when Amazon launches whereas brand searches only increase by 50%," he said.
"People are looking to compare products more rather than branded searches. We are already starting to see that shift in Australia where generic searches have increased 49% and brand searches 35%.
"In the US they've seen some great success around Amazon basics, so things like batteries and dishwashing liquid where you don't think about brand. Amazon has really managed to monetise those basket fillers.
"A lot of our discussions with clients is how we can compete with Amazon from a media point of view. We talk to them about being 'fast, found and personal'."
Amazon has become the most popular starting point for e-commerce search in the US.
Although Google currently dominates e-commerce search locally, in the US it is a different story. Amazon is the starting point for 56% of e-commerce searches, compared to 28% for other search engines and 16% for retailers. In 2015, it only accounted for 44% of e-commerce searches compare to 34% on search engines and 21% at retailer websites.
It's important to note that e-commerce is only a small portion of Google's search advertising pie, Amazon's strategy centred around attracting consumers to its marketplace, and it is even willing to spend heavily on paid search on Google to achieve this goal.
"What we also know, and this is an important point, is that the user review and ratings algorithm that goes behind a search ranking, rather than just paid search, makes a huge difference because 65% of Amazon sales in the marketplace come from the top three search listings," Barbour adds.
"That comes back to brand experience, and that's why you can more directly and strongly correlate search behaviours and patterns to brand experience, service and design through the user review and rating scheme."
Amazon's sweet spot
Amazon Marketing Services is similar to paid search, but more intent based and shopping search related.
Amazon also offers marketers its own DSP to buy inventory within its walled garden, and it is in the programmatic space where Amazon is thriving, added McBeath.
"In the US, Amazon's DSP has surpassed Google's DoubleClick Bid Manager. On the programmatic side they've done a really good job in turning consumer behaviour into hard ad dollars," he explained.
"The reason why that has occurred is that Amazon has incredible shopping and consumer behaviour data that other inventory providers don't have – the start of the process and end of the process.
"So for things like re-marketing, dynamic creative and so many different cool things you can do with that user behaviour, that's one of the main reasons why they've been able to translate that into display and programmatic revenue."
iProspect's Addy believes Amazon is more likely to add "incremental" spend to digital and search than take market share way from Facebook or Google.
See: Can Amazon's sweet streaming dreams come true?
"I think it will help grow category, Amazon will become a third digital pillar alongside Facebook and Google," he added, saying that display ads within the marketplace is Amazon's sweet spot.
A powerful voice
Beyond launch, Amazon's impact on search and, more broadly, media will in how it evolves voice activated marketing and through its personal voice assistant Alexa, creating an even more frictionless consumer experience.
In this new marketing environment of generic discovery, Barbour said it has never been more fundamental for brands to develop a one-to-one relationship with the customer and dominate the category to be top of mind.
"It's going to search for the lowest common denominator in price and the argument is it looks for price and value, it doesn't search for brand," Barbour explained.
"There will be consolidation for brands and the risk and danger is that if you commoditise, you don't have a brand relationship with your customer, then you're in real risk in this new world of smart speakers and intelligent agents and voice search, but the opportunities are for brands to develop that relationship."
See:
Amazon: The unstoppable force hitting Australian retailers
Can Amazon's sweet streaming dreams come true?
Have something to say on this? Share your views in the comments section below. Or if you have a news story or tip-off, drop us a line at adnews@yaffa.com.au
Sign up to the AdNews newsletter, like us on Facebook or follow us on Twitter for breaking stories and campaigns throughout the day.