No other agencies of Havas' scale have done, or even could carry out the restructure it has undertaken, says executive strategy director at Havas Group Imogen Hewitt.
It's now nine months since the agency entirely reorganised the way it operates to fully integrate the strategic thinking of its creative and media businesses. In July last year it pooled a multi-disciplinary team of strategists into a new 'strategy hub', led by Hewitt and Havas Worldwide Australia's head of planning Phil Johnston.
Hewitt, whose role is also chief strategy officer (CSO) of Havas Media, sat down with AdNews to explain more about how Havas is standing out from the crowd; how she evolved into her role, the changing women in media landscape and how talk means nothing without the execution.
Put simply, Hewitt says "strategy without delivery is meaningless". She says unless you can deliver your strategy through your model it is not real.
"To have a unique model you have to actually organise and structure your agency in a way that other agencies have not or can not. At Havas we've done this," Hewitt says.
To deliver on its global 'together' strategy, that brings together media, technology and creative thinking, Hewitt says it had to make several significant structural decisions. The first was having one P&L across the media, creative and PR agencies; the second was having one strategy team across media, creative and PR agencies and the third was having a total focus globally, regionally and locally on delivering work that demonstrates its strategy.
"There is no other agency of our scale structured to deliver that," she says.
A hot mess
It's no secret that the fine and varied minds of creative and a media soul are very different. On the question of making 'united thinking' a reality, Hewitt says it's had its challenges.
"It's not easy. It's difficult and it's worth it," she says. "Diversity of thinking unquestionably delivers more robust, unique and unexpected ideas. Bringing people together who have different training and are typically asked to deliver different things, who may not have the experience, or perhaps empathy, to understand and harness one another's skills can be a hot mess.
"However, I believe that once you start to see just how much better the thinking is when it's 'united', the speed bumps just become part of how you get to great," she says.
Substance over process  
On the question of how important it really is to formalise the process of merging creative and media internally and the difference between doing that and then simply having a creative and a media hub within a network, Hewitt says process is important but not as important as belief.  She says if you are trying to make people work together who do not buy that there is a benefit, "it's impossible, frustrating and destructive".
"All the process in the world can't fix an elitist or siloed culture," Hewitt says.
But how do we know that greater unification of media and creative is best for a marketer or a brand and that it's not just a simpler way of an agency getting both slices of the pie? Hewitt says diversity of thinking is at the heart of this argument and there is a wealth of evidence that diverse minds deliver better business outcomes.
"The other aspect, in my opinion, is common knowledge (as in, we all know why we are doing what we are doing). It allows for speed, agility and opportunism. All increasingly important to communications for brands," she says.
As CSO for the media side of the business and joint exec strategy director with Johnston for Havas Village, both lead a team of 20 odd people delivering brand, media, digital, UX, data and creative strategy.
In the last year Hewitt says this has meant a lot of conversations; a huge amount of variety; continual knowledge sharing across different disciplines; many moments of realising there is always more than one solution to a problem; adding that "it's been absolutely invigorating to learn so much about what I don't know and share so much of what I do".
What is in a name?
With not one but two job titles herself, coupled with the fact that some job roles with 'innovation' in media have been dying out, just as new ones pop up with the likes of 'CX' and 'programmatic', Hewitt says it's the delivering great work and inspiring great people makes you relevant, not a great job title.
And if you want to get your hands on a job like hers? 
"The best way to get what you want is to make sure that people know that it's what you want. Sounds basic but I have had plenty of people aggravated by my lack of telepathy over the years," Hewitt explains
See here for: Dentsu Aegis Network axes chief strategy role
"Once people know your aspirations a few things happen. Good managers look out for ways for you to move towards your goal and, you have to deliver. I believe in putting yourself under pressure."
From FCB to The Campaign Palace, Zenith and Naked, Hewitt has held some top jobs at renowned companies, but despite the strong CV she says nothing has ever taught her more than having children, "hands down".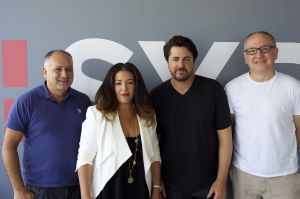 Havas Media Australia CEO Mike Wilson, Imogen Hewitt, Group CEO Havas Worldwide Australia Anthony Gregorio and Phil Johnston
If you are not learning, move
"Professionally I have just had the best people to learn from. Industry icons, black sheep, charismatic leaders and those that win hearts through sheer diligence and determination," she says.
"I think that if you ever think you know everything, you are doomed. Arrogance and apathy have no place in an industry that changes this fast. If you are not learning, move."
She has seen the role of women working in media change throughout her career. For the first 10 years or so of her career, she says she never saw a woman come back from maternity leave.
"Think about that. We have a long way to go still but we've also come a long way," she says.
To help improve the gender and diversity issues within adland, Hewitt says it's similar to earlier theme above of agency strategy and models in that "the talk means nothing without the execution".
Hewitt says: "So, never stop talking about the need for diversity. Never stop calling people on the things they say or do without thinking. Never stop advocating for the women you see doing incredible things. But put the tools in place to make the changes needed. Commit to it. Be pubic about it. Train people to recognise their bias. Train people to be self critical about this issue. Push for the practices that make our industry more accessible to more people. It is, absolutely, without a doubt, to everyone's benefit."
Did you see our original story? Havas merges creative and media strategy teams.
You can read more about the Havas Village in our Meet the Team feature in the May issue of AdNews in Print. It's out next week. You can subscribe to the print edition here, or you can download a digital version you can access on desktop, mobile and tablet here.
Have something to say on this? Share your views in the comments section below. Or if you have a news story or tip-off, drop us a line at adnews@yaffa.com.au
Sign up to the AdNews newsletter, like us on Facebook or follow us on Twitter for breaking stories and campaigns throughout the day.