Collecting loyalty points, such as those of the frequent flyer variety, can influence buying decisions every day but is this "free" reward obsession worth it?
Does anyone ever get to use the points? And if they do, is the reward worth the effort?
Australians love their points. Almost 90% are estimated to be a member of a loyalty scheme, with the average Australian carrying four or more reward-earning cards.
These hungry seekers of rewards spend their waking moments scheming to get the best point return per dollar spent. They know that more points are coming with the next special offer, double points or more. An offer too good to refuse.
From a marketing point of view, these loyalty programs are a sure way of creating deeper databases on customers and prospects, to build engagement and create finely targeted advertising campaigns.
How this information is collected and used hasn't gone unnoticed. The consumer watchdog, the ACCC, wants changes to the law to provide stricter regulation on how personal data can be used for targeted advertising. 
But people keep signing up no matter how their personal information is used.
And it's big business for those running such schemes.
Qantas sells its frequent flyer points for between 1.1 cent and 2.5 cents each to companies wanting to use them to seek new customers and improve customer retention. Take a look at the range of businesses HERE.
The major frequent flyer schemes in Australia brought in more than $7.2 billion in revenue over the three years 2018, according to calculations by consumer watchdog ACCC.
Australia's two big airlines report better profit margins from their frequent flyer schemes -- selling points to banks, insurance companies, superannuation funds and retailers -- than their main business of flying people from city to city.
Qantas Loyalty had EBIT (earnings before interest and tax) of $175 million, revenue of $809 million and a margin of 21.6% in the year to December 2018. Qantas International had EBIT of $90 million, revenue of almost $3.7 billion and a margin of just 2.4%.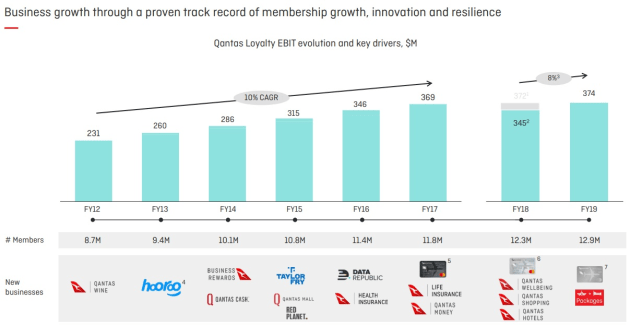 But is it even worthwhile collecting points?
Michelle Holland, managing director of Ogilvy Sydney/Brisbane, is a self-confessed points junkie.
She uses several strategies to increase her acquisition of points, whether it be downloading an app or applying for a new AMEX Qantas frequent flyer credit card with a bonus sign on.
She calls that -- collection frequent flyer points -- research.
"They're used a lot for customer acquisition," she tells AdNews. "KFC is is good at that. You download the app and you start building points or get free things."
Holland remembers when she would get a letter in the post showing a plane flying and she knew she was 85% of the way to get a trip to Fiji.
Actress Dawn French was used to relaunch Flybys at Coles because when this scheme started they didn't have the value right. People worked out they would have to spend for years before getting $10 off.
"I am the world's biggest loyalty junkie and I pretty much have every card and every app known to man so far," Holland says.
"I use store card, an app on my phone, which allows me to photograph and store every card. I think one of the biggest challenges if you have one more than one or two loyalty programs is you often forget to scan your card or you forget that there's an offer.
"In terms of earning points, I look for the bonus deals. With credit cards, look for double your points deals.
"But be smart and pay things off because what you don't want is to rack up credit card bill."
Also watch for transfer points deals. Flybys every now and again will say: Transfer your points now to Velocity and we'll give you 15% more.
Qantas also has a shopping registration which, working on a Chrome browser, tells you the which retailers give Qantas points.
Some loyalty schemes have established separate digital marketing agencies and use their extensive data insights to implement hyper-targeted campaigns.
Qantas in 2014 launched Red Planet which uses data from the Qantas frequent flyers to deliver advertising campaigns.
A year later Qantas acquired 51% in Taylor Fry, an analytics and actuarial consulting business to better manage points liability and points expiry rates.
Red Planet says: "By tapping into the rich emotional connections we have with Australians, you'll know who to target, what messaging, and which media channels to use. This personalised approach creates more meaningful, relevant and rewarding experiences – resulting in happier, more loyal and more engaged customers."
"Pointless"
Discount supermarket player Aldi used this obsession with points and the opaqueness of value in an advertising campaign against the schemes of flybuys at Coles and Woolworths Rewards.
Aldi: "We think points are pointless. We think loyalty schemes are a waste of time. And we think the only 'reward' that matters is everyday low prices."
Paul Coles, general manager at BMF, which created the "pointless" ad for Aldi: "Loyalty schemes are a bit like stamp collecting. You'll spend loads of time and money building your collection, hoping that one day you'll trade them for a fortune. But that day never comes and you realise you just wasted all your weekends attending swap meets. Aldi don't do loyalty schemes, because it would stop them being able to give shoppers the lowest possible prices – simple." 
Aldi came up with calculator to value points. For example, it says it would take 18 months and $22,700 spent shopping at another supermarket to buy a toaster. The calculator. 
Loyalty & Reward Co, a consultancy commissioned by the ACCC to investigate loyalty schemes, looked at advertising campaigns for loyalty schemes.
"Some advertising appears to make broad statements that no reasonable consumer would likely interpret literally," says Loyalty & Reward Co in its study, Australian Loyalty Schemes
"For instance, one recent campaign by Qantas for credit cards promoted buying cups of coffee as a pathway to an international flight using the promotional line 'Latte, Latte, Latte, London'."
Taken at face value, you would need to buy 20,000 to 40,000 cups of coffee with a Qantas-branded credit card to earn enough points. Assuming the ordinary person buys 1 to 2 cups a day, this could take half a century.
"It is unlikely this would be taken literally by a consumer,' says the study.
Calculating the value of a point
Value is in the eye of the beholder. Or one person's bargain is another's ripoff.
If a business class flight to Asia from Sydney costs $2300 cash or 60,000 points, then the value of a point is 3.8 cents. The calculation is complicated by the fact that airlines will still charge the fees and taxes payable even when a fare is booked using points. This can run into several hundred dollars.
Experienced frequent flyer point accumulators see this as a good way to spend points. Other ways are not as good.
Buying a toaster from the Qantas store would drop the value a point to 0.51 cents. That's based on transferring 34,610 points for a $179 SMEG '50s retro style toaster (the price advertised by Bing Lee). Better to pay cash if you need a toaster.
One of the better deals is to accumulate enough points for a round the world ticket. These tend to be better value than, for example, a Sydney to London return ticket purchased using points.
In theory, it is possible to go round the world travelling in business class seats on Qantas-related Oneworld airlines and stop in five cities, all for 318,000 Qantas points. An economy seat is 132,400 points.
Compare this to a Sydney to New York points flight in business class for 249,600 points. The route would be via Hong Kong travelling on Cathay. Economy, with flights on Qantas via QF11 and QF12, is 110,400 points.
The trick, of course, is to find an available seat on all the different legs for the round the world trip.
But it is possible if you try different routes to get where you want to go. For example, try flights via Tokyo or Hong Kong, to get to the US.
I recently booked a round the world with two first class legs and the rest in business class for two people for under 900,000 points. One leg was in premium economy and we had to pay for a flight to Iceland.
The value was probably in the $20,000-$25,000 range. The points took two years to accumulate, a lot by getting credit cards with fat Qantas point sign-on bonuses, several long haul trips to Europe and the US, and always looking for those bonus point deals. Note: Many cards now spread out the required spend over 12 months to get the bonus points to ensure people don't flip cards quickly (sign up, get the bonus points, cancel the credit card).
The downside of my deal was the $3,000 charged in taxes and fees for the "free" round the world trip. 
Have something to say on this? Share your views in the comments section below. Or if you have a news story or tip-off, drop us a line at adnews@yaffa.com.au
Sign up to the AdNews newsletter, like us on Facebook or follow us on Twitter for breaking stories and campaigns throughout the day.