When Chris Howatson was placed at the helm of Clemenger Group's newly merged creative agency CHE Proximity in 2012, he became one of the youngest executives in the country to lead a major agency.
Taking over from Mark Coad, now CEO of PHD, Howatson's bold restructure and strategy for CHE Proximity paired with his age, at 27, raised some eyebrows across the industry.
Today, Howatson is regarded as one of the brightest minds in the industry and CHE Proximity has a client list any agency would be envious of, working with blue chip companies, including Virgin Australia, Telstra, Mazda, Coles and Velocity.
It has grown from 60 to 305 employees to become the second largest Clemenger Group company. Last year, the agency opened a Sydney office, which is led by managing partner David Halter. It also lured former Droga5 creative Ant White to head its creative team.
Just last week the agency secured a significant new piece of work, winning a slice of the IAG creative account alongside The Monkeys - without a pitch.
"When I first started at CHE Proximity, no one wanted to know who we were. We weren't on any pitch lists and the media didn't return my calls," Howatson tells AdNews.
"In the last 12 months, we've been called by people we've never heard of before that want to work with us. We've been awarded work without pitches, done pitches against consultants and the best agencies in Australia and the feedback we are getting is we are bringing a level of thinking they haven't seen."
The next generation of Clemenger leadership
Howatson, better known as Howie, has spent most of his 12-year career within Clemenger, bar a brief stint at GPY&R as an account director. He's one of the next generations of Clemenger leadership in Rob Morgan's inner circle, joining the Clemenger board in 2016.
He started at Clemenger Brisbane and worked his way up; rose to have a joint role as general manager of Clemenger Proximity Melbourne and managing partner of Clemenger BBDO Melbourne, before getting the top job when the two entities merged in 2012.
To mark its fifth birthday, CHE Proximity has released a coffee table book
CHE was created in 1974 by Peter Harvie, originally called Clemenger Harvie and was largely recognised as a retail agency, defined by having an end-to-end service model. Peter Harvie left the agency in the 90's to take on the role of chairman of Austereo, leading the development of hit shows Hamish and Andy and Kyle and Jackie O. He didn't return for 18 years - until a month before Howatson joined CHE Proximity.
Proximity was created in 2000 as the global CRM and digital arm of BBDO Worldwide. In Australia, Proximity was an independent business until the late 2000s when it was merged into the P&L's of BBDO offices to support integration.
By the late 2000s both agencies had lost their clout; Proximity through the integration and CHE given an increasingly irrelevant production based model. It was then, Morgan asked Howatson to reboot the Proximity brand in Australia by creating CHE Proximity.
In its first month the new agency lost three clients and Howatson was forced to make a slate of redundancies. The agency had "lost its way" and was in "really bad shape" he tells AdNews - which is why he was tasked with rebuilding it from scratch. 
He developed a comprehensive three-year map to transform the agency. His plan was to create a much more data-driven creative business. It's safe to say the agency has moved away from the perception it was 'only a retail agency'.
While he refers to Harvie as a "legend", he admits he hasn't kept much of the legacy of the business. However, Harvie is still very much involved, working four days a week at CHE.
"The three year plan was ambitious, but I believe we have far exceeded our own ambition. Now, I have a very simple objective for the agency; create the work that finds the next era of advertising," Howatson says.
"We now have a three month plan rather than a three year plan. We do everything in three month sprints and reflect on our numbers quarterly. We have to be prepared to change because the needs of our clients are epically changing."
CHE is on track this year for its fifth consecutive year of 15% revenue growth, which comes from growing existing relationships as well as new accounts.
CHE Proximity's latest client wins
First came the data, now the creative
If its recent ventures are anything to go by, CHE isn't afraid of shaking things up. In the last two years it's built its own programmatic desk, an artificial intelligence division, launched a martech consultancy, a startup offering, a rapid insights research app and bolstered its CX and media offering.
But while CHE has been quickly expanding into areas of technology, data and media, it hasn't lost its creative heritage. The agency has picked up of a slate of awards in 2017.
It was the fifth most awarded Aussie agency at Cannes Lions, picking up two silvers and two bronzes for its 'Hearing Test in Disguise' campaign for Cochlear.
"We've always been on the map for being a really smart agency but we haven't necessarily applied that to creativity, but in the last 18 months we've done that," Howatson says, adding the awards are a testament to the creativity coming out of the Sydney office.
CHE considers itself one agency with two locations – Sydney and Melbourne. Building the Sydney team over the last 12 months, Howatson says he decided to "diversify rather than duplicate" the talent, with Melbourne having a stronger development focus and Sydney a stronger creative team.
"Melbourne has a bigger development team and culture, so instead of trying to introduce creative people into that environment, we decided it would be easier to build it from scratch in Sydney. Melbourne has been amazing at data, whereas Sydney is now lifting our creative creds," Howatson says.
Halter, who joined CHE from Clemenger BBDO, says the hire of Ant White has seen the creative culture "blossom at pace".
"Creativity thrives in pockets and that's often the case in many organisations," Halter says, adding that the belief that a Sydney client has to work with a Sydney agency is out-of-date.
White and Howatson first worked together back in 2010 on the Yellow Pages account at Clemenger. Even back then, the duo was creating work outside of the norm, launching the 'Hidden Pizza Restaurant' campaign for the Yellow Pages.
The campaign provided free pizza to those who could find the contact details for the restaurant and aimed to show how effective advertising in the Yellow Pages could be, with hundreds showing up to get their slice.
"None of the work I've ever done is traditional. I don't even know what traditional is anymore," White says, adding that all his work at CHE leverages the data smarts available through the agency's partnerships with Annalect, Adobe, Oracle, Outbrain, DoubleClick and more.
"We are trying to be the next generation agency. We're not about trying to do things that have been done before. We strive to do things that are culturally relevant and if that means they haven't been done before, that's great. It's hard but worth it."
The agency's work for Virgin's Velocity is most representative of CHE's data-driven creativity approach, believes White.
The campaign, which launched earlier this year, featured the consequences of an intern accidently giving away one billion points instead of one million to Velocity customers over 40 different videos.
Compared to the November 2016 campaign, which had the same 15% bonus mechanic, the work helped achieve unprecedented results for Velocity on significantly less working media spend.
Traditionally Velocity would have needed three separate agencies for its media, creative and digital account, whereas CHE does it all, which Halter says allows the agency to "put some skin in the game".
"Clients like Velocity or Latitude, where we have full access to their business, we can predict what number we will achieve and put some of our profit margin up for performance. We have one client that pays us nothing and the remuneration is completely based on sales performance. It's high risk but high reward and if we control the lever, we can't blame anyone else but ourselves," Halter says.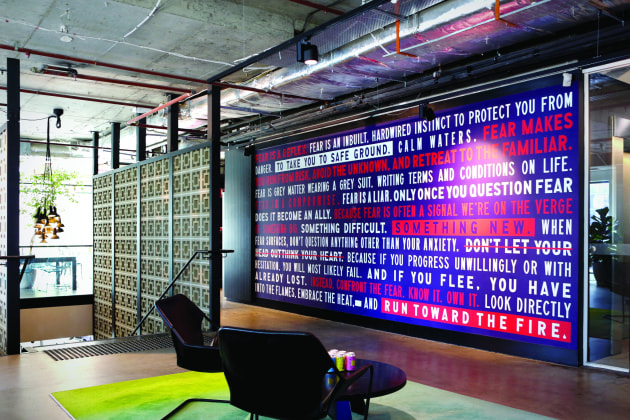 CHE is driven by the mantra: 'Run Towards the Fire'
The next five years
The leadership team at CHE are all in their 30s, skewing younger than most top executives within major agencies, which Halter believes contributes to their "hands on approach".
"We are in the weeds of the agency day-to-day. We aren't just directing traffic," he says. "It still feels very much like a startup and we are still being driven by that entrepreneurial spirit. We don't want to be the guys that wait for others to bring you the ideas – we are on the tools, writing copy. We don't carry overheads."
The agency is driven by the mantra 'Run Towards the Fire', which encourages staff to find comfort in uncertainty rather than fear.
"Given our depth of specialisations, there is always something each of us doesn't know and so this encourages us to be more expansive thinkers," Howatson says, adding there are 124 different job roles at the agency.
Moving forward, one of the agency's goals is to improve its female diversity. Howatson admits the agency is "light on women" in its senior team.
"Culturally, we aren't a 'chest out' type of agency. We don't crack big bottles of Champagne when we win an account. We are humble in the way we approach things and we know there are ups and downs in advertising. One day you can be riding high and then the next you aren't. We are restless and while we have done a lot in two years – we have a lot more to do."
CHE launched a data-instilled gin to celebrate its fifth birthday. Read more here.
Have something to say on this? Share your views in the comments section below. Or if you have a news story or tip-off, drop us a line at adnews@yaffa.com.au
Sign up to the AdNews newsletter, like us on Facebook or follow us on Twitter for breaking stories and campaigns throughout the day.