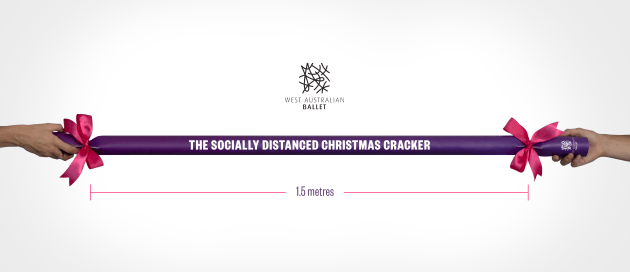 The campaign was led by Wunderman Thompson Perth.
West Australian Ballet launches a larger-than-life campaign to remind Western Australian's to stay safe this Christmas, and that all live performances of The Nutcracker at his Majesty's Theatre are now socially distanced.
The campaign led by Wunderman Thompson Perth plays on a socially distanced version of a classic Christmas staple; a 1.5-metre cracker.
Ballet dancers shared the larger-than-life crackers with passers-by in Perth last week, each filled with complimentary tickets to The Nutcracker and West Australian Ballet merchandise.
All in the spirit of creating a little extra joy in the lead up to Christmas while promoting the safety measures in place to protect patrons.
"We're currently operating under the State Government's COVID-19 phase-4 restrictions," West Australian Ballet head of marketing and communications Suzanne Beecroft says.
"This means our audience capacity is capped at 60% to ensure all our audiences can practice social distancing and stay safe while enjoying this fabulous Christmas production."
Wunderman Thompson creative director Joe Hawkins says: "It's not your usual Christmas cracker. And it shouldn't be. We're not living in usual times. Better still, we've removed the usual guff from inside Christmas crackers and replaced it with good stuff, like tickets to the ballet."
CREDITS
Client: West Australian Ballet
Head of Marketing and Communication: Suzanne Beecroft
Agency: Wunderman Thompson Perth
Chief Innovation Officer: Martin Beecroft
Creative Director: Joe Hawkins
Associate Creative Director: Matt Wilson
Senior Art Director: Luke Williams
Engagement Manager: Hayden Gerrard
Designer: Jaz Baker
Producer: Sarah Parsons

Printer: All Flags
Photography: Alucinor Productions