This is a free article from The Annual 2017. As part of the Perspectives Series AdNews asked industry leaders from marketing, media, advertising and tech to reflect on trust. Every issue of the monthly magazine has exclusive features, profile interviews and content that isn't usually available online. You can download a digital version of AdNews or subscribe to the print edition here.
Navigating trust is really hard. Relationships are built on it. Brands can be destroyed by it. People depend on it.
The meaning of trust has evolved over the past 10 years. We've seen the digital age increase the transparency between individuals and brands, as well as a shift from institutional to distributed trust. Years ago, people trusted deeply in institutions.
Now we are trusting communities of people far more than the brands we grew up with. As a society, we are asking more questions and challenging organisations more than ever before.
One of the most exciting changes we've seen from this shift in trust is that there is more responsibility and accountability to people and communities. Individuals now influence businesses, brands, policies and government, where years ago, this might not have been possible.
Digital platforms have created places for individuals to connect with likeminded people and build networks and communities of trust. From sharing-economy brands like Airbnb, to the millions of interest groups we see on Facebook, we have learnt to trust the individual – and this has created multiple opportunities for individual connection, collaboration and social good. 
This has, in part, created new opportunities for people with unique experiences or perspectives. Decades ago, if you had fringe interests, it would have been hard to find people to share these interests. With digital channels, we can now connect these groups. While there are so many benefits to this, it sometimes also creates challenges when trying to understand the fine line between freedom of speech and perspectives that push the boundaries too far.
Like many new digital companies, we are pushing the advances of technology. The move to mobile and now the move by consumers to embrace video on mobile, has led to human behaviour changes. For example, many of the features that we built on Facebook originally have been used in ways that we couldn't and didn't anticipate.
This is why transparency and trust is critical in our business. People will only use our services to connect and share if they do so in a safe environment. Businesses will only use our services to connect with customers if they trust our platform, the tools we provide and ultimately the results we deliver.
We're not perfect. But we are striving for safety and accuracy. We will continue to commit to being transparent and update the market as we add further enhancements. Over the next 12 months, we are going to be making significant investments in Australia. I take very seriously our responsibility to earn and maintain the trust of our advertiser partners and to give them the confidence they need to use our platform. That's critical to their success and ours. We're committed to getting this right, and to investing in strengthening our platform so we can better serve our community.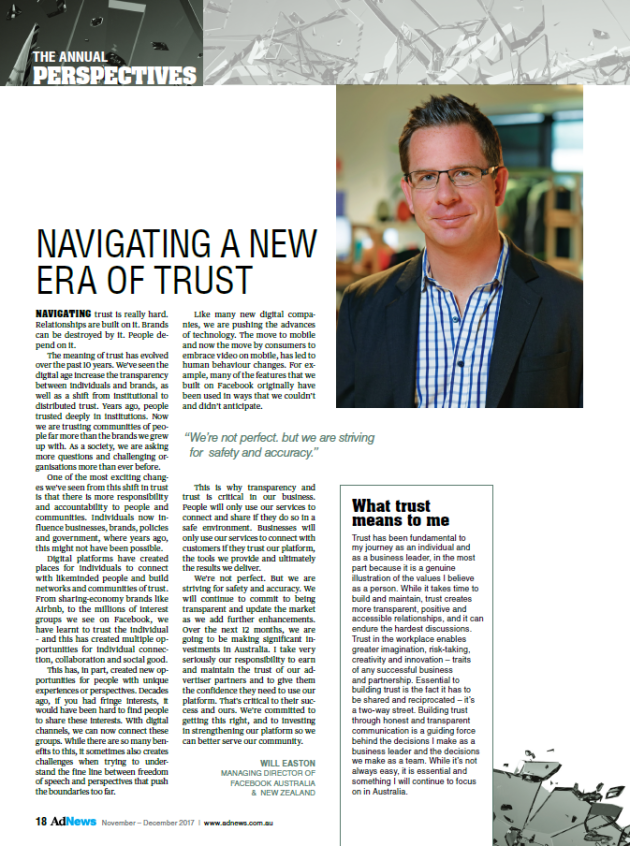 This is part of the Perspectives Series - Reflections on Trust from The Annual 2017.