This is a free article from The Annual 2017. As part of the Perspectives Series AdNews asked industry leaders from marketing, media, advertising and tech to reflect on trust. Every issue of the monthly magazine has exclusive features, profile interviews and content that isn't usually available online. You can download a digital version of AdNews or subscribe to the print edition here.
Trust. It's a simple word, with a simple meaning, yet we find it so hard to give, and even harder to earn. The lack of it is the single biggest issue we, as an industry, are facing. 
I want to believe that good will come out of the recent uproar around transparency and lead us towards more open, honest and transparent discussions.
To remain relevant, useful, hopefully loved and ideally, trusted, brands need to evolve faster and be more consumer centric. A brand's promise needs to match its behaviour and the experiences consumers engage with every day, but that is the cost of entry.
The part of the conversation I feel not enough of us are having often enough is around how interesting and compelling that brand promise is and how interesting and compelling the ideas are that we create to bring those promises to life.
Being 'creative' has become a dirty word in many circles and we, as an industry, have not helped ourselves over many years.
The irony is of course that there has never been a time when it has been more important for business.
There's not a single category in the world that's not at the risk of disruption, and when you peel back the competitive advantage that smarter data and the increasingly better use of technology offers, at some point it will all be a level playing field - the only thing we'll have left is the quality of the idea.
As an industry, we should be driving towards a creative renaissance. The strategic and creative rigour that so many agencies offer could and should be used to greater effect – but for that to happen, we need to harbor greater trust between marketers and agencies.
So how do we give our clients the confidence to trust us more? As agencies, we need to do a better job of directing our energy and our smartest minds upstream with our clients, and ensuring we know their business, and its challenges, inside-out. We need to understand their business beyond communications and we need to be able to think strategically to remove complexity from their lives – otherwise what's the point?
On the other hand, I deeply hope more clients will trust their agencies when they present interesting (and yes, that most likely means challenging) ideas. Ideas that haven't been done before, and importantly, ideas that scare us a little bit. No single brand and no single agency can afford to be uninteresting, and it's our duty to uphold that belief.
To move our industry forward we need more brilliant work that works. Great work happens when there is trust and trust means making tough calls without all the answers.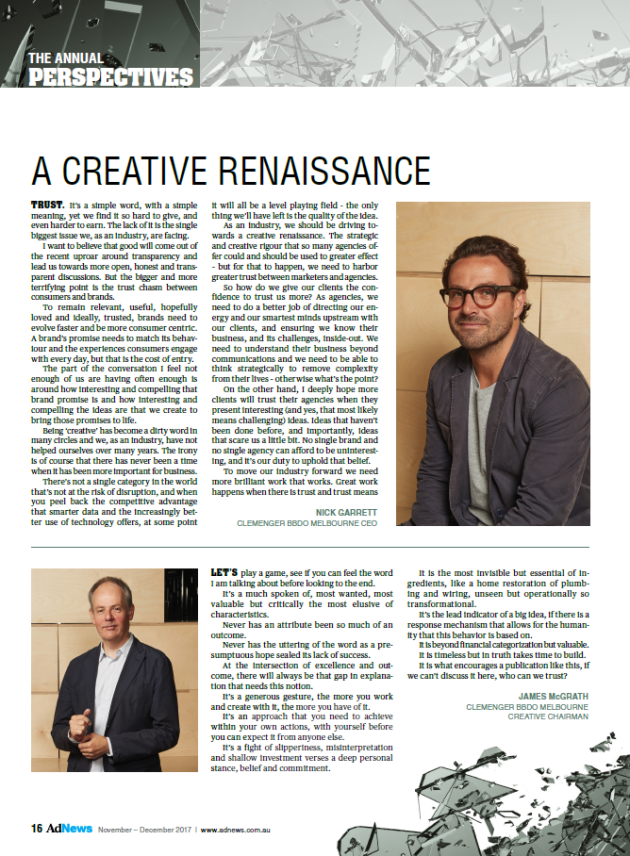 This is part of the Perspectives Series - Reflections on Trust from The Annual 2017.