Craig Cooper, chief investment officer, Carat Australia
(Part one of two)
Hopefully, but it's a complicated journey.
We Australians are an early adopting bunch and it is a well-known fact that global brands look to our country to provide test market analysis for feasibility of global rollout of products and services. Similarly, our adoption of Digital Video or Video On Demand (VOD) has been one of the highest in the world (per capita). VOD has many forms though and where we have witnessed substantial growth over the last few years, not only in revenue but also consumption, is in the BVOD (Broadcast Video On Demand) and AVOD (Advertiser Video On Demand) formats. (SVOD or Subscription on Demand is treated separately due to not currently having commercial advertising models - but will touch more on this later).
According to Standard Media Index (SMI), who consolidates Australian media agency expenditure data, the Digital Video market (BVOD + AVOD) in 2021 was $857m, as compared to the Linear Television market which finished the year at $3.2b. VOD revenue in Australia has had 504% growth since 2014, however of this BVOD has seen only 195% growth whereas YouTube has seen 791% growth. This is significant as it's predicted that more media expenditure will transition to digital video platforms over the next few years.
Video viewership has become significantly fragmented, both globally and in Australia, and planning and managing reach and frequency across these newer channels and platforms is quite complex. Video content can now be consumed live, time-shifted, in-app or via a mobile device – and there will likely be more formats and devices to come. Given this fragmentation, ad spend has typically followed suit and this is broken down by a simplified grouping in figure 1.0 below.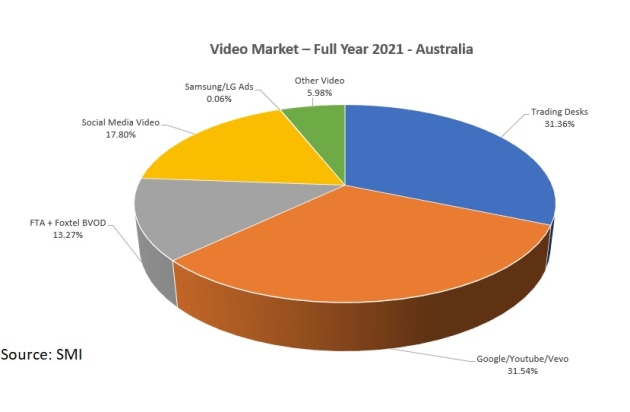 It's not all doom and gloom for the Broadcasters though, with 2021 resulting in larger revenues than pre COVID expenditure levels (Total Linear TV revenues 2021 $3.2b vs 2019 $3.1b). It was surprising though, that a mature media channel like Linear Television fared so well during the last 2 years (i.e. COVID-19 Era). We surmise that Linear television simply remained a safe and reliable channel to deliver client business goals. This combined with more scrutiny of client marketing budgets, due to COVID-19 business impacts, and a desire to spend in channels that deliver, it created a somewhat artificial demand in the Linear TV landscape - which resulted in increased revenues and media cost inflation. Linear Television, for now, remains a seller's market, and therefore we have had to re-educate clients on longer lead-times to avoid premiums, review historically stable client networks share arrangements and encourage clients to look at increased flexibility with campaign periods to secure more efficient (or just more) inventory.
As we exit the COVID-19 era, and return to an ever more converged video ecosystem, we have to acknowledge and respond to new or evolved consumer audience behaviour and technology advances which have accelerated. The 'Nirvana' we are searching for in the video landscape is how we can plan both Linear Television & VOD inventory to deliver unduplicated reach and frequency and ultimately cost effectiveness for clients. And this brings us to VOZ (Virtual Australia). 
It's fair to say that the launch of VOZ has been disappointing, as conceptually this could have been the silver bullet for broadcast video industry. Plagued with launch delays, an initial non-integrated interface with agency systems and that it's not built to post analyse for combined linear and VOD inventory yet - the adoption from clients and agencies has been slow and it hasn't yet become the standard tool for planning or trading in the video space. We do hold some hope though that VOZ will evolve over time and make this more viable for advertisers.
This lack of an all-inclusive Linear Television and VOD industry planning tool has resulted in two major shifts within agencies. Firstly, it's paved the way for more reliance on YouTube within client buys given its proven performance and secondly it has led to each agency consortium to create their own platforms and productization of a solution for Linear Television and VOD combined planning and buying.                                                                                                                  
The inclusion of YouTube on client video plans is a sensible addition however the blend between YouTube and BVOD is probably currently imbalanced. The broadcasters have known of this share leak from their Linear Television and BVOD platforms to YouTube for quite a few years, and from an industry level, the point of difference has been unified across all broadcasters; being centred around brand safety and quality content. Given YouTube's large User Generated Content (UGC) base this was smart move however there is no denying the power of YouTube's mass reach and added ability to easily provide attribution modelling to metrically prove its effectiveness. From a BVOD point of view, unique active monthly users now collectively sit just above 10 million users across the 7plus, 9Now, 10play, SBS On Demand, Foxtel Now/Go & Kayo platforms. This is a not a trivial number either and has helped to offset some of the audience declines in Linear Television. 
It's fair to say the broadcasters have been on the defence from Youtube's continued public attacks for several years but these barbs have most recently expanded as to include Meta (Facebook/Instagram) and the growing consumption of video within their group of apps. There have been claims from these AVOD platforms of their higher ROI, driving greater incremental sales, linear TV's inability to reach light VOD consumers – all of which have delivered more questions than there are answers. Both YouTube and Meta and other Social Media Video platforms (all of which fall under AVOD) most certainly have a place within client's marketing efforts, but we would suggest not in isolation. These ongoing claims and counter claims in the video space have been mainly distracting for all parties but have shone a light on the significant share of spend that is being directed to emerging or new AVOD platforms, in particular the Social Media video platforms. Social Media Video now commands 18% share of total Digital Video spend in Australia and these platforms have thrived throughout the COVID-19 era, and given current trajectory could end up being serious players in the wider video landscape. See below Figure 2 for an estimated expenditure split across key Social Media Video publishers.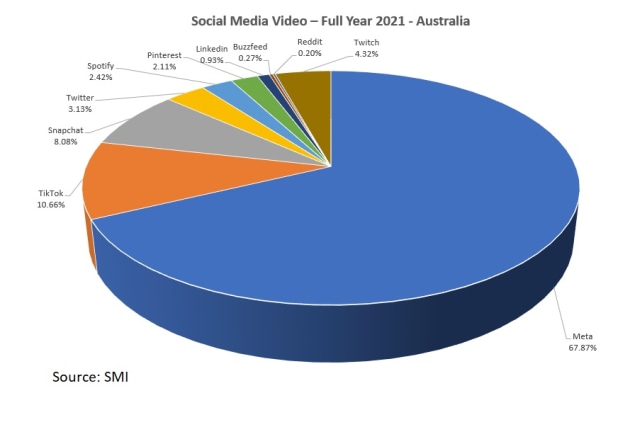 The broadcasters have long felt that they are held to a much higher account with video measurement, which is a fair assessment especially when their Digital Video competitors have different rules around what defines a video completion view. BVOD platforms count a completed view at 15 seconds (in line with the established Linear Television parameters), whereas Youtube's threshold is 6 seconds (and includes a Skip button) and Meta and most other Social Media video platforms have a threshold of 2 seconds. This disparity is important to understand, as with a lower duration threshold for a completed video view, the higher reported success metrics for that platform. Whilst there are many opinions on what the default second threshold for video completion should be, it's the inconsistent standards in this space that makes comparisons and end performance results so tricky to evaluate.
ThinkTV (The Television network funded industry body in Australia) has rallied against these AVOD platforms with various independent research studies and audience analysis to show the broad reach and appeal of Linear TV & BVOD, and how consumers are paying attention to the quality broadcast programming for far longer versus AVOD competitors. And it's this 'Attention' factor that is likely to be the most fundamental audience metric shift we are likely to see for the next 12 months. In 2018, Carat collaborated with multiple data partners including Amplified Intelligence, to understand the problem around attention and measurement in the Video environment - the result of which was 'The Attention Economy' research study. We wanted to find a solution where we could not only understand 'Attention' across multiple publishers and formats but also ingest this data into our proprietary planning tools and eventually trade on the 'Attention' factor in the future. The findings were fascinating and armed us with granular planning data, that included which platforms performed better on 'Attention' seconds, optimal video duration and expected advertising recall uplift.
The 'Attention' factor has recently led a plethora of media owners and industry bodies sign up and/or engage Amplified Intelligence to identify, quantify and understand the 'Attention' affect for their medium and how this could be layered against their current audience data. Historically when ingesting raw AVOD data into our planning tools, the mass reach figure skewed the optimal share of spend into AVOD spaces but now with 'Attention' data layers, it enables us to look at BVOD & AVOD platforms on an even footing. This 'Attention' factor is already starting to create headlines, with ThinkPremiumDigital (a subsidiary of ThinkTV) recently releasing findings from its Benchmark Series, showing an hour of BVOD generates 2.6x times more visual 'Attention' than YouTube video and 25x times more 'Attention' than Meta platforms video.
The 'Attention' factor is a step in the right direction for delivering omni-format planning & trading within the entire video landscape, but we believe by leveraging new and enhanced technology, we will begin to edge closer to our Video Nirvana.
(Part two to be coming soon)