There's nothing like a robust, independent, factual research report to get the blood pumping on the first day of the work week and Monday's release of My Screen: Video Consumption in Australia promised all of this and more.
After reading the report, and Facebook's commentary around it, it's clear some of the numbers have been used to inflate, some to hide and others to completely bury the real story about video consumption.
When numbers are used this way, it's called numberwanging and if you numberwang too much you'll be blind to real growth opportunities for your brand. You've got to dig below the surface look at all the facts before you go making any rash decisions about your media spend. 
Numberwanging is not without its consequences and at the time of writing, the report has been pulled but, unfortunately, not before Facebook's Head of CPG, Dan Sinfield used it to support the argument that changes to the way Aussies consume video suggest it's also time to change the way we plan and buy media.
At ThinkTV, we'd rather spend time helping the industry better understand how to be as effective as possible when advertising on TV and Broadcaster Video on Demand (BVOD), but occasionally we have to stick our hand up when we see commentary that doesn't present a full and accurate picture of the industry landscape.
Despite the inaccuracies in the data, Sinfield is right in saying we need to reassess the way we plan and buy media. With marketing budgets tighter than ever, it's important to ensure every media dollar is working hard to achieve its objective. For advertising to be considered effective, the simplest metric to go on is business growth and not all advertising platforms can deliver on this.
Of course, Sinfield implies the change that needs to be made to planning and buying media is to shift advertising spend to Facebook whereas we would argue any changes should be based on the most effective media platforms that support business growth.
Size matters but so does attention
Sinfield notes that Facebook and TV are among a list of 'beasts' in the video jungle and while total audience size is important, time spent engaging with the platform is perhaps even more so.
According to Facebook, users spend 14 hours 42 minutes a month browsing on the platform while TV racks up 73 hours 51 minutes for the same time period. In terms of demographics, consider this: kids watch 40 hours of broadcast TV a month, teens 21 hours and 18-to-24 year-olds more than 25 hours, peaking with the often scoffed high-disposable income over 55 demo who watch in excess of 100 hours. That's a sizable chunk of video viewing time to consider when planning and buying media.
Sinfield doubles down and argues that it would require a media buy across all networks and regions to reach the same audience on TV as opposed to a single buy on Facebook.
Let's not confuse things – a single 'buy' still requires purchasing a significant amount of inventory and the number of campaign spots needed across Facebook to match the reach delivered across TV would come with a very heavy back-end frequency distribution.
Independently verified data tells us that TV has in excess of 90% reach in any given month with people watching more than two hours every day, but most importantly, it has a real strength advantage in capturing people's attention.
The Benchmark Series, an independent study that looks at the performance of TV compared to social video platforms Facebook and YouTube, asked the vital question: are people paying attention when they encounter advertising? And the findings were stark. While 58% of people actively view TV, only 31% do the same for YouTube. That figure was even lower for Facebook at 4%. The study also found viewers only paid on average 1.8 seconds of attention to each execution run on Facebook. This compares to around 19 seconds of attention for TV executions.
The My Screen: Video Consumption in Australia as much as confirms the lack of attention people are paying to ads on social video platforms. Of 19 platforms measured in terms of claimed attention, Facebook and Instagram rated 17th and 18th beating only Snapchat as the video platform people pay the least attention to.
While these figures are claimed attention, the Benchmark Series used eye-tracking to measure attention on and off both ad and screen. It found the major contributing factor for attention is coverage of the screen. There is a strong correlation between the screen real estate used as a proportion to the available screen size. TV, of course, uses 100% of the screen, whereas Facebook advertising within the feed on a PC uses only 10%. While it's a mobile dominant platform, attention rises to only 27% for mobile devices.
Enter streaming
As Sinfield noted, streaming has changed the game and, on that point, we agree. However, the ad-free eyeballs glued to Netflix, Stan and other Streaming Video on Demand (SVOD) services are making Broadcaster Video on Demand (BVOD) and other ad-supported environments even more precious to reach engaged consumers.
BVOD is experiencing exponential growth with the most recent Video Player Measurement (VPM) data recording record-breaking numbers. BVOD viewership in Australia is up 52% year-on-year recently hitting a new high of almost 3 billion minutes watched within a one-month period.
An often-used sales push by Facebook that Sinfield also quotes is that BVOD is unable to deliver incremental reach in addition to TV.
Smart media planners know this is not true. Firstly, consider that TV is a large video platform because, well, it is large. Almost 22 million viewers in a month mean that both heavy and light viewers (of all ages) are watching.
But to further dispel this notion, simply consider your own viewing patterns. Even the most avid fan is unlikely to re-watch their favourite show on BVOD after turning in for it the night before. But if you missed the broadcast, you'd absolutely be on your mobile the next day to catch up.
BVOD extends reach… period.
Take the example of Married at First Sight as a case in point. From this year's stand out season, 17 episodes have attracted an OzTAM VPM audience of more than 300,000 across a 28-day ratings window. The forthcoming launch of Virtual Australia or VOZ, the combined BVOD and linear TV viewing database, will shed more light on this in the coming months.
The impact of viewing by age
Facebook would have you believe that only people over the age of 55 are watching TV. This argument has become de rigueur but it's simply not accurate.
Again, monthly reach in excess of 90% means that there is an audience available across many demos for the smart planners to book and buy.
And in addition to linear viewing, BVOD is commanding a broad share of all demographics. The below chart shows the demographic profile of both broadcast TV and BVOD.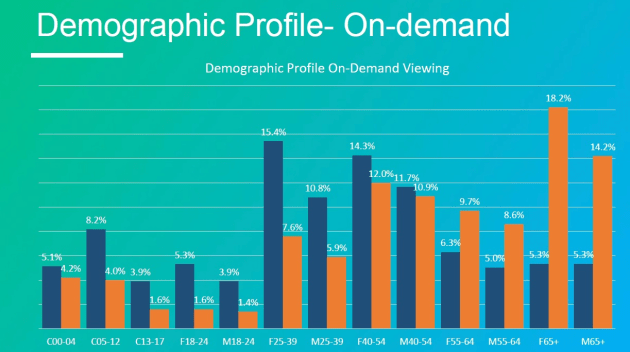 Look, we agree with Sinfield that media plans hit the sweet spot when they include multiple channels at varying weights. And we think most planning does this pretty well already.
Still, marketers should continue to question the effectiveness of all platforms and the available inventory used to drive business outcomes.
But as the research we have presented shows, television is an excellent option for driving those real business outcomes due to its unparalleled reach at speed as well as an engaged and attentive audience.
TV has the power to deliver a strong sales impact across all screens and that's no numberwang.