Whilst 2020 was a year that caused many of us to step back, reflect, and examine our current brand strategies, it was almost impossible to miss the noise swelling in the market on the monumental rise of gaming.
It's now the largest slice of entertainment's revenue pie (bigger than the film and music industry combined) and disrupting consumer engagement with dominant view times. However, whilst gaming is now mainstream and virtually everyone is considered a 'gamer' (a label many also reject), what can brands do to navigate this, and what is the real opportunity?
Post-pandemic predictions from Newzoo show that the world's 2.8 billion gamers in 2020 will grow a further 6.4 per cent across 2021. IDC expects around 75 per cent of the pandemic-driven increase in mobile games will persist indefinitely and Tubular Labs just released findings that gaming influencers draw the most loyal fans; 53 per cent more loyal than average and three times more than other entertainment audiences. So with that size and scale[1], gaming is better thought of as a culture than a category, and a culture many brands simply can no longer ignore.
Within this vast gamer culture are many different communities, motivations, behaviours and personas that all need to be considered. To add to this diversity, every game publisher, platform, and media channel has its own unique gamer segmentation approach, making the task of aligning your brand with the right gamer audiences a complex one.
Just as everyone is not a fashionista because they wear clothes, not everyone who plays games identifies as a gamer. And just as the true fashionista also buys active and street wear, gamers often inhabit multiple games, genres, and communities simultaneously (motivated by mood, socialialiblity, etc.). It is this nuance that requires brands to dig deep before rushing into any one particular gaming strategy.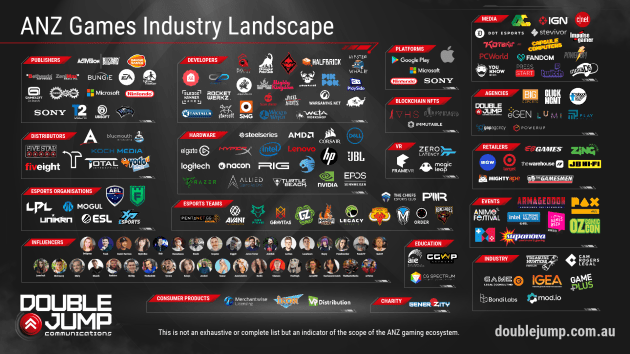 Overview of some of the major players in the gaming ecosystem
The best solutions will therefore come from a multifaceted marketing approach:
Brand Audience: Before diving directly into gamer segmentation, start with your own brand segmentation and pain points. What are your brand activation goals? Is your target audience already across any particular gamer segments or is the goal to reach a new audience?
With gamer differences across demographics, taxonomies, motivations, and even platform preferences, how your brand engages with a gamer should be tailored to align first to your own audiences that will most effectively help you reach your brand goals.
Brand Alignment: Matching your brand tone and aligning to your values is also important to make any association contextually resonate. Which games best align to your values? Are First-Person-Shooter (FPS) games considered brand safe? Are gamers talking positively about the games you want to partner with? Where does your brand add the most value to players and viewers?
When you consider gamers both play and view gaming content, the potential touchpoints for activation are extremely broad but must always start from a harmonious alignment between game and brand with shared tone and values.
Brand Authenticity: Gamers in general are hyper-critical and will reject any brand simply attempting to capitalise on their culture. Activations need to be authentic, and it takes time to build trust within any relevant game community. What activations appeal to gamers aligned to your brand? Do you understand the way gamers are engaged? What influencers are driving conversation around brand aligned games?
Gaming could be considered storytelling at its core so authenticity can come from creative content marketing, and that means crafting the right brand storytelling to resonate positively with gamers. In the new cookie-less, privacy-restricted landscape, art-meets-science certainly comes into play, but presenting your brand in a contextual and authentic way is crucial to develop a longer term association with gamers that is accepted.
With this new land of opportunity though, there are pitfalls to be mindful of, and navigating such an unfamiliar ecosystem is best done with the support of those experienced. As with rapid growth in any culture, there is also a rise in so-called gaming experts, many who have never worked directly within the industry (buying gaming media or running an esports tournament with sponsorship does not make someone a category expert) and with the best of intentions, the danger is that some brands will (and have) had a less than successful experience as they jumped to tactics without being strategic.
Many of these 'experts' also come with a biased outcome. Go to a media company and expect a media solution, or an influencer agency that gives you a streaming activation. While these may be effective tactics, you need to look at your brand's pain points and develop an agnostic strategy first to answer what gaming association will solve.
So how do you associate your brand with gamers correctly? Your strategy may involve a number of activations such as media (in/on the game), brand extensions (on-pack), direct engagement, cross-promotions, sponsorships, and content marketing, or ideally for the best long term results a combination of many of these.
Gaming is inescapable, gamers are everywhere, and while it might be the new entertainment kid-on-the-block, core marketing principles and approach to identifying and aligning your brand to the right audience segments within this new culture first are paramount. Your own audience insights and brand values will be key to developing your successful gaming strategy, and ideally with a little help from some true gaming experts.