Programmatic is a term that made its way into adland under a cloud of smoke and a distortion field of mirrors. Buzzwords, sales talk and technical lingo have hampered understanding and uptake of what will become standard in Australia this year – a more efficient and effective way of selling ad space.
So, to help end confusion, what follows is a simple explanation and some tips for publishers and advertisers to get the most out of the efficiencies and analytics of automation.
So you know where I'm coming from, SpotXchange has evolved from an ad trading platform to an inventory management platform for publishers, and plays exclusively in the video space. Our platform is a transact video advertising campaigns and also a tool to manage everything from technical setup, yield (meaning pricing), delivery, reporting and optimisation.
The following definition focuses on digital advertising, but applies to the emerging application of programmatic to out of home, print, TV and so on, with small variations.
What is programmatic?
Programmatic advertising refers to the automated sale of ad space – a process driven by an ecosystem of technology that sits between advertisers and publishers.
The technology can be used to either automate the full transaction, removing direct contact between media buyer and publisher (via an auction-based marketplace), or to automate the work flow behind the sale once it has been negotiated by traditional sales staff (programmatic direct).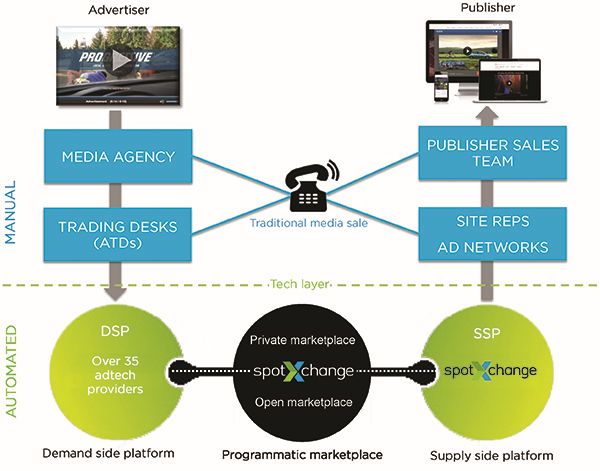 How does it work?
Marketplace programmatic
When a visitor lands on a webpage carrying an ad unit ('inventory'), its publisher sends a request for an ad to an ad server, which directs it to a programmatic marketplace. The marketplace then returns an ad that matches the criteria specified by the advertiser – audience data, price and other deal terms. The ad selected is the winner of an auction between advertisers competing to serve their ad to the viewer – a process called real-time bidding (RTB). Marketplaces can be set up as open (all advertisers can participate) or private (publishers invite a handful of select advertisers to bid for their inventory).
Programmatic direct
Programmatic direct bypasses the marketplace, using traditional sales staff to negotiate the terms of the deal, before funnelling the ad through the other pipes involved in the programmatic process.
Types of programmatic deals:
Open marketplace

Private marketplace

Programmatic direct.
Getting the most out of programmatic
Programmatic gives both publishers and brands the opportunity to gain increased control and transparency, while also providing granular reporting which enables real-time campaign adjustments to meet changing objectives on the fly.
Concerns, such as quality of inventory and devaluation of inventory, have been linked to programmatic for years. These predominantly stem from poor optimisation of the system. Let's not forget that without programmatic, the same inventory still exists with proper use, both publishers and advertisers are ultimately better off, as it provides the ability to filter, include or exclude as desired.
For publishers, the analytics represent an opportunity to understand buyer behavior and make smart real-time selling decisions to help maximise yield. The approach should not be looked at as simply a mechanism for clearing remnant inventory, but rather as a smarter way of selling inventory. A mix of deal types can be accessed to select the best sales mode for different types of inventory, whether that be direct sold campaigns, network or exchange buys, or programmatic direct buys.
A programmatic platform helps juggle multiple deal types to achieve higher yield and satisfy advertiser objectives. It can also help optimise for cross-screen video, with simple integration into smartphones, tablets and other connected devices.
For advertisers, it also represents a smarter way to buy. A way to introduce bottom-line efficiencies, while at the same time getting the most out of spend. It can be used to manage campaigns across multiple screens and formats, gives greater transparency on buy side rates and lets them gain more control of spend.
The future
The programmatic ad world has grown quickly, with hundreds of software vendors popping up to fill different gaps in the market.
As it matures over the next few years, the market is expected to consolidate away from multiple providers each playing a small part in the process to holistic inventory management platforms.
Ultimately, end-to-end platforms that allow advertisers and publishers to manage entire media buys and integrate back into data management platforms and other marketing systems will rise to the top.

By Matt Von der Muhll
MD APAC at SpotXchange