Daniel Benton is GM of Neo Media World Australia, part of GroupM.
With an estimated +45% of searches on Google having local intent, local search and local digital marketing more broadly should be a critical consideration for any business with physical outlets. Often overlooked as a tactic given the nuanced and sometimes dull requirements to win, successful local search and digital initiatives can drive huge volumes of traffic, calls, driving directions and ultimately customers. The data is all there, and the unanimous adoption of smart phones by Australians has been a huge catalyst for the rise in local as search engines tailor results based on users' explicit and implicit location signals. A quick look at the analytics and the growth of "near me" searches on Google trends clearly illustrates this trajectory.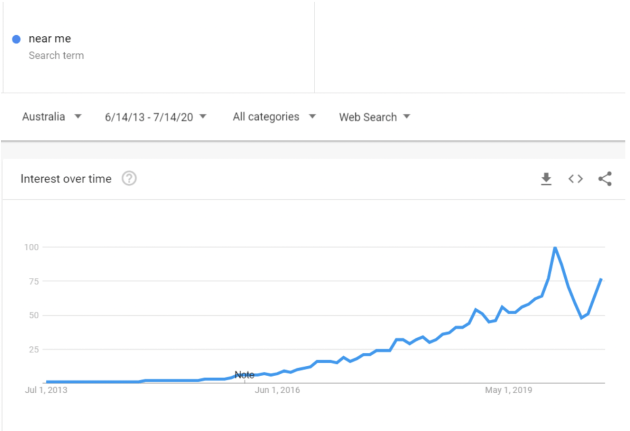 The most successful local digital marketing campaigns combine paid search and localised digital media, SEO, customer experience and listing optimisation across third party platforms. So, what's required to win?
Google
Google provides three ways to surface your business results in front of prospective customers when they're researching local products and services. Advanced local search campaigns combine all three; specifically;
Google ads
SEO
Google My Business
SEO
Winning in SEO for local search requires a joint focus from marketing, web development and operations teams on an area of the website that is usually overlooked; the humble store locator. Typically thought of as a functional area of the website to house contact data and opening hours, the store locator forms one of the key pillars of best in class local search and can be a core pillar of a digital consumer experience. The other pillar being Google My Business (more on that shortly). The fundamentals of optimising a store locator are to;
Develop a structure where each location has the contact details housed on an individual page /URL. The objective is to ensure each page can be discovered and indexed by search engines.
Target relevant brand, category and location keywords on each page.
Include useful adjacent information beyond the address, telephone number and opening hours. Think the types of FAQ's users would call about e.g.: core services, brands stocked, disabled access, parking, WIFI, payment types, drive-thru availability etc. This will help to answer any common questions from potential customers and to create the "canonical" page for the location online.
Make sure there is a defined process to keep the key details up to date (address, telephone number and opening hours). This requirement has been further heightened by the impact of COVID-19 with store hours and closures needing to be updated in real time to provide the best experience.
Include high quality images of the location. This makes it easier for users to find the location and can provide nice secondary benefits within image and visual search. 
Spending time on developing a store locator that works for human and robot visitors can deliver huge upsides for businesses. Improving the U/X, content and visibility of store locator pages is one tactic that has helped brands attract millions of incremental organic search visits in categories like QSR, automotive services and retail.
Google Ads
Google Ads is the easiest entry point for a brand into local as it's pure pay-to-play, and Google has a suite of ad formats and extensions specifically designed to drive localised marketing outcomes. These formats allow advertisers to promote their physical location and pay for high intent interactions like driving directions, phone calls and site visits. Google's local inventory ads allow more sophisticated advertisers to tap into the hugely effective shopping format and promote products that are physically available in individual stores. Additionally, improvements in measurement by Google can now provide advertisers an estimate of store visits attributed to Google ads activity – a strong signal of instore purchase intent. Advanced omnichannel and bricks and mortar businesses typically run an always-on local layer as part of larger paid search programmes.
Google My Business
Google My Business (GMB) is Google's platform for housing business listings and is the primary source of business listing data in Google Ads, Search and Maps. While historically buggy in design, spending time on getting the data in GMB verified, up-to-date and optimised can yield significant benefits. The fundamentals of GMB are to;
Submit and verify all locations through a single account.
Make sure the listing data is correct and up to date. This may sound like table stakes, but we typically see inaccuracies on 65% of individual listings – which leads to poor customer experiences and lost sales.
Have a workflow in place to monitor reviews and respond to negative (and positive) customer feedback. Google business listings can accumulate 1000s of customer reviews. These reviews can be highly influential on potential customers with an estimated +90% of consumers reading local reviews. Leaving negative reviews to fester without a response can hurt a brands perception – and sales. For many of our large multi-location clients, we've implemented automated solutions to track reviews and notify customer service teams, facilitating quick and easy replies to consumer reviews as a hallmark of a brand showing they care about the individual.
Upload high quality branded store and product images. Getting this right can unlock huge volumes of organic image impressions within Google search and maps results. As an example, we've helped a QSR customer grow their image impressions from 200,000 per month to over 15 million. Beyond unlocking a huge volume of organic impressions, this has helped to significantly improve the brand experience by bumping problematic user generated images out of the maps and search results. 
The benefits of implementing a thoughtful approach in GMB can be significant, and can deliver huge volumes of inbound traffic, phone calls and messages, access to real time customer feedback and sentiment topics and improved visibility in Google search and Maps. Google Maps is sometimes overlooked as a search engine but we're typically seeing 40-60% searches for businesses take place within maps.
Apart from the Google ecosystem there are other important platforms to tackle to ensure a brands location's will be surfaced when potential customers are researching;
Apple Maps
With Apple iOS capturing +50% share of mobile devices in Australia, Apple Maps are a platform that can't be overlooked. With a slightly different optimisation approach to Google, the objective is still the same. At the bare minimum, upload and maintain business listing details so they're correct.
Facebook
Most marketers would think of Facebook and Instagram as a social media platform. However, it's also a significant local search engine. With an estimated 600 million users visiting business pages on the platform daily there is a strong case to upload and maintain location details on Facebook and monitor and respond to client feedback. Again, the workflow differs from both Apple and Google, but the overarching objective is the same – be there, with the correct details, when users are searching for local businesses. Create a digital experince that is seamless for consumers. Beyond the basic organic coverage, Facebook also has a powerful suite of paid advertising tools that can drive instore sales and measure the attributed footfall from campaigns.
Apart from these platforms, Australians also rely on location results in Bing and Tomtom and map results powered by them. The complexity (and importance) of distributing and managing listings across multiple platforms has seen the evolution of specialist listing management and automation vendors. These vendors will typically validate, enrich and distribute location listings via semi real time API. The benefit of these solutions is two-fold; the first is a significant reduction in head hours devoted to listing maintenance, the second is increased visibility across the key local platforms.
In conclusion winning in local isn't easy but it is worthwhile pursuing to make sure your business shows up in the literal last mile of the customer journey.