Karl Bates, head of strategy, INNOCEAN
So, it's official. We're in recession. The first in 30 years. The biggest fall in GDP since 1959. Whilst we may well have it better than many countries, it feels like a slim consolation if any. The past six months have been devastating for all Australians with COVID-19 transforming the way we live, impacting every facet of life. It's a shit fight out there and it's hard to get excited about the short- term outlook, no matter which way you look at it.
Is it a resounding sense of FTW? Or, as a nation that prides itself on its resilience and resourcefulness, is there a chance that despite the inevitable continued triple whammy on health, economy and society, Australians are able to see a glimmer of hope and positivity coming from this? To find out, INNOCEAN conducted two waves of its landmark 2020 Life in the times of COVID tracker to understand changing attitudes and preferences towards brands and understand which sectors/brands are delivering to people's evolving needs.
The widespread effects of COVID are alarmingly illustrated with 70% of respondents confirming that lives have been majorly disrupted socially, 50% feeling the impact financially and 35% feeling the psychological impact over the past six months. But despite this, the majority of respondents (56%) feel optimistic about Australia's future. The responses reflect a nation finding a way to get on with life, doing what they can to make the most of the situation, more inwardly focussed on their immediate worlds around them. Respondents are appreciating the ability to connect with family and community more than ever. Viewing this as a period to stop and breathe, cautiously optimistic about the future and itching to hit the road for a break from it all at Christmas.
The reality of a COVID Christmas is broadly accepted. The August research wave shows that 60% of respondents believe life will not return to normal by Christmas (up from 39% in June). Only 13% of respondents are confident that it will. As soon as COVID is controlled and life returns to normal, 40% of people surveyed will invest in travel, 15% will invest in their retirement, 7% in health & beauty, 6% in their car, 6% in attending live sports, 5% in their children's education, and only 4% will be investing in fashion.
When asked what they've been spending their money on, a high proportion of people have shown a growing appreciation for food (45% of people spending more on food during COVID), and 30% of Australians have been able to save. Spending more time at home is leading to more being spent on the home. The study shows one in four people spending more on home improvements and a similar number spending more on home entertainment.
As the strain on the Australian economy and local businesses intensifies, Australians' desire to support local business continues to grow (90% of people say they will be making an effort in to support local in the build up to Christmas). People are feeling more strongly about the importance of bricks and mortar shopping as a way to show their support and to feel connected to their community (32% feel very strongly about this).
A key part of the survey is to monitor and understand any potential shift in the values people look for in brands - and how well brands are living up to them. In the past six months, Australians value honesty, integrity, and respect more than ever before.
The three most important values for brands to demonstrate are empathy, generosity, transparency (considered "much more important" than six months ago).
When asked which values Australian companies were lacking during these times, the resounding responses were generosity and empathy (one third of people agreeing companies lacked both). This is an important finding as it demonstrates people's needs to be both understood and helped by brands during these times. Genuinely listening and meaningful communications are good but actions that deliver something as a result are even better.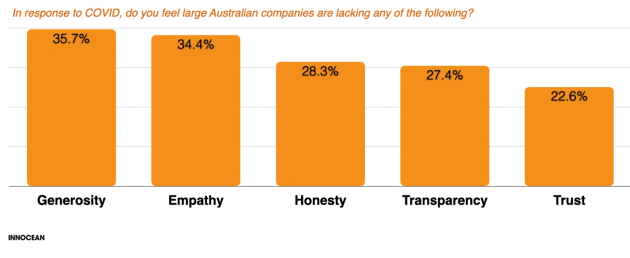 Generosity and empathy values were followed by honesty and transparency (around one in four people agreeing).
When asked which organisations/industries were in tune with current needs and values of the population only four in 10 people mentioned government, one in three people mentioned retailers and one in three responded that "none" were in tune.

Building on this, looking into people's relationships with specific brands across sectors, when asked which brands are helping Australians successfully navigate through the pandemic, retailers come out on top (more than 50% stating Woolworths and almost 40% stating Coles).
According to the survey, the banks are getting little credit for their actions during the recession (with only 18% calling out Commonwealth Bank, 13% mentioning Westpac).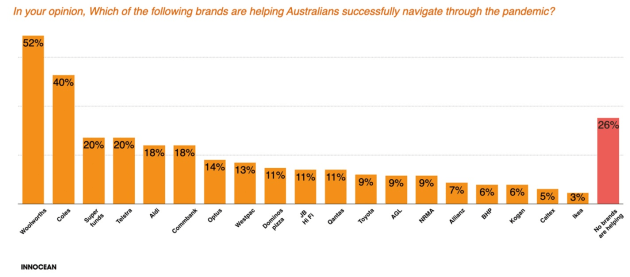 Despite all of the COVID-friendly comms, 26% of respondents feel that no brands are helping them through the pandemic. One in three people feel that no industries or sectors are in tune with their values. This is a real opportunity for brands to realign because all the signs are that this is not going to change much for the foreseeable future.
As much as people appreciate empathy from brands, it's those that demonstrate generosity who will truly win the hearts and minds of Australians. Especially as we move towards Christmas, the opportunity (if not imperative) for brands lies in acts over ads.
Apart from the continued focus on upgrading the home, the overwhelming and widespread itch to get on the road again during Australia's biggest ever summer staycation provides an imminent and tangible consumer need for brands to carve out a role for themselves. How can your brand make the travel experience more magical, more rewarding? By bringing local to the forefront of the experience wherever possible. Hero local business owners, local brands and suppliers, promote locally produced goods, provide a stage for local artists and performers, giving shoppers a sense of community and empowering them to provide moral and financial support.