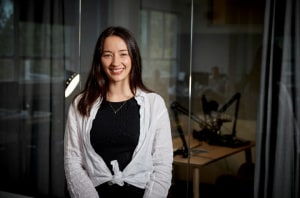 Our Young Gun profile takes a look at some of the young talent across the advertising, adtech, marketing and media sector in Australia. It aims to shed light on the varying roles, people and companies across the buzzing industry.
Today we speak to Acast account manager Michelle Smith.
Time in current role:
Nearly two months.
How long have you been in the industry?
Just over four years.
How did you get here? Was this always the plan?
Not even slightly! When I left school I either wanted to get into fashion or food. I opted for fashion and worked as a model agent for a few years before landing myself in the media industry. One of my good friends worked and still works at Val Morgan and I thought it looked like a fun place to work, who doesn't like movies!? Four years later and I've just made a move to Acast to expand and grow my knowledge of the ever growing media landscape.
Who is your right hand person?
I generally try to absorb things from everyone around me because I think everyone has interesting perspectives and there's a lot to learn from so many people.
On a day to day basis though it would have to be my new Acast team, Adam and Kat. You spend so much time with one another (even virtually) and they're both absolute guns. I know I can always reach out to them for advice and guidance.
What's the best thing about the industry you work in?
Australia's podcasting industry continues to grow from strength to strength – it's exciting to be a part of the growth and momentum. It's fast paced, you're constantly learning and being challenged by the people around you and you get to meet some incredible people along the way. I've met some of my closest friends through the industry.
And the biggest challenge?
Keeping up to date with everything that goes on! Between data solutions, new technologies, reporting, it feels like there's a new acronym that pops up each day.
That or keeping any kind of waistline with the amount of food/events/drinks (pre-COVID of course).
Whose job have you set your sights on in the future?
This is a hard one, no one person in particular. I think just being open to opportunities is important because you never know what will come your way!
Where do you turn for inspiration?
The people around me.That might sound typical but I've been very lucky to work with some amazing people. The people that inspire me are those that really care about the people around them, they're hard working and take pride in their work.
My favourite advert is:
I'm biased at the moment, but am going to go with a podcast ad. It's amazing to see brands use the medium to create such memorable ads and reads.
The sponsorship read from the guys at Loose Units for Smiths Poppables is my favourite at the moment. The read is really authentic to the two of them and their personalities.
Tell us one thing people at work don't know about you?
I grew up racing dirt bikes as a kid. My first dirt bike was a Suzuki JR 50, I was a real speed demon. You might not know it now because I have a fear of everything, including escalators. Maybe that's two things you wouldn't know about me.
In five years' time I'll be:
Well, I'm only new to Acast so I hope this doesn't make them think I'm ready to leave, but hopefully I'll be working for Acast in another market.I'd love to work and live in another city. I think one of the beauties of working in a global business like Acast is that it can open up opportunities to work around the world.
Have something to say on this? Share your views in the comments section below. Or if you have a news story or tip-off, drop us a line at adnews@yaffa.com.au
Sign up to the AdNews newsletter, like us on Facebook or follow us on Twitter for breaking stories and campaigns throughout the day.