Two big industry players, Amazon and NBC Universal, have placed virtual product placement (VPP) in their streaming services as a new platform for advertisers.
VPPs are a post-production technique where branded items can be inserted into a scene's programming or used as dynamic billboard ads in a scene's background -- an unobtrusive form of advertising for subscription video-on-demand (SVOD) viewers.
There's no denying the power of product placement, whether it's the Bond films immortalising Aston Martins, Stranger Things boosting Eggo sales by 14% year on year, or that PQ Media estimates the total value of all product placements in media are worth $20.57 billion in 2021.
VPPs are predicted to have a larger impact. 
"Virtual product placement is a game changer," Henrik Bastin, CEO of Fabel Entertainment and executive producer of Bosch: Legacy, told IAB's 2022 NewFronts in New York.
"It creates the ability to film your series without thinking about all that is required with traditional placements during production.
"Instead, you can sit with the final cut and see where a product could be seamlessly and naturally integrated into the storytelling."
VPPs are an opportunity for advertisers to engage with SVOD users and for streaming platforms to monetise entertainment, while providing the ad-uninterupted viewing.
The streaming industry has become more mature and competitive, with industry leader Netflix reporting net subscriber additions dropping 200,000 to 74.58 million in the three months to March.
Streaming services have been almost forced to look for new ways to generate revenue growth.
Since streaming platforms have dragged audiences away from advertising with the removal of pre-roll and mid-roll ads, this new in-scene marketing helps brands advertise in new places and reach new audiences.
While VPPs have suddenly become news, companies such as Mirriad, network TV broadcasts and live sports have been developing digitally inserting brand placements for almost a decade.
However, the technology was clunky, making seamless production a challenge and limiting for advertisers.
But as Amazon demonstrated at NewFronts with the VPP insertion of M&M's into a scene from Making the Cut on Prime Video, it's clear the recent tech advancements have proven that VPPs are already adding real value on screens.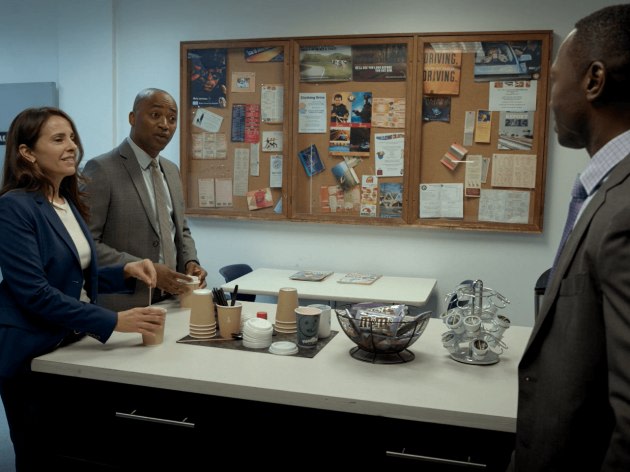 (How fast can you find the ad?)
While Amazon didn't name the specific brands beta testing VPP at NewFronts, Amazon claimed that "a CPG brand experienced a 6.9% increase in brand favorability and a 14.7% increase in purchase intent for their campaign".
Prime's most popular shows such as Reacher, Tom Clancy's Jack Ryan, the Bosch franchise and Leverage: Redemption are already participating.
Chris Colter, chief strategy officer at Initiative, told AdNews: "Going beyond ads and naturally embedding a brand in aspirational contexts is proven to enhance the cultural relevance and therefore appeal of brands. However, as with anything, the value lies in why and how you do it.
"The announcements by Amazon and NBC in the US do give pause for reconsideration. Advancements in programmatic CTV technology, in product rendering and interactive broadcast solutions, represent new creative and commercial opportunities in this space. 
"With local players like Seven announcing Seven Shop at their upfronts last year, I expect cultural commerce solutions like this to become commonplace. When, who knows, but I'll be watching this space."
Some studies have shown that when watching web videos, 90% of viewers either skip or ignore the commercials. As a result, advertisers are increasingly relying on product placement to reach customers in ways that can't be skipped.
Which advertisers will find the most value?
Jack Graham, UM Australia group strategy director, told AdNews: "Advertisers with large portfolios of products operating within the same category should take notice."
"The ability for them to place the right brand, directly into the right usage occasion, and deliver it through addressable broadcast to the right person should have many large advertisers excited."
"The Coca-Cola's of the world can now manage the migration of drinkers through their brands allowing them flexibility in specific brands to appear in content, and who consumes that content."
Numerous academic studies back Graham's opinion which regularly finds that product placement recall is higher for well-established and familiar brands rather than less commercialised brands to which viewers have not previously been exposed to.
One of the biggest benefits of VPP is that now brands can work with production timelines rather than content production timelines. While traditional product placement deals had to be made far in advance, virtual placements can be streamlined.
"Great broadcast content is often in production 6 months out from broadcast. As a result, brands struggle to align their advertising with their product integration," Graham said.
"Virtual product placement allows for brands to still access integration opportunities and new revenue streams that were lost due to difficult timelines and budgeting hurdles."
Particularly, since countries worldwide continue with severe supply chain shortages in 2022, a quicker production helps avoid the advertising nightmares when a product becomes out of stock, unavailable, discontinued, or unpopular when investing in a placement campaign.
Ken Lam, national head of investment, iProspect, also points out an interesting potential for the technology's future, telling AdNews if VPPs "can leverage the new tech and capabilities in shoppable video and social formats, to make the experience interactive for users and allow viewers to purchase the integrated product with ease". 
VPPs can "turn a brand activity into a performance channel and in the case of Amazon, keeping consumers in the Amazon ecosystem which will be an added benefit to their business no doubt". 
What about the potential drawbacks of VPP?
On the other hand, advertising professionals also recognise concerns that the new technology could be a slippery slope of tacit endorsement should we begin inserting brands into unknowing environments.
Zoe Cocker, head of brand and creative, Yahoo Creative Studio: "With any great opportunity or innovation we need to ensure we still put the customer before our dollars. 
"The temptation to overload content with branded opportunities left, right and centre could detract from the content itself.
"I am reminded of iRobot when scenes featuring cereal brands or sneakers were often a fraction too long or included clumsy dialogue to draw attention to product features. We as marketers need to offer value whilst not putting our muddy fingerprints on original content," Cocker said.
"I struggle to see it (VVPs) fundamentally reshaping how we approach media buying," Max Broer, national strategy director at Bohemia told AdNews.
"Yes, there will be positives. But VPPs won't be a replacement for traditional TVCs (television commercial advertising). As a product placement just doesn't offer the engagement and education that VPPs offer currently."
VPPs just won't work for everyone Broer suggests, "If you don't have a physical product, if you're a launch brand that hasn't established a narrative in the market, if you're a product that needs to include T&C's, product placement simply isn't an option even in a virtual form."
How can marketers effectively utilise VPPs?
Although no one can predict the future, looking at the history of traditional product placement campaigns can give us an indication on we can best utilise the new wave of VPP marketing.
Beth L. Fossen, assistant professor of marketing, Kelley School of Business, in a The Conversation article, offers two techniques that marketers can use to strike the right balance between placements being noticeable and not too overt.
"We've found that viewers are most influenced by product placements in which the product or brand name is spoken by one of the characters but not shown – what's called 'verbal product placement'.
"These product placements are more likely to be noticed by viewers than products that are simply shown on the screen. And they're also less likely to trigger persuasion knowledge than placements in which the product is both shown and spoken about. Verbal placements seem to find a sweet spot.
"Second, viewers may be more susceptible to product placements that appear earlier in a show or movie. If a placement appears at the climax – the moment when our attention is fixated on what will happen next – we're either less likely to notice the placement or more likely to be annoyed by it if we do notice it."
Have something to say on this? Share your views in the comments section below. Or if you have a news story or tip-off, drop us a line at adnews@yaffa.com.au
Sign up to the AdNews newsletter, like us on Facebook or follow us on Twitter for breaking stories and campaigns throughout the day.