Vegemite is moving into e-commerce with a new range of merchandise as the brand looks to expand its remit beyond being just a spread, marketing manager Matt Gray says.
The range, available from today, includes a a branded hat, T-shirt, towels, mugs and breakfast and dinner sets, all with the red and white logo that has become synonymous with Vegemite over its 95-year history in Australia.
Speaking to AdNews, Gray says the move into e-commerce reflects Vegemite's desire to explore new channels and ensure the brand doesn't lose its relevance.
"We have 95 years of history in Australia so it's critical to keep Vegemite as iconic as ever," he says.
"E-commerce is just one of the things we are opening up. We are looking to get into as many new channels and formats because we want to become as big as possible and open up Vegemite to all Australians."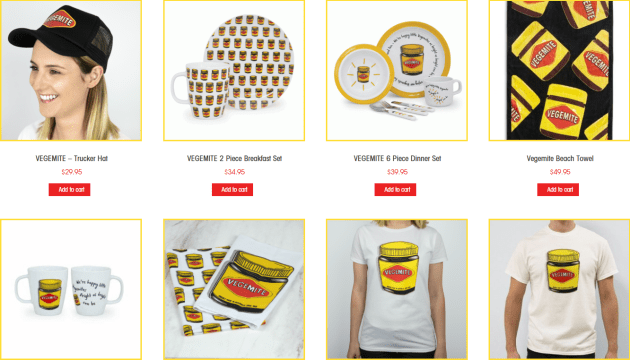 The new Vegemite merch
To push its merchandise, Vegemite is tapping various influencers using influencer marketing platform Tribe and is investing heavily in PR.
While Vegemite isn't investing in above the line activity for this campaign, Gray says the brand will roll out a new brand platform later this year, led by its new creative agency Thinkerbell.
The agency shake-up for Vegemite was a big move with the brand previously working with JWT for more than 70 years. With Vegemite producing some of the most iconic ads in Australia, its first work from Thinkerbell is hotly awaited.
"Moving our brand to a new agency brought fresh thinking," Gray says. "We really liked the strategic element Thinkerbell brought with their consumer psychology background and offering around marketing science."
The new brand platform will celebrate Vegemite being part of the Australian culture, Gray reveals, as well as Australians being the custodians of the brand now it is back in the hands of Aussie owners.
Vegemite was recently recognised as Australia's most iconic brand by Readers Digest, which Gray says is a huge moment for considering the 2017 buy back, which saw Bega Cheese purchase Vegemite from Mondelez.
"I think it's a fabulous recognition of Vegemite being back in Australian hands and shows the brand is out in the open and our sponsorships are working," Gray says, referencing Vegemite's recent sponsorship of the Australian Open.
Despite a brief hiatus from TV, the medium is as important as ever to Vegemite and the brand still splits its marketing budget 50/50 between above the line and below the line, Gray explains.
"We need to do both. We need to be making sure we do long term brand building but also balance it with short term sales objectives," he says.
Have something to say on this? Share your views in the comments section below. Or if you have a news story or tip-off, drop us a line at adnews@yaffa.com.au
Sign up to the AdNews newsletter, like us on Facebook or follow us on Twitter for breaking stories and campaigns throughout the day.