Twitter's new consumer facing brand ads are aimed squarely at non-users to better articulate what it stands for, and to encourage them on to the platform.
The days of Twitter being merely a social media network alone took flight a while back, and the platform is driving the point home by hatching a fresh marketing campaign with the closest thing to a slogan it's ever had. While it has run some ads around Moments previously, it has been quiet on the brand marketing front and appointed its first CMO earlier this year to change that and tackle its stalling user numbers.
CMO Leslie Berland who was appointed in January, is kicking off a marketing push including a 45-second spot, created by San Francisco-based creative content agency Bonfire Labs, rolled out globally across digital channels.
The clip strikes a resemblance to a Vice-esque brand video with a twist of a Sky News sizzle reel featuring clips of major world events from politics to protests, parades, music concerts and sports, to demonstrate that 'What's happening' is happening on Twitter. 
The voice-over asks: "What's happening? What's happening in the world? What's everyone talking about? What's trending? How did it start? When will it end? And ends with a "See what's happening in the world, right now".
There's also a move away from the baby blue colour that has become synonymous with Twitter.
 Misconceptions flying around
Speaking to AdNews ahead of the global launch, Berland, who joined from American Express, said the marketing push follows research that highlighted the brand had an issue with misconceptions. It's referred to and thought of as a social network, but thinks of itself as a news platform. It has switched its classification to news in both the iTunes and Android app stores.
"Millions of people use and love Twitter and know what it's for, but we took a step back and for months have been looking through the people who don't use Twitter as we wanted to understand the 'why' behind that," Berland says.
"When we talked to people around the world we saw a few key trends emerge and one of the most prominent was that people were not really understanding what Twitter was for - and were thinking we were a social network - a place to find their friends.
"It was really interesting to see that cut across the board and we realised we clearly had a lot of work to do to clarify, explain and educate on what Twitter is about."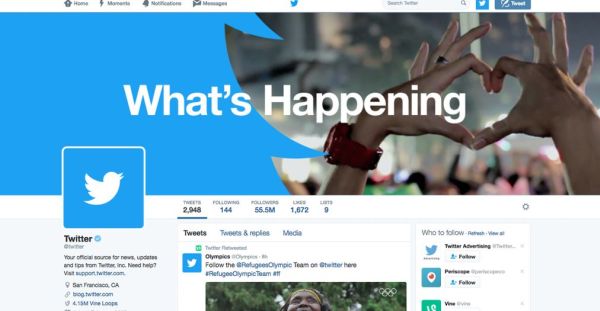 Berland also says many people assumed if they were using Twitter then they were "supposed to tweet every day", whereas what Twitter is really about is offering a portal to 'what's happening' in the world.
On questioning if 'what's happening' is indeed now Twitter's slogan, Berland says: "We don't think of it as a slogan because we are using numerous iterations in the work: See What's Happening, What's Happening, It's What's Happening - but all centring around the main theme."
She says the gap between the perception of what Twitter is for and what it's actually all about presented a huge opportunity to fill in the blanks.
"Twitter (usually) isn't the place to find photos of your friend from kindergarten or hear about your aunt Jan's road trip. Twitter is where you go to see what's happening in the world right now - from breaking news and entertainment to sports and politics, and from big events to everyday interests," she adds.
Mixing it up
The ads and imagery also sees Twitter mix-up its traditional colour palette. A vibrant pink outline of part of the iconic bird's feather shapes one image, and the wing can also be seen framing certain Twitter header banners.
She says the new look and feel in its marketing reflects all the people around the world who make Twitter what it is, highlighting diversity.
"What we really we felt we needed to do from a marketing perspective was to bring the vibrancy, the colour, the electricity and the passion that comes through from Twitter," Berland says.
Berland, who said the brand wants to "reach every person on the planet", says the marketing move is just the first step but remained tight-lipped on what the next steps involved.
Twitter is also gearing up for each market to create their own versions of the campaign.
Streaming sports
While not conveyed in this marketing push,  in April Twitter won the digital rights to stream NFL games next season in a $10 million deal - a first for a social media platform.
This means it will stream all 10 Thursday night games, which are also broadcast by NBC and CBS and simulcast on the cable NFL Network. It is believed Twitter beat Facebook, Amazon and Verizon for the deal, which is in the last year of a sponsorship deal worth $250 million a year.
This week Twitter also revealed it's expanding its live sports plans, with weekly, live streamed games from Major League Baseball and the National Hockey League. It also announced a new nightly sports highlights show called The Rally, produced by mobile video company 120 Sports.
Have something to say on this? Share your views in the comments section below. Or if you have a news story or tip-off, drop us a line at adnews@yaffa.com.au
Sign up to the AdNews newsletter, like us on Facebook or follow us on Twitter for breaking stories and campaigns throughout the day.