Australia's philausophy has been set free, urging world travellers to head downunder in the next phase of Tourism Australia's "There's nothing like Australia" campaign. 
The cute play on words taps into one of the nation's greatest assets, the Australian personality, and urges traveller to experience first-hand the unique local way of life. 
The latest campaign strategy is part of a $38 million investment yo be rolled out in 15 key tourism markets over the next three years to attract more visitors to Australia.
The campaign – Come live our Philausophy – was developed with M&C Saatchi, Digitas and UM.
Tourism Australia CMO Susan Coghill says tourism continues to perform well for Australia but competition is strengthening.
"There are undoubtedly some headwinds in front of us," she told AdNews.
"Now, more than ever, we need to differentiate ourselves from the pack.
"Our invitation to Come Live our Philausophy is designed to improve associations with Australia as a must see destination, inject greater urgency to visit and convert Australia's enduring appeal into more actual bookings."
The strategic thinking behind philausophy is beeing unveiled today to tourism industry operators at a function in Sydney.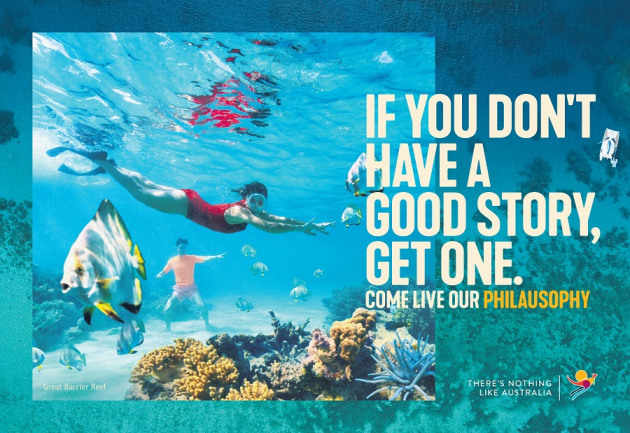 Toursim Australia has also refreshed creative assets, including commisison photographers to take 5,000 photographers of Australia.
Today the Australia.com also gets a new look, to be followed by tailored campaigns for key markets including, the US, UK, China and India.
A book, titled Philausophy, containing the views of prominent Australians, will be launched at the end of the year. 
Cam Blackley, chief creative officer, M&C Saatchi, says philausophy celebrates the very real and unique systems of belief that Aussies have developed for not just hundreds, but thousands of years.
"Paired with our extraordinary landscape it's a refreshing point of difference and incredibly fertile creative space that can and will live way beyond traditional advertising channels," says Blackley. 
Sophie Bingham. general manager at media agency UM Sydney, says reimagining the way we invite the world to experience Australia is a once-in-a-lifetime brief.
"Not just what we say, but how we say it in a truly Australian way," she says.
"We're thrilled to partner with Tourism Australia on this relaunch and see the campaign come to life through our global media connections and partnerships, both this year and into the future."
Simon Brock, creative director at digital agency Digitas, says it's never been tougher to stand out in the tourism industry.
"Gorgeous travel imagery is ubiquitous, thanks to Instagram," he says.
"Global stories are a tap away, thanks to Netflix. To cut through, you need something uniquely ownable that people want and can't get through a screen.
"That's exactly what philausophy is – a way of life that can only be felt by visiting and exploring Australia.
"What I love most about philausophy is that it belongs to us – all Aussies – celebrating something about ourselves that we often take for granted but never goes unnoticed by those who visit our shores."
Tourism Australia research found that 70% of international travellers believe Australians have a different perspective on life; 79% believe the Australian people are an important part of the Australian lifestyle; and 82% would like to travel to Australia to experience the lifestyle.
Tourism Australia managing director Phillipa Harrison says the Australian character and way of life has long been woven into the marketing.
"The journey perhaps began with Paul Hogan and Come Say G'Day (in the 1980s)," she says.
"In more recent times (actor) Chris Hemsworth, our global ambassador, has been integral in embodying the Australian character for our audiences.
"Dundee too was all about leaning into our personality. And promoting our people is at the core of our Friends of Australia advocacy program. Our new campaign will continue to build on this narrative by inviting the world to come and live our philausophy."
Dundee: A Legend Returns won Media Campaign of the Year for UM at this year's AdNews Agency of the Year Awards.
Chris Hemsworth agrees, saying Australians have something truly special to offer to the world.
"To say that Australians are laid back, outgoing, and have a great sense of humour would be both buying into widely-known clichés and admitting an absolute truth," he says.
"An incredible sense of adventure and an insistence on having a great time is truly born into our DNA."
Have something to say on this? Share your views in the comments section below. Or if you have a news story or tip-off, drop us a line at adnews@yaffa.com.au
Sign up to the AdNews newsletter, like us on Facebook or follow us on Twitter for breaking stories and campaigns throughout the day.