Collaborations between major brands is likely to become a marketing trend, says Superdry's marketing manager Matthew Iozzi, announcing a joint campaign with Subaru and STA Travels.
In what the brand is calling a world-first, Superdry has teamed up with auto brand Subaru Australia and travel brand STA Travel for its #InYourElement campaign.
The work centres around its "jacket for every element" offering, and uses local influencers who embark on a content collection campaign across Hobart, Melbourne, Cairns and Perth.
Superdry originally ran #InYourElement in the UK and Iozzi tells AdNews it collaborated with Subaru and STA Travels to localise it.
"Never before in Australia or globally have three industry leaders from retail, auto and travel worked together for a common goal to such a degree in a single campaign," Iozzi says.
"There are of course big collaborations between travel and fashion but never have there been three key brands from three different industries working towards the same goal to the effect of this campaign."
He adds that the partnership inadvertently tripled the overall reach of the campaign and maxismed the opportunity for a greater ROI.
While the three brands have an aligned target audience, between the 18-30 age group, Iozzi says the collaboration exposes them to new consumers.
"Traditionally speaking any marketing endeavor requires you to hit a person seven times so they resonate with the brand, this just allows for a greater frequency for that resonance," Iozzi says.
"While there will be some overlap in the customer database between the three brands, you're more likely to hit different people through three different brands."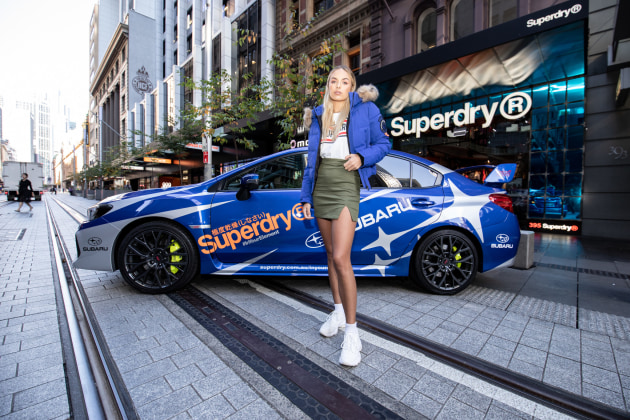 #InYourElement campaign
He predicts that such partnerships between big brands will become more common, with the most well-known case being Adidas' recent collaboration with US singer Beyonce's Ivy Park label.
The benefits of collaborations is the expanded reach they provide and shared workload, however Iozzi says there's a risk in overcrowding a campaign with big names.
"We wanted it to be executed well so we started discussions in December last year regarding this campaign and it was many meetings and many hours," he says.
"We ended up finding the perfect synergy, we all had our own responsibility and it's worked well."
To further give it a local edge, the brands enlisted Aussie influencers Reece Hawkins, Hannah Perera, Luke Bakhuizen and Emma Carey.
"Influencers are differently the brand ambassadors today," Iozzi says.
"They expand the reach of the campaign with their social media followings, but it also added an element of localisation to the global brands.
"All three of us are global brands with a local offices which is great, but using aussie influencers in Aussie destinations is what ultimately brought this home to an australian audience."
Have something to say on this? Share your views in the comments section below. Or if you have a news story or tip-off, drop us a line at adnews@yaffa.com.au
Sign up to the AdNews newsletter, like us on Facebook or follow us on Twitter for breaking stories and campaigns throughout the day.